Governor Sends Interim Fiscal Interest Finding
on Gas Pipeline Project to Legislature
November 17, 2006
Friday

Alaska Governor Frank H. Murkowski on Thursday transmitted to the Alaska Legislature a 350-page Interim Fiscal Interest Finding (IFIF), a document that provides the economic analysis and arguments for construction of a natural gas pipeline from the North Slope into Alberta, Canada, following the Alaska Highway.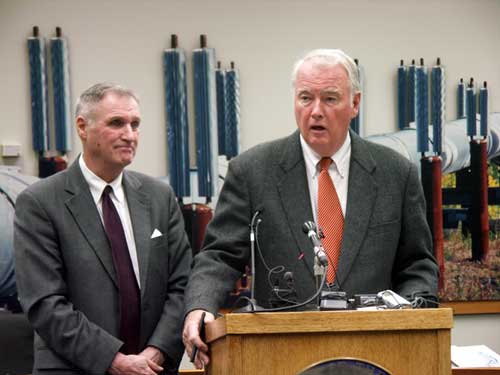 Alaska Department of Revenue Commissioner Bill Corbus smiles as Alaska Governor Frank H. Murkowski addresses reporters during a press conference Thursday at the Alaska Permanent Fund Corporation's Headquarters in Juneau. The Murkowski Administration transmitted to the Legislature the Interim Fiscal Interest Finding for the proposed Stranded Gas Development Act contract negotiated with oil producers BP PLC, ConocoPhillips and ExxonMobil.
Photo by photo byWill Vandergriff/ Office of the Governor

The IFIF also includes a draft limited liability corporation contract, under which the project would be built and operated by a partnership of the State of Alaska and the three North Slope producers. A third component of the IFIF is the May 24, 2006 draft contract, along with changes needed to respond to legislative and public comments the Department of Revenue has gathered in the past six months.
"This document represents the future of Alaska," Murkowski said. "For the past 30 years, we have been the very fortunate recipients of a bonanza based on North Slope oil production. It has literally built our cities, schools, transportation networks, relieved us of taxes, and put money in everybody's bank account. But the oil runs out in a few short years if we do nothing. We must transition our oil-based economy to one based on gas production.
"The Interim Fiscal Interest Finding and the associated documents we are transmitting to the Legislature today will provide the basis for deliberations the Legislature, the producers, and Governor-elect Palin will need to enter into very soon. The responsibility for making the needed changes to the contract and the LLC now rests with the Legislature and the new governor. We have moved this project forward over the past two years. It is now up to the Legislature and the new governor to complete the process.
Murkowski reminded legislators that to delay could cost the state the entire project. "Delaying transition from oil to gas will create a huge revenue gap starting in just a few years," he said. "Delay will only add to costs, because of rising cost of commodities, steel, and labor. Delay will increase competition from other sources of energy. And delaying this project now could be a disaster for our economy if we get no pipeline at all.
"This package will empower the Legislature and new administration to complete the contract in the near term and secure Alaska's future."
Related Information:
IFIF Transmittal Letter

Securing Alaska's Economic Future Comments by Timothy F. Sutherland, Chairman and CEO Pace Global Energy Services, LLC - September 20, 2006


Source of News:
Office of the Governor
www.gov.state.ak.us

E-mail your news & photos to editor@sitnews.us


Publish A Letter on SitNews Read Letters/Opinions
Contact the Editor
SitNews ©2006
Stories In The News
Ketchikan, Alaska