Bush honors veterans at Arlington National Cemetery
By CHISTOPHER MOODY
Scripps Howard News Service
November 13, 2006
Monday

ARLINGTON, Va. -- President Bush exalted the men and women in the armed forces for their bravery and fortitude Saturday, calling them "America's finest citizens," and said that troops around the world have helped to make the country safer.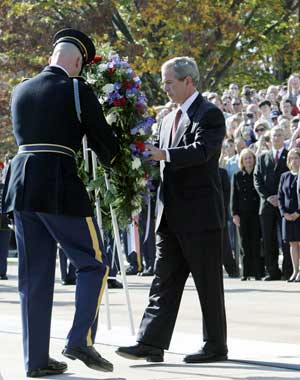 President George W. Bush lays a wreath at the Tomb of the Unknowns during Veteran's Day ceremonies Saturday, Nov. 11, 2006, at Arlington National Cemetery in Arlington, Va.
White House photo by Kimberlee Hewitt
"They confront grave danger to defend the safety of the American people. They brought down tyrants. They've liberated two nations. They have helped bring freedom to more than 50 million people. Through their sacrifice, they're making this nation safer and more secure, and they are earning the proud title of veteran," Bush said in a speech, delivered at Arlington National Cemetery in observance of Veterans Day.
Bush did not explicitly mention America's involvement in the war in Iraq, but he did say, "From Valley Forge to Vietnam, from Kuwait to Kandahar, from Berlin to Baghdad, our veterans have borne the costs of America's wars - and they have stood watch over America's peace. The American people are grateful to the veterans and all who have fought for our freedom."
Moments before the speech, Bush laid a wreath at the Tomb of the Unknowns, a memorial gravesite commemorating all unknown American soldiers who died under the call of duty. As a military bugler played "Taps," Bush placed his hand over his heart and stood before the memorial wreath.
After the wreath was placed, Bush bowed his head and closed his eyes in a moment of silence. Upon the arrival of Bush's motorcade, canons fired a 21-gun salute as soldiers from all branches of the armed forces stood at attention.
Surrounding the tomb was an audience of families and war veterans young and old, some of whom had to be brought to the memorial in wheelchairs because of injuries inflicted during battle.
Also in attendance was veteran and former Sen. Bob Dole, whose right arm was left paralyzed by German gunfire during World War II.
Not making an appearance this year was former Defense Secretary Donald Rumsfeld, who resigned from his position earlier this week. On Wednesday, Bush announced former CIA director Robert Gates as Rumsfeld's replacement.
The program was emceed by actor Gary Sinise, who played the role of "Lieutenant Dan," a Vietnam War veteran amputee in the film "Forrest Gump."
According the Department of Veterans Affairs, there are currently 1,384,968 total servicemen and women in the U.S. military. As of Sept. 30, 2006 there were more than 588,923 living veterans of foreign wars.
There are more than 300,000 people buried in Arlington cemetery, including veterans from every military action dating back to America's battle for independence over 200 years ago.

Distributed to subscribers for publication by
Scripps Howard News Service, http://www.shns.com

Publish A Letter on SitNews Read Letters/Opinions
Contact the Editor
SitNews ©2006
Stories In The News
Ketchikan, Alaska