Arts & Entertainment
First City Players Present Oliver!
Review By Bill Hupe
November 10, 2006
Friday AM

Ketchikan, Alaska - Lionel Bart's musical, Oliver!, based on the novel Oliver Twist by Charles Dickens opened last Friday at the Ketchikan High School Auditorium, with a memorable performance by the First City Players.
Oliver (in the bed); townspeople below
The lead and title character is played by Alec Pankow.
By Susan Batho & Bill Hupe

With sets and props fitting seamlessly into the flow of the musical, the audience was taken back in time to the streets and underground areas of London on a zestful journey with an orphan who runs away from an orphanage and hooks up with a group of boys trained to be pickpockets by an elderly mentor.
The entire cast performed extremely well last weekend. There were a few newcomers among the cast, but one would be hard pressed to differentiate them from the seasoned veterans, and although everyone was excellent in their role from the orphan ensemble to the leads, a few performers did specifically stand out.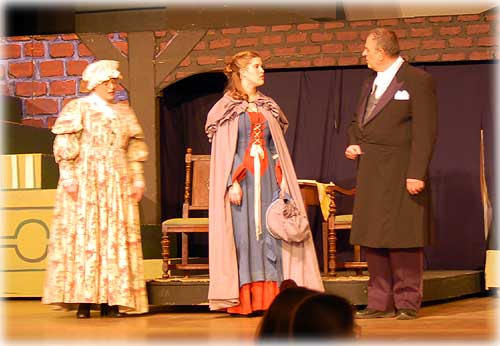 The Maid, Nancy, and Oliver's father.
By Susan Batho & Bill Hupe
Alec Pankow as the lead and title character was perfect for the role, dancing from scene to scene, and circumstance to circumstance, displaying his familiarity with the character, with a winsome innocence. Jeanette Sweetman played the delightful scoundrel, Artful Dodger, was perfect in the role, strutting around the stage as if they owned it. Maria Dudzak was simply so good as Fagin it was impossible not to like the character; it was hard to remember he was one of the bad guys.
The show stealer, however, was the talented Katy Graves as Nancy, with both an incredible singing voice and dancing skills. Graves was an absolute delight to see perform.
The eighteen member orchestra, conducted by Roger Nelson, was excellent. Other than a handful of audio difficulties during a few lines of dialogue, the actors and actresses projected quite well; lighting served as an enhancement for the most part, however, some scenes were a little too dark.
Once again The First City Players have created an entertainment well worth the effort to go and see. The audience was charmed last weekend by this beloved classic.
Oliver! continues this weekend on Friday and Saturday at 7:30 PM and there will be a Sunday matinee at the Ketchikan High School Auditorium. Tickets can be purchased online by clicking on the Buy Tickets graphic and tickets are also available through The First City Players at 907-225-4792.
Bill Hupe is a resident of Ketchikan and Faulconbridge NSW, Australia. Most of his writing is with Susan Batho (also a resident of both places). Known by most people as "The Twins", they are a writing and photographic team and specializing in photography of Alaska and Australia. Their website www.beaustud.com features some of their work, and they can be reached through susan_and_bill@hotmail.com


Publish A Letter on SitNews Read Letters/Opinions
Contact the Editor
SitNews ©2006
Stories In The News
Ketchikan, Alaska