New Personal Care Assistant Program regulations announced
November 29, 2005
Tuesday

Alaska Health and Social Services (DHSS) Commissioner Karleen Jackson announced new proposed regulations for the Personal Care Assistant (PCA) Program today.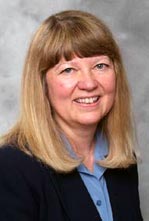 DHSS Commissioner
Karleen Jackson
"The changes make the Personal Care Assistant program more effective and accountable, ensuring those most in need of the services receive them." said Jackson. "By implementing these changes, we can better serve Alaskans, and still realize a savings of approximately $17 million over the next year."
"The Personal Care Assistant industry is working closely with the Division of Senior and Disabilities Services to develop and promote a responsive service delivery system that efficiently and effectively meets the needs of elderly and disabled Alaskans. This collaborative effort has already resulted in improved services and reduced cost," said Senior and Disabilities Services Director Rod Moline.
The DHSS Personal Care Assistant program provides assistance to elderly and disabled individuals who need help with daily living tasks such as dressing, eating, or using the bathroom. The Medicaid-funded program provides individuals the opportunity to live in their own home or community instead of living in a long-term care institution or facility. Assistance is available through either an agency that employs assistants and manages all details of care for clients, or through a consumer-directed program, in which the client or their representative manages the employment of an assistant, the schedule of care, and related details.
The changes to the regulations clarify and strengthen the requirements for PCA client assessments and eligibility, and define provider requirements. "The changes make the PCA program more effective, accountable and ensure those needing the services receive them," Jackson said.
Following adoption, the Alaska Department of Law will review the regulations, which may result in additional changes. Once the review is complete, the regulations will be filed with the Lieutenant Governor's office. Thirty days after filing, the regulations become law.
A copy of the proposed regulations is available online on the DHSS Public Notices page: http://www.hss.state.ak.us/publicnotice/regulations.cfm
On the Web:
Fact Sheet: Personal Care Assistant Program regulations adopted (124KB)
E-mail your news & photos to editor@sitnews.us


Publish A Letter on SitNews Read Letters/Opinions
Submit A Letter to the Editor
SitNews
Stories In The News
Ketchikan, Alaska