BLACK FRIDAY
By MARIE L MONYAK
November 26, 2005
Saturday

Ketchikan, Alaska - Retailers have dubbed the busiest shopping day of the year as Black Friday. You would think they could have selected a more cheerful, uplifting moniker considering that they'll be counting their profits well into the wee hours. Black Friday sounds like a stock market crash, a funeral, the end of the world, or a war; however, it is a postive day for retail businesses as reportedly many will make 40% of their profits between now and the end of the year.
Of course for some, it was a black day. Outside of Grand Rapids, Michigan a woman fell to the floor of a WalMart as shoppers pushed their way in at 5:00am. She was trampled and sustained minor injuries. In Orlando Florida, a man allegedly cut in line to purchase a computer and was wrestled to the ground. There was a report from Texas where shoppers were maced as a form of crowd control when they became unruly in an electronics department.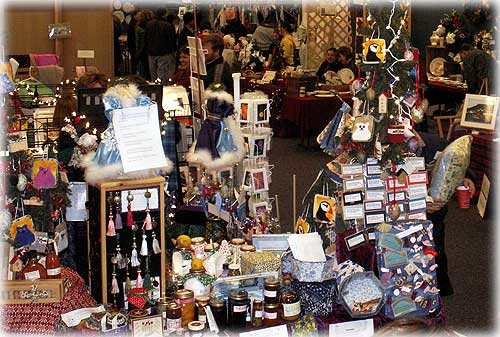 Winter Arts Faire. The booth in the foreground is Faith Duncan's.
Her wares are Traditional and Nouveau Russian arts, crafts and foods.
Photograph by Marie L. Monyak

If anyone is still compiling a list of things to be grateful for this Thanksgiving weekend, they may want to add, living in Ketchikan. There were no overnight campers in sleeping bags waiting to get into WalMart. No one lined up outside of Tongass Dock Store at 4:00 am. Not one person was maced at the Plaza Mall. Black Friday was just a busy shopping day in Ketchikan. At worst, parking lots were crowded, lines were long, items were sold out.
It's not that we're lacking in shopping incentive, or unwilling to tackle someone over the last Xbox, or run a foot race to the DVD players, it's that we know we have to face our neighbors tomorrow and the next day and the next. One days bad behavior can follow you for a long time, in a town as small as Ketchikan.

On this day of days, Ketchikan shoppers had a variety of merchants to choose from, only too happy to relieve them of their hard earned dollars.

The long awaited Annual Winter Arts Faire at the Ted Ferry Civic Center attracted a steady crowd from opening to closing time. Crafters and artists displayed their creations ranging from rag rugs to jewelry, t-shirts, jelly, lamps, pottery, glassware, coffee and artwork. The creativity and artistry of these venders was apparent just by the shopper's ooohs and aaahs. There was no end to the treasures to be found. No reports of trampling there. Just a lot of local folks, shopping, socializing with old friends, and enjoying a sweet treat from the vendors.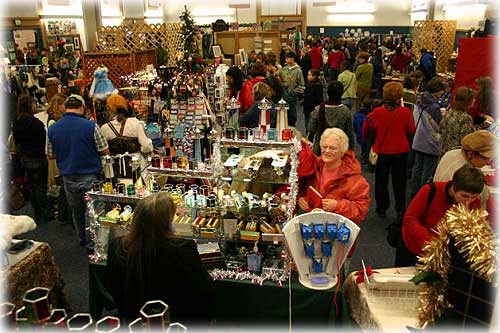 Winter Arts Faire 2005
Photo by Chris Wilhelm ©2005

Most shoppers have their favorite place in town to shop for that perfect gift. Be it KetchiCandies, Trinkets, My Sister's Place, Silver Basin, Parnassus, Crazy Wolf Studios, Julie's, or any number of other stores. One may have to drive from one to the next, but there are plenty of offerings out there for the discriminate shopper.

It has come to this writers attention that the majority of shoppers in Ketchikan on this Black Friday were female, be they young or old or forever twenty-seven. If living the life of Ozzie and Harriet, the alpha female has risen early to embark upon her shopping excursion, with running shoes on, and credit card in hand. The alpha male has also risen early, only to resettle in front of the television to watch hours upon hours of football, rising only to forage through the jungle of leftovers in the side-by-side.

By days end, the alpha female will return with bags and boxes, ready to drop, exhausted from the most athletic shopping she has ever experienced. The alpha male, knowing there are gifts in the pile for him, will listen patiently to her story of Ketchikan's very own Black Friday war zone and promise to hang the Christmas lights... tomorrow.

Can life be any better?
On the Web:
Winter Arts Faire Photo Gallery Photos by Lisa Thompson
Marie L. Monyak is a freelance writer living in Ketchikan, Alaska.

Publish A Letter on SitNews
Read Letters/Opinions
Submit A Letter to the Editor
SitNews
Stories In The News
Ketchikan, Alaska