63-Year-old cutter slated to be decommissioned
November 25, 2005
Friday

The Coast Guard announced last week that the 63-year-old cutter Storis, its longest-serving cutter, is proposed to be decommissioned in 2007 as part of the service's ongoing modernization of its fleet of aged and obsolete cutters.
Storis' decommissioning will make room for the 378-foot cutter Munro, currently homeported in Alameda, Calif., which is scheduled to move to Kodiak in 2007.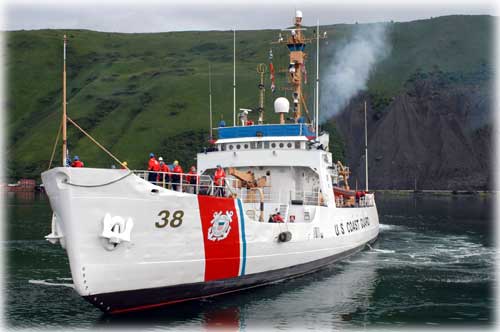 The crew of the Kodiak-based Coast Guard cutter Storis celebrated ship's 63 years of service on Sept. 30, 2005.
Official Coast Guard photo by Petty Officer Christopher D. McLaughlin


"Storis has been a gallant workhorse for the Coast Guard since World War II and has earned an honored place in Coast Guard history," said Vice Adm. Harvey Johnson, Commander, Coast Guard Pacific Area. "Her departure from active service heralds a new era marked by our Deepwater modernization project that will bring us three new classes of faster and more capable cutters as well as new and more capable aircraft."
Munro, a flight deck-equipped high endurance cutter, would enhance search and rescue and law enforcement capabilities in the Gulf of Alaska, Bering Sea and across the North Pacific Ocean. It has a crew of 20 officers and 150 enlisted personnel. Munro is expected to remain in Kodiak until the planned delivery of a new offshore patrol cutter in 2011 under Deepwater, the Coast Guard's long-term program to modernize and integrate its assets.
The Storis was built by the Toledo Shipbuilding Company, Toledo, Ohio and commissioned in 1942. Storis has been home-ported in Alaskan waters for nearly 50 years, patrolling the Bering Sea, Gulf of Alaska and North Pacific and performing search and rescue and enforcement of fisheries laws in U.S. waters. It has a crew of 12 officers and 74 enlisted personnel.
The Storis saw action in World War II in the North Atlantic while assigned to prevent the establishment of Nazi weather stations in Greenland. In 1948, the Storis changed homeport to Juneau where it supplied medical treatment to native villages and surveyed uncharted waters in the Arctic. The Storis and two other cutters, now decommissioned, completed a historic transit of the Northwest Passage and circumnavigation of the North American Continent in July of 1957. Soon after, the Storis was transferred to its present homeport in Kodiak.
The Storis continues to patrol the Gulf of Alaska and the Bering Sea, proudly bearing its gold "38" hull numbers, which is a distinction given only to the oldest cutter in the fleet.
Source:
United States Coast Guard
http://www.uscg.mil

E-mail your news & photos to editor@sitnews.us


Publish A Letter on SitNews Read Letters/Opinions
Submit A Letter to the Editor
SitNews
Stories In The News
Ketchikan, Alaska