Sweet Second Saturday Folk Dance Features BC Guests
By M.C. Kauffman
November 10, 2005
Thursday

Ketchikan, Alaska - It is impossible to describe the incredible synergy and spirit that occurs when you combine enthusiastic, connected, happy dancers and hot musicians. And this Saturday, the Sweet Second Saturday Folk Dance will combine happy dancers and hot musicians and once again provide an evening of delightful dance, music, and all-round silliness.
Featured at the Sweet Second Saturday Folk Dance in Ketchikan this weekend are two guests from British Columbia. Dance caller and accordionist, Marian Rose, will be joined by fiddler, June Cannon. Live music will be provided by Paddy's Leather Breeches.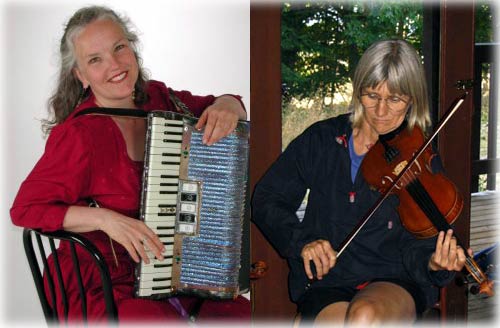 Guest dance caller and accordionist, Marian Rose, and guest fiddler, June Cannon.

Guest dance caller and accordionist, Marian Rose grew up in a small town on the Canadian prairies, where she (and everyone else in town) learned to dance by imitating the adults at weddings and socials. Born into a musical family, she began playing for dances at the age of twelve and has continued (with the traditional sabbatical for teenage rebellion) until the present day. A talented musician and impassioned dance leader specializing in contra, square, and other traditional social dances, Rose teaches in schools and has traveled throughout North America to teach at workshops, conferences and fiddle camps.
Guest fiddler, June Cannon grew up in a musical family in Scotland. Cannon began learning traditional fiddle at an early age, from her father and grandfather. After a brief foray into formal lessons, she set down her fiddle for many years. Celtic minded friends on Hornby Island convinced her to pick it up again, and she realized that there was serious fun to be had with this music. Her Grandfather's fiddle joined her on the West Coast and in her hands it now plays a mix of music from Scotland, Ireland, New England and Quebec. Currently, Cannon has fun playing and teaching on Hornby and Denman Islands and at festivals and workshops throughout British Columbia and Washington.
And what about the featured dances? The only real answer to the question "What is contra dance?" comes when you try it. A whimsical description of a contra dance is a dance that thrusts a different person of the opposite sex into your arms every 30 seconds or so. Contra dance is real people in real time with real music. It is real life. You cannot experience this while sitting on your duff. And if you've never heard of square dancing, get out more often! You must be spending way too much time in front of your computer.
The circle dance, is the most common name for a style of dance usually done in a circle without partners to musical accompaniment. It became popular in the 1980s and 1990s and continues today. Circle dance mixes traditional folk dances with recently choreographed ones to a variety of music both ancient and modern.
One of the producers Carol Alley said all are welcome, but noted it is best to keep small children off the dance floor during the more complicated dances. No dance experience or partner are required to participate and instruction is also provided.
The Sweet Second Saturday Folk Dance, made possible by the Ketchikan Arts and Humanities Council, will be held at the Coast Guard Upper Base, Crows Nest on November 12th. The doors open at 6:30 pm and the music starts at 7:00 pm. Admission is $5.00 for adults and children under 18 are free.
Contact M.C. Kauffman at mc@sitnews.us

Publish A Letter on SitNews
Read Letters/Opinions
Submit A Letter to the Editor
SitNews
Stories In The News
Ketchikan, Alaska