Perseverance Theatre Artists Crisscross State Gathering Stories of Raven
November 09, 2005
Wednesday

Artistic Director PJ Paparelli and Director of Outreach Ishmael Hope, both of Juneau's Perseverance Theatre, will journey across Alaska from November 8th to December 16th, 2005, researching and documenting the stories, cultures, and histories of the Aleut, Alutiiq, Athabascan, Haida, Iñupiaq, Tlingit, Tsimshian, and Yupik people for a new theater production, entitled The Raven Odyssey.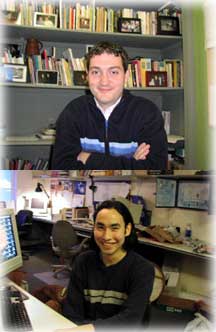 Artistic Director PJ Paparelli and Director of Outreach Ishmael Hope
Courtesy Perseverance Theatre
During this initial research and developmental phase of the project, Paparelli and Hope, a Tlingit/Iñupiat storyteller, will interview Alaska Native storytellers and Elders from across cultures and the state, gathering stories of Raven, a trickster figure who features prominently in the mythology of many American Indian and Alaska Native cultures. The stories will eventually be woven together into a full-length theater piece which will also involve Alaska Native dance, song, and visual art and will be performed by an all-Alaska Native cast of performers.
The Raven Odyssey is currently scheduled for world premiere production at Perseverance Theatre in 2007. "We know we couldn't do this without learning from the wisdom of the Elders," said Hope. "By learning from the great variety of Alaska Native cultures, we know we can serve all of Alaska. "
Paparelli and Hope began their travels in Anchorage on November 8, 2005, and, from there, will visit Kotzebue, Bethel, Kodiak, Dutch Harbor, Nome, Fairbanks, and Ketchikan over a period of six weeks. In between will be several trips to smaller, outlying communities, such as Gambell, Klawok, Port Lions, and Chevak. Among the interview subjects currently lined up are Mayor Ross Schaeffer of Kotzebue, theatre artist and Yup ik dancer Theresa John of Bethel, Alutiiq Elder John Pestrikoff of Port Lions, Unangan language speaker and educator Moses Dirks of Unalaska, and renowned poet and Tlingit speaker Nora Dauenhauer. "This is a glimpse into the vast wisdom and knowledge we have right here in our state," said Hope. "It is our job to share these immense gifts to a larger audience. We ll do it with respect, gratitude and humility."
Project funders include the Wallace Foundation, the Alaska Humanities Forum, and the Afognak Native Corporation.
Founded in 1979 in Juneau, Perseverance Theatre has a long and successful history of artistic collaboration with the Alaska Native community. In 2001, Perseverance Theatre developed and world premiered Moby Dick, an original theater work which fused Melville's novel with the whaling traditions of the Iñupiat people. The cast included both Caucasian and Alaska Native performers and the piece later toured to Anchorage, Fairbanks, and Barrow.
In 2004, Perseverance Theatre presented an all-Alaska Native production of William Shakespeare s Macbeth, set in the context of Southeast Alaska's Tlingit culture. This production also later toured Alaska, visiting Sitka, Hoonah, Kotzebue, Valdez, and Anchorage; and discussions are underway to bring Macbeth to the Smithsonian Museum of the American Indian in Washington D.C. for performances next year. Meanwhile, Perseverance Theatre annually presents Beyond Heritage, a week-long Alaska Native performance festival curated by Hope. The Raven Odyssey will continue this strong tradition of Alaska Native theater work and collaboration with Alaska Native artists and cultures from around the state.
TRAVEL SCHEDULE:
Nov. 12 - 15, 2005 Kotzebue
Nov. 15 - 19, 2005 Bethel
Nov. 19 - 23, 2005 Kodiak
Nov. 23 - 27, 2005 Dutch Harbor
Dec. 4 - 8, 2005 Nome
Dec. 8 - 13, 2005 Fairbanks
Dec. 13 - 16, 2005 Ketchikan
On the Web:
Perseverance Theatre
www.perseverancetheatre.org

Publish A Letter on SitNews
Read Letters/Opinions
Submit A Letter to the Editor
SitNews
Stories In The News
Ketchikan, Alaska