Dreams of a "Winter Wonderland" Tradition
by M.C. Kauffman
November 24, 2004
Wednesday

Ketchikan, Alaska - A whale of a dream began with the gathering of approximately a dozen volunteers who came together to decorate the whale's tail portion of Whale Park with festive white lights in downtown Ketchikan Saturday. The participants, made up of City and KPU employees and their family members, volunteered their time to light up Whale Park and contributed at least one string each of white lights to the community project. White lights were also donated by other employees who were unable to participate in the decorating.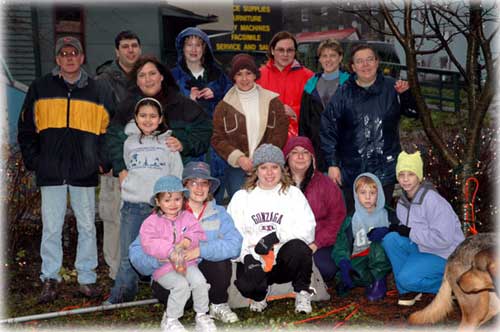 "Winter Wonderland" Volunteers
Front Row (kneeling): Jaci Johansen, Michelle Johansen,
Rhonda Bolling, Anita Beaudoin, Matthew Hendricks, Amanda Hendricks
Back Row: Karl Amylon, John Brown, Hailee Miller, Marie Miller, Rebecca Brown, Rhonda Scott, Eva Lindgren, Kim Hendricks, Judith Anglin
Photo courtesy "Winter Wonderland" Volunteers

The volunteers planned to kick off this year's holiday season in Whale Park with festive decorations and reported having a great time decorating in the rain. Participants are hopeful that the sparkling white lights will encourage other residents and business owners to follow suit and light up Ketchikan and in doing so help start a tradition of transforming Ketchikan into a "Winter Wonderland" during holiday seasons.
According to volunteer Rhonda Bolling, the group also sees a longer-term goal of lighting up Ketchikan as a "Winter Wonderland". The dream is to create an interest among residents of other communities to visit Ketchikan during the winter months to take in the beauty of Ketchikan's lights and possibly do their holiday shopping and attend local events while here.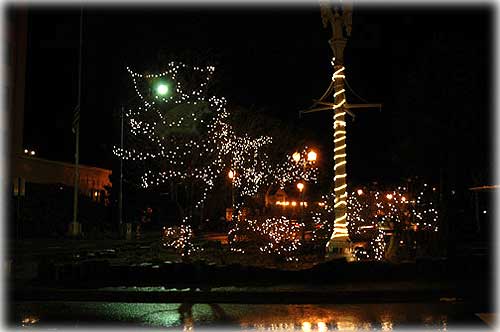 Night lights of Whale Park...
Photo courtesy "Winter Wonderland" Volunteers

Community spirit and civic pride are other outcomes these volunteers hope to see emerge from a combined community effort to light-up Ketchikan during the holiday season. For anyone interested in joining in with lighting up Ketchikan as a "Winter Wonderland" simply decorate your home or business with a similar theme using white or clear lights.
Whale Park is owned by the Ketchikan Gateway Borough and permission was obtained from the Borough for this volunteer group to transform the park into a "Winter Wonderland". According to the volunteers, KPU Electric will pay for the electricity which the group anticipates to be a very minimal amount as only four outlets were used.
Volunteer Judith Anglin
Photo courtesy
"Winter Wonderland" Volunteers


Volunteer Judith Anglin and
Volunteer Karl Amylon
Photo courtesy
"Winter Wonderland" Volunteers

Michelle Johansen is decorating the tree in Whale Park.
Photo courtesy "Winter Wonderland" Volunteers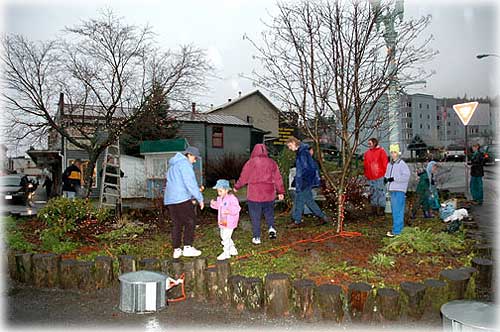 Volunteers at work...
Photo courtesy "Winter Wonderland" Volunteers
E-mail your news & photos to editor@sitnews.org


Publish A Letter on SitNews Read Letters/Opinions
Submit A Letter to the Editor

Sitnews
Stories In The News
Ketchikan, Alaska