Alaska's October Unemployment Drops Slightly

Ketchikan's Unemployment Rises
November 22, 2004
Monday

Ketchikan, Alaska - Alaska's unemployment rate fell one-tenth of a percentage point in October to 6.6 percent according to Dan Robinson, an economist at the Alaska Department of Labor and Workforce Development.
Typically the state's unemployment rate rises in October as seasonal employment continues to wind down for the year. Over the last five years the average October increase has been four-tenths of a percentage point. This year's decline may not be significant, however, since it is well within the statistical margin of error.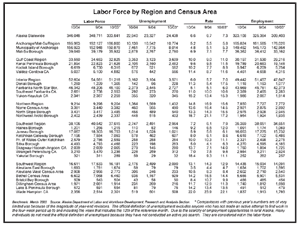 Labor Force by Region
Click on graphic for larger image...
Ketchikan's unemployment rate rose from 6.1 percent to 8.0 percent in October. According to the Alaska Department of Labor 6,618 in the work force were employed with 578 reported as unemployed in October.
Anchorage's unemployment rate fell from 5.1 percent to 4.8 percent, while Fairbanks' rate held constant at 5.1 percent. Juneau saw an increase of three-tenths of a percentage point to 5.9 percent. October marks the third consecutive month Juneau has recorded a higher unemployment rate than Fairbanks, a reversal of recent history for the two boroughs. Over the last five years Juneau's unemployment rates have been an average of nine-tenths of a percentage point lower than those of Fairbanks.
Preliminary October payroll estimates showed a decline of 12,800 jobs statewide over the month, a large but expected drop according to Robinson. The construction industry lost 1,500 jobs in October, manufacturing jobs declined by 3,100, mostly in seafood processing, and jobs in the leisure and hospitality sector fell by 4,800. The over-the-month loss of 3,100 jobs in the trade, transportation, and utilities sector was primarily due to expected seasonal cut backs in scenic and sightseeing transportation and in retail trade.
Over-the-year comparisons show 3,600 jobs added statewide since October 2003, a growth rate of 1.2 percent. The education and health services sector has added 1,800 jobs over that period, nearly all of them in health care and social services. Jobs in the construction industry were up by 1,200 in October, a strong over-the-year growth rate of 6.5 percent. After several years of decline, jobs in natural resources and mining are up 200 over the year.
Statewide, the only two employment sectors with fewer jobs than a year ago were other services and government, although the loss of 500 jobs in other services is due mostly to a change in the way several employers are classified. All three levels of government-federal, state, and local-have cut a small percentage of jobs since October 2003.
The official definition of unemployment excludes anyone who has not made an active attempt to find work in the four-week period up to and including the week that includes the 12th of the reference month. Due to the scarcity of employment opportunities in rural Alaska, many individuals do not meet the official definition of unemployed because they have not conducted an active job search. They are considered not in the labor force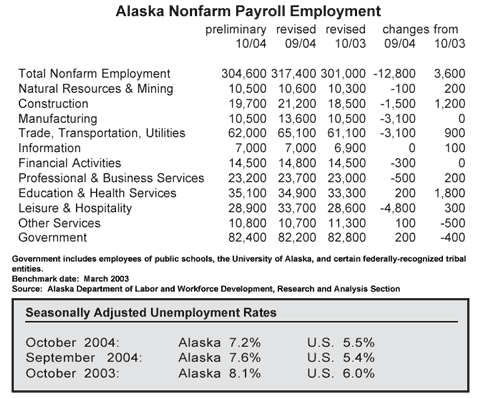 Source of News & Charts:
Alaska Department of Labor & Workforce Development
Web Site

E-mail your news & photos to editor@sitnews.org


Publish A Letter on SitNews Read Letters/Opinions
Submit A Letter to the Editor

Sitnews
Stories In The News
Ketchikan, Alaska