Volunteer & Social Opportunities Available for Seniors
November 20, 2004
Saturday

Ketchikan, Alaska - The National Senior Service Corporation is presently recruiting retired seniors/elders in the community of Ketchikan who are interested in volunteering to provide mentoring and classroom assistance to young children. This is an unusual program in that volunteer service is rewarded with a tax exempt stipend. Seniors over the age of 60 may be eligible.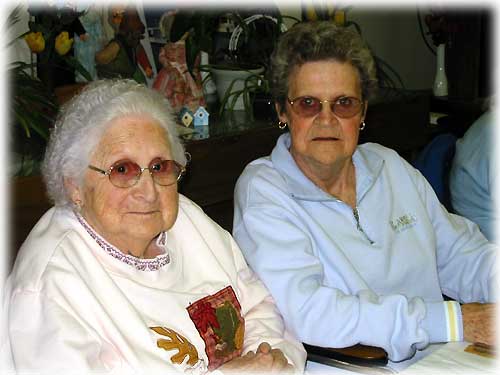 Jodi Stensland and Mary Johnston were among the approximately 60 individuals
attending the Thanksgiving luncheon...
Photo by Gretchen Klein

The Foster Grandparent/Elder Mentor Program, a service of the National Senior Service Corporation, matches retired seniors, both men and women, with volunteer opportunities. Some locations such as schools, after school programs, Head Start Centers are some of the locations that are often in need of volunteers. Foster Grandparents assist children with classroom reading, social skills or cultural enrichment activities.
Seniors citizens may volunteer 15-20 hours per week. If you are interested in one of these volunteer opportunities, contact Priscilla Barnett at (907) 723-4685 for more information.
For Senior citizens interested in activities of daily living and social programs, the staff of the Senior Center in Ketchikan work to provide Ketchikan Seniors healthy meals in a social setting and offer transportation to a variety of places such as doctor's appointments, shopping, as well as the Senior Center. Ketchikan's Senior Center also offers a variety of activities such as art classes, exercise classes, bingo, and blood pressure checks. Meals on Wheels is another service provided to qualifying seniors by the Senior Center. Donations, bazaars, and raffles help support the Meals on Wheels program.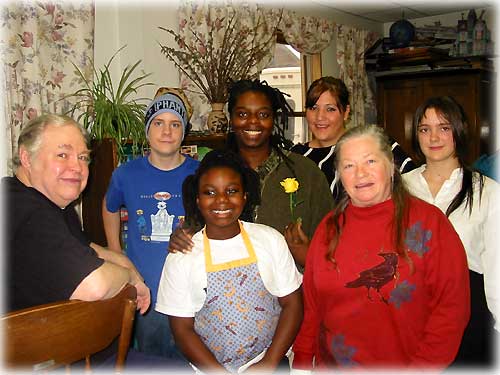 Thanksgiving luncheon
Among those pictured are Shane, Priscilla, Aisha, Rhianna, Yannie, and Drow...
Photo by Gretchen Klein

Annual events and celebrations sponsored by the Senior Center include observance of holidays such as New Years, Christmas, Thanksgiving, an Easter Egg Hunt at the Plaza, Halloween at the Plaza, Fourth of July, and the upcoming Annual Christmas Bazaar on December 11th.. Senior Services also co-sponsors events for Seniors with other local agencies such as the Ward Lake picnic and city-wide bingo.
A recent social event held at the Senior was the Thanksgiving luncheon held on November 19th. This social event was attended by approximately 60 community members of all ages.
Local supporters of the Senior Center are: the Ketchikan Gateway Borough, the City of Ketchikan, and Ketchikan Indian Community (KIC). Many senior citizens throughout the communities of Ketchikan and Saxman enjoy and depend on the services provided by the Senior Center. The Senior Center staff encourage community volunteers to become involved.
E-mail your news & photos to editor@sitnews.org


Publish A Letter on SitNews Read Letters/Opinions
Submit A Letter to the Editor

Sitnews
Stories In The News
Ketchikan, Alaska