ADF&G Commissioner Kevin C. Duffy Retires From State Service
November 19, 2004
Friday

Juneau, Alaska - On Thursday, Kevin C. Duffy, Commissioner of Alaska Department of Fish and Game (ADF&G), announced that he is retiring effective December 31, 2004 to accept a position as Executive Director of the At-Sea Processors Association (APA). The APA represents U.S.-flag catcher/processor vessels that operate in the Bering Sea.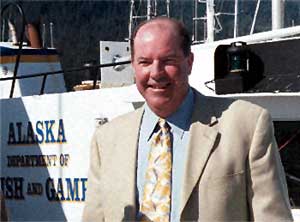 Kevin C. Duffy, Commissioner of Alaska Department of Fish and Game (ADF&G)
Photo courtesy ADF&G
"It has been an honor and my pleasure to serve the people of Alaska under Governor Frank Murkowski," said Commissioner Duffy. "ADF&G employees are extremely dedicated and talented professionals who make ADF&G an exceptional place to work. As Commissioner, I have come to know and respect ADF&G employees, and wish them the best in their personal and professional pursuits."
Governor Frank H. Murkowski on Thursday thanked retiring Fish and Game Commissioner Kevin Duffy for his 24 years of state service and for his leadership within the department.
"The Fish and Game commissioner deals with many contentious issues and yet Kevin has forged a reputation as a consensus builder who has worked hard to balance the needs of all stakeholders," Murkowski said. "I am sorry to lose such a valuable member of my cabinet, but I am grateful for his many contributions to the state."
A news release from the Office of the Governor stated that during Duffy's tenure as commissioner, Duffy formulated a predator control program to improve the health of moose and caribou populations, worked to revitalize the state's salmon industry by increasing harvest opportunities for sport and commercial fishermen, and increased access to lands in Alaska for hunting and fishing opportunities.
Also the release noted that Duffy's work on the Pacific Salmon Commission in Southeast Alaska was crucial to establishing a treaty with Canada, Washington State and Oregon. He also served on the Fish Cabinet, which was created by the governor.
Quoting the news release from the Office of the Governor, Duffy also represented Alaska's interests well on the North Pacific Fisheries Management Council stated the release from the Office of the Governor.
"Kevin has articulated this administration's Fish and Game policies with outstanding clarity and provided steady leadership in an area of state government that affects so many Alaskans. He will be missed," Murkowski said.
Commissioner Duffy first joined ADF&G in 1981 to work on statewide salmon issues. Prior to serving as Commissioner, Duffy served as Acting Commissioner under the Murkowski Administration, and Deputy Commissioner for the previous administration. In his 24 years with ADF&G, Duffy also served as Deputy Director of the Division of Commercial Fisheries

Sources of News:
Office of the Governor
Web Site


Alaska Department of Fish & Game
Web Site

Photo courtesy ADFG
E-mail your news & photos to editor@sitnews.org


Publish A Letter on SitNews Read Letters/Opinions
Submit A Letter to the Editor

Sitnews
Stories In The News
Ketchikan, Alaska