Governor Announces Social Services Funding "BASIC" grants

Grants to address needs such as food, shelter, dental and health care
November 18, 2004
Thursday

Alaska Governor Frank H. Murkowski Wednesday announced a $1 million grant initiative to support vital social service programs that now directly serve needy Alaskans across the state from Barrow to Ketchikan.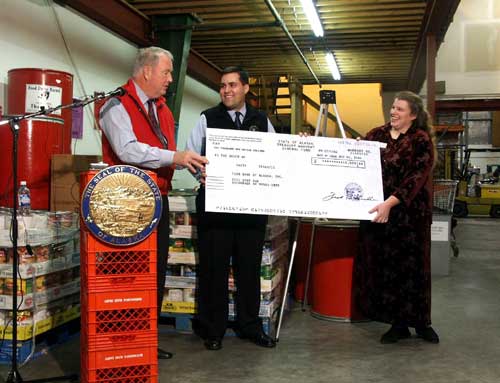 Governor Frank H. Murkowski announced a $1 million grant initiative to support social service programs serving needy Alaskans. As a sign of support for such programs, he and Health and Social Services Commissioner Joel Gilbertson presented Food Bank of Alaska Executive Director Susannah Morgan with a state check for $10,000 to buy Thanksgiving turkeys for the needy. Later in the day the governor also announced his plans for $7.1 million in new state funding to boost efforts to fight abuse of alcohol and drugs in Alaska.

The BASIC Grant (Building Alaska through Successful Initiatives in Communities) under the Alaska Department of Health and Social Services will be part of the governor's FY06 budget request to the Legislature, the governor said.

Listen: BASIC Grant Program (mp3) - Governor Murkowski describes his new BASIC Grant (Building Alaska Through Successful Initiatives in Communities), a $1 million program aimed at helping efficient, grass-roots organizations meet community needs.

Listen: Food Bank is Efficient (mp3) - Governor Murkowski says private charitable organizations like the Food bank of Alaska and others deserve support for their efficient, grass-roots support for the state's needy.
Murkowski announced the proposed grant fund while at the Food Bank of Alaska where he delivered a $10,000 check to help support the "Thanksgiving Blessing" project. That project will provide food baskets to 2,500 families in Anchorage in time for Thanksgiving.
"We're using the helping networks that are already in place in our communities to provide some of the basic needs for Alaskans who most need help," said Murkowski. "We want to encourage and support creative, collaborative, community-based activities. This is about people helping people."
The governor helped sort food items at the Food Bank warehouse with Health and Social Services Commissioner Joel Gilbertson and community volunteers.
"The BASIC grants will help meet the essential needs of thousands of Alaskans. Grant funding will help community-based agencies provide food, shelter, health and dental care - similar to the Thanksgiving Blessing project," said Gilbertson.
BASIC grant activities will involve the collaboration of multiple agencies or groups. The success of the grant projects will be evaluated based on performance of these collaborations, such as efficient use of volunteers, involvement of the community, efficient use of resources, and service delivery to needy populations. Successful projects, using these standards of "best practices," will be shared with communities as possible ideas for future proposals.
BASIC grants will: Provide grant funding to collaborative groups delivering essential health and social services directly to recipients. Fund community-based activities that promote and protect the health and well being of Alaskans by addressing basics needs such as food, shelter, health and dental care. Utilize examples of the best practices of community-based collaborative projects to help provide basic needs, by evaluating and sharing ideas from successful projects.
The Anchorage project was selected for the announcement to highlight exactly the types of grass-roots efforts that these grants are intended to aid. The food bank's "Thanksgiving Blessing" project involves nonprofits, government agencies, churches and community groups delivering Thanksgiving food baskets to those in need through five locations across Anchorage.
Thanksgiving Blessing partners include Catholic Social Services, Lutheran Social Services, the Anchorage Municipal Safe City Program, Christian Health Associates, United Way of Anchorage, Mountain View Community Center and area churches.
Governor Murkowski will deliver the budget request for BASIC grants to the Legislature in his FY06 Budget on Dec. 15.



Source of News & Audio Clips:
Office of the Governor
Web Site

E-mail your news & photos to editor@sitnews.org


Publish A Letter on SitNews Read Letters/Opinions
Submit A Letter to the Editor

Sitnews
Stories In The News
Ketchikan, Alaska