Invasive plants creep into Alaska
by Ned Rozell

November 15, 2004
Monday

If you saw an orange and blue blimp floating over the Matanuska River this summer, you weren't hallucinating. Scientists launched the 15-foot long, tethered blimp to help them document a growing problem in Alaska - the invasion of non-native plants.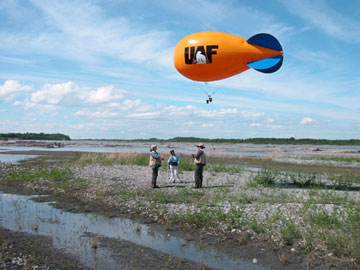 From left, UAF Agricultural Research Technician Beth Hall, graduate student Risa Ikeya, and assistant professor Norm Harris use a tethered blimp to measure the extent of a white sweet clover invasion on the Matanuska River...
Photo by Trish Wurtz
Norm Harris has flown blimps all over Alaska to get a bird's-eye view of everything from soils to salmon habitat. Based in Palmer, Harris is an assistant professor of range science and management at the University of Alaska. He decided to use to the camera-equipped blimp to get a high-resolution view of Alaska's most widespread invasive plant, white sweet clover.
White sweet clover first traveled to the U.S. as cattle forage in the 1600s, and since then people have planted it in all 50 states and throughout Canada. Beekeepers like sweet clover for its fragrant white flowers, and it's also a nitrogen-fixer that enriches the soil for future plants. Sweet clover has its upside, but ecologists think it's one of the biggest threats to natural ecosystems in Alaska, a place unique when compared to the Lower 48 because of the small number of non-native plants introduced here by man.
White sweet clover's first trip to Alaska may have been when the state imported a few plants for a Mat-Su valley farm study in the early 1920s. Until recently, the Alaska Department of Transportation also used it in a seed mix of plants used to stabilize roadsides. Sweet clover gets around as its pinhead-size seeds cling to vehicles and footwear and ride river currents downstream. The plant takes root in recently disturbed areas; it now thrives in dense clumps on the floodplain of the Stikine River of southeast Alaska and more recently has colonized the flats of the Matanuska and Nenana rivers and near the Dalton Highway's intersection with the Yukon River. Scientists think the plant might be moving onto riverbeds at places where roads cross rivers, and that sweet clover may keep rolling right down the entire Yukon River drainage.
Why do scientists care so much about a member of the pea family with sweet-smelling white flowers? Because it might interfere with other plants, like willows, that moose or other animals like to eat or it may impact the ecosystem in other, unpredictable, ways.
"It might bump out other pioneer plants, leaving them without a niche," Harris said.
Harris decided to fly his blimp over the Matanuska River's glacially raked floodplain after Jeff Conn of the USDA Agricultural Research Service identified it as one of the areas where white sweet clover is thriving. With the blimp, Harris hopes to be able to map and study infestations of invasive plants from 100 feet in the air, which is more accurate and less labor-intensive than trying to do the work on foot. Joining him on the Matanuska River project is Trish Wurtz, a Forest Service research ecologist from Fairbanks. Wurtz is performing an experiment in a UAF greenhouse to see if white sweet clover will outcompete willows, cottonwoods and other native plants.
"Is it displacing native plants?" Wurtz said. "That's what we hope to find out."
Preventing the spread of white sweet clover is a more effective strategy than trying to remove it, the scientists say. Volunteers have pulled dandelions and other non-native species from along the Denali National Park road for the past few years, but the colonization of a river floodplain by an invading plant may be overwhelming. The pods of each white sweet clover plant can release 350,000 seeds in a year, for example, and those seeds can survive in the soil for up to 80 years.
"I'm not sure how you're going to stop it," Harris said. "We're just trying to get a handle on what's out there now."
This column is provided as a public service by the Geophysical Institute, University of Alaska Fairbanks, in cooperation with the UAF research community. Ned Rozell ( nrozell@gi.alaska.edu ) is a science writer at the institute.


E-mail your news & photos to editor@sitnews.org


Publish A Letter on SitNews Read Letters/Opinions
Submit A Letter to the Editor

Sitnews
Stories In The News
Ketchikan, Alaska