Aurora Presents Spectacular Display
by M.C. Kauffman
November 10, 2004
Wednesday

Ketchikan, Alaska - With eruptions from a large and complex sunspot group sending a series of solar storms to Earth, the stage is set for spectacular displays of the Northern Lights or Aurora Borealis this week.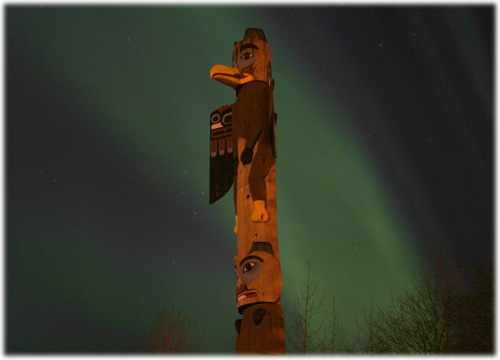 Aurora Borealis and Saxman Totem Pole Tuesday evening....
Photograph by Carl Thompson ©2004

Of all the naturally occurring heavenly phenomena, few will come close to a clear night with a spectacular display of the magnificent "red dawn of the north" - better known in Latin as the Aurora Borealis.
Fortunately skies were clear in Ketchikan Tuesday providing local photographers and fans of the Aurora Borealis opportunities to enjoy this ghostly light show which played across the night skies of Ketchikan. Although the Northern Lights are more commonly seen at altitudes nearer the North Pole, states further south such as Utah and Illinois are also reporting seeing their most impressive Northern Lights in years.
If you missed the Northern Lights Tuesday night, the Geophysical Institute of the University of Alaska forecasts the Auroral activity will be high Wednesday and Thursday also. Weather permitting, highly active auroral displays will be visible overhead from Barrow to Anchorage, and visible low on the horizon from Bethel, Soldotna and throughout Southeast Alaska.
If you find yourself outside at night this week, look up... you just might catch a glorious glimpse of the flickering curtains of dancing light against Ketchikan's dark skies. The Northern Lights are certainly one of the most spectacular of nature's phenomena.
E-mail your news & photos to editor@sitnews.org


Publish A Letter on SitNews Read Letters/Opinions
Submit A Letter to the Editor

Sitnews
Stories In The News
Ketchikan, Alaska