Occupants Okay After Rollover Accident
by Dick Kauffman
November 4, 2003
Tuesday - 1:00 am

Ketchikan, AK - A Toyota Corolla with two occupants traveling southbound on North Tongass left the highway Monday afternoon at approximately 1:05 pm. The accident occurred close to the Mecca Restaurant.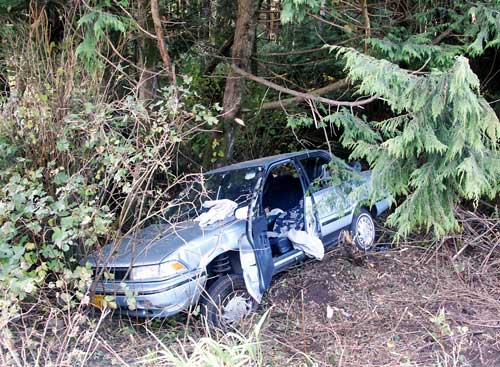 Wrecked Toyota Corolla
photo by Dick Kauffman

According to Trooper A. Benson, the driver said she was looking into her rear view mirror at a vehicle that was following very close when she lost the edge of the road and lost control of her car. The Toyota was pulled off the road and traveled down a deep bank before coming to a stop in brush and trees.
The two young women were helped from the car and transported to Ketchikan General Hospital for an evaluation. According to persons on the scene, the two young women did not appear to have any serious injuries.
According to a staff person at the Ketchikan General Hospital, the two women were treated and released.
Trooper A. Benson takes another look as final preparations are made to tow the car...
photo by Dick Kauffman
Alaska State Troopers Report:
On 11-03-03 at 1303 hours AST responded to the vicinity of 11.2 mile North Tongass Highway in response to a reported single vehicle rollover accident. Investigation revealed Randi Alsup, 16 years of age, and Nichole Harris, 17 years of age, both of Ketchikan were traveling south on North Tongass when Alsup lost control of the vehicle which resulted in the vehicle leaving the roadway and flipping once. Both Alsup and Harris were removed from the vehicle and transported to Ketchikan General Hospital for treatment of minor injuries. Alsup was issued one citation.
E-mail Editor: editor@sitnews.org
Post a Comment -------View Comments
Submit an Opinion - Letter

Sitnews
Stories In The News
Ketchikan, Alaska