Firefighting Training
by Dick Kauffman
November 3, 2003
Monday - 12:10 am

Ketchikan, Alaska - Saturday, thirty firefighters from the Ketchikan City Fire Department, along with four firefighters from the South Tongass Volunteer Fire Department, and two firefighters from the North Tongass Fire Department conducted firefighting training for approximately four hours at two vacant houses on the corner of Madison Street and 4th Avenue.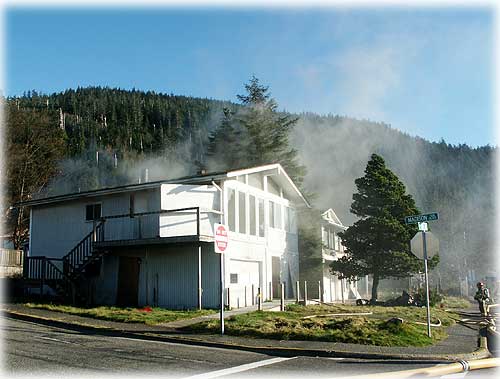 Smoke comes from this vacant house after a fire is set for training purposes...

Various types of fires were started in different rooms of the two-story homes in order to provide realistic fire training scenarios for the crews. After each training fire was extinguished by a crew, another fire would be set for a different crew to extinguish.
The original plan was to continue the firefighting drills until the two vacant buildings were burned to the ground. However, due to winds gusting up to 25 miles per hour, the plan to burn the vacant homes to the ground was canceled until a later date.
These vacant homes are owned by the Ketchikan Gateway Borough. After the homes are demolished, the Borough plans to use the lots to provide additional high school parking.
Photo Gallery
photos by Dick Kauffman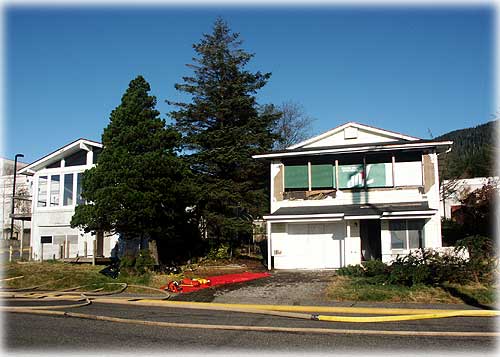 The two vacant houses that were used in the firefighting training...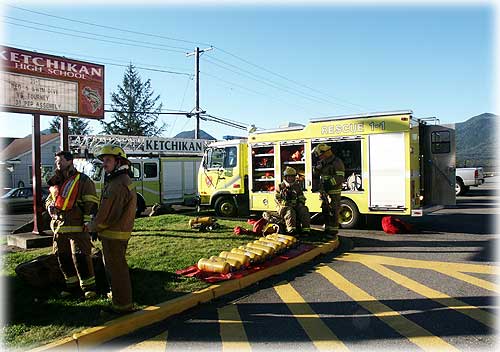 Crews waiting their turns for training exercises...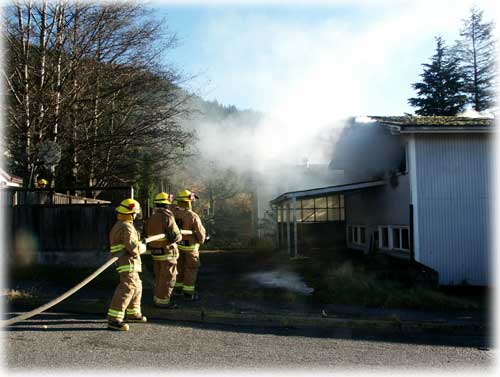 Yellow hats are worn by qualified fire fighters Jason Spear,
Presco Ancheta & Frank Divelbiss.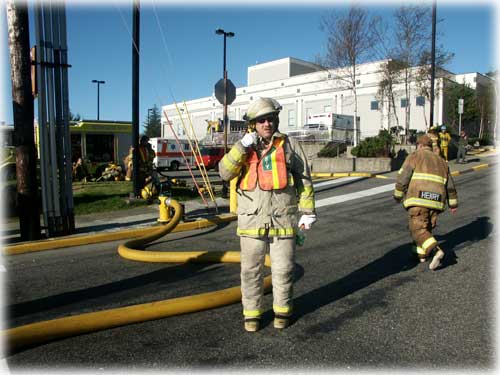 Ketchikan Fire Department Chief Rich Leipfert



E-mail Editor: editor@sitnews.org
Post a Comment -------View Comments
Submit an Opinion - Letter

Sitnews
Stories In The News
Ketchikan, Alaska