Little Bear tiptoes through the turnips
By MARY KAUFFMAN
October 20, 2011
Thursday PM

(SitNews) Ketchikan, Alaska - Shoppers at Tatsuda's IGA grocery store on Saturday evening had an unexpected adventure of the wild-kind when a small black bear nonchalantly followed a shopper through the automatic doors and proceeded to the produce section walking past the cashiers. It was surreal said one of the employees.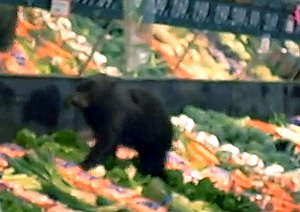 Little Bear tiptoes through Tatsuda's produce
Photo courtesy Joe Stollar
From Joe Stollar's video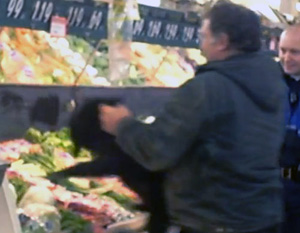 Retired City of Ketchikan firefighter Ken Holmes offers assistance and catches the small cub.
Photo courtesy Joe Stollar
From Joe Stollar's video
Produce Manager Danny Hernandez said the little critter stood on his hind feet and proceeded to climb onto the produce display paying no attention to Hernandez's efforts to shoo the bear away.
The little bear made a brief walk along the produce display and became world famous through a video made by Manager Joe Stollar which appeared on CNN, Good Morning America and Fox News. Stollar's video uploaded to You-Tube went viral in a matter of hours.
The little bear's visit was short and it did not demonstrate any interest in grazing and appeared more interested in finding an exit, which Ketchikan Police and retired Ketchikan Firefighter Ken Holmes were willing to provide.
According to Holmes, on arrival police officers were expecting to find a large bear and were equipped and ready; however, they were surprised to discover the small cub. Ex-firefighter Ken Holmes offered to capture the bear and remove it from the store. With the assistance of the Ketchikan Police Officers, Holmes was able to isolate the bear at the end of the produce display and grab it by the neck -- a familiar move also used by mother bears.
The little bear was exited through a side-door and returned to the forested hill behind Tatsuda's where it was believed the mother bear may be hiding and in watch for her cub. Homes said once the cub was release, the little bear ran up the hill into the woods.
There was a concern as to where the mother bear might be thoroughout the event, but she was not reportedly sighted around the grocery store at any time. A call to the local Fish & Game Department regarding the cub was not returned.
Holmes estimated the weight of the bear to be between 25-30 pounds. Biologists report in their research that at the time of birth, a cub will usually weigh between six to twelve ounces. By the age of 4 months, a black bear cub may weigh about 10 pounds and by six months, a bear cub will weigh between 40-60 pounds. However, there is some disagreement in cub weights and ages in the available research. According to a study completed by Viriginia Tech conducted to obtain growth data on cubs, a six month old cub would weigh approximately 27- 35 pounds.
Biologists who conduct research also note that when the weather is mild, such as it has been in Ketchikan, it is not unusual for a mother bear and cubs to leave the den in the fall as food is still available.
According to researchers, black bears are most active between April and November. By late November bears ready themselves for the long winter ahead and spend the entire winter in a small den. Most commonly, bears dig out dens under the roots of an overturned tree or in a hillside, but sometimes they may select a sheltered rock cave, a hollow tree, hollow stump or a nook in a dense thicket, brush pile or conifer stand. Near urban areas, they may make their den in road culverts or foundations of abandoned buildings. The dens are usually just big enough to accommodate the bear itself, or a sow and her cubs. Typically, the dens are only about 4 feet wide and lined with leaves, moss and bark. By the age of six months cubs have already been taught by the mother the skill needed to build a den.
Bears are generally afraid of people. They will usually be the first to flee when they sense a person is near so it is possible mother bear was hiding in the forested area behind Tatsuda's waiting for her cub to return. Mother bear can communicate with cubs by voice signals including loud "woof-woof" and whimpering sounds.
When handled by researchers studying the cubs, or when they are in danger, cubs will bawl as did this little "shopping" bear when captured by Holmes.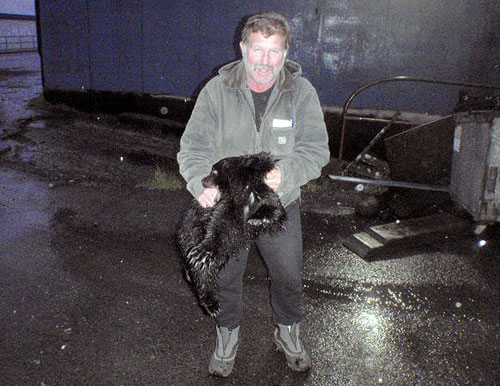 Ken Holmes takes a moment to pose with the cub just before it was carried over to the wooded area behind Tatsuda's for release.
Photo courtesy Ken Holmes, Photo Taken by Ketchikan Police Officer

Male black bears (boars) wander through a territory of 15- 27 square miles whereas female black bears (sows) generally wander only about 5 miles from her den. Which would indicate that the mother bear could have likely been somewhere in the area of Tatsuda's IGA as the visit into the grocery store was brief and the release was quickly achieved.
Black bears can also communicate with each other through scent as well as through vocalizations. Black bears have an excellent sense of smell which would also help to enable the reunion of a mother and cub.
Black bears locate their food by relying on their keen sense of smell. They feed mostly at twilight and through the night until sunrise -- it was early evening and dark when the little cub followed the shopper through Tatsuda's automated front door.
As of Thursday, there have been no further sightings of the little "shopping" bear. Holmes said he has been keeping a look-out in the area and believes the little bear most likely has reunited with its mother. Only Mother Nature knows for sure, and she 'ain't' talking.
It is not unusual that black bears are observed in this residential and forested area of Ketchikan and the writer has also observed several in the area.
The "shopping" cub was thought to be rather small for this time of the year. However, it was reported to the writer recently that another black cub approximately the size of this little cub was sighted north of Ketchikan two weeks ago crossing the North Tongass Highway.
Hernandez, who had just finished refreshing the produce display before the close encounter of the bear-kind, had to discard the produce. It was generously given to the peacocks, turkeys, geese, ducks and bunnies living at the mini-farm sanctuary north of Ketchikan and owned by the editor of SitNews.
"Tatsuda's has always been very generous in their support of the mini-farm sanctuary animals." [Mary Kauffman]
On You-Tube:
View Joe Stellar's video: Bear cub in Alaska grocery store
http://www.youtube.com/watch?v=AgLCdrcy0xQ
E-mail your news & photos to editor@sitnews.us


Publish A Letter in SitNews Read Letters/Opinions
Contact the Editor
SitNews ©2011
Stories In The News
Ketchikan, Alaska

Articles & photographs that appear in SitNews may be protected by copyright and may not be reprinted without written permission from and payment of any required fees to the proper sources.