Historic Female Adzing Team are a first for Tlingits
October 12, 2011
Wednesday

(SitNews) Wrangell, Alaska - Four women working on the Shakes Island Renovation Project are making history. Wrangell Cooperative Association (WCA) believes this is the first time that women have been a significant part of an adzing team. Three of the women, Linda Churchill, Susie Kasinger, and Tammi Meissner are from Wrangell and this is their first time adzing. The other woman, Vanessa Pazar, a carver from Sitka, "broke open the gate for us," says Tammi.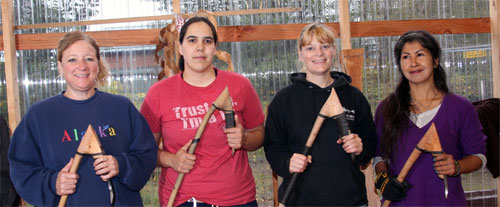 From left to right: Susie Kasinger, Vanessa Pazar, Tammi Meissner, Linda Churchill
Photo by WCA

The matriarch of the team as far as experience goes, Vanessa has worked for far too long only with male carvers. "Wrangell is unique in its community support and acceptance of women carvers," says Vanessa. She has experienced her share of resistance to women using a man's tool and doing a man's work. She has even had to go before a panel of elders to explain why she should be allowed to adze. She held fast to the work she loves and has witnessed attitudes improve over time. She thinks that, traditionally in the Tlingit culture, men did not allow women to touch carving tools because women were perceived to have much power and that could be transferred into the tools.
Tammi Meissner left her Tlingit culture for a time as a pre-teen because of comments made by an elder about money being wasted on "blonde Indians." Fortunately, she got back into her culture about 12 years ago and hasn't looked back. Tammi is also a dancer and listens to Tlingit songs while adzing. The rhythms of both provide a physical connection to her culture, although she gets interrupted by people who are "overly excited about women adzers" and come to the carving shed just to see the women adze. Tammi hopes to continue to make history by working with Susie and Linda in the future on additional carving projects.
Susie Kasinger is the only non-Native woman on the adzing team. Growing up in Wrangell, she didn't feel that there was any difference between White and Native – to her they were all one people. Susie fell in love with carving after taking a (Johnson O'Malley) JOM class in middle school and has been wanting to be a carver ever since. She doesn't know as much as she'd like about the Tlingit culture but feels a connection with a woman elder and wants to be adopted by the elder's clan someday.
Linda Churchill got "shivers up and down my spine" when told that their adzing team was historic. Because her father was a carver, Linda was instilled with a desire to carve and was surrounded by it at an early age. She strives to make her father proud with her carving. She wants to feel spiritually connected to him and be able to replicate some of his carvings. Linda is involved in other Tlingit art forms, taking classes in silver carving and halibut hook making. She has also taught beading for the local JOM program.
All of the women feel fortunate and honored to be part of this historic project and to learn from the more experienced crew members, such as Vanessa, and from master carver Wayne Price. They all plan to continue honing their carving skills in the future and to share their art and knowledge gained with their community.
The Shakes Island tribal house was completed in 1940 built by collaboration between the CCC, the Forest Service and the local Tlingit tribe. Except for minor repairs, no major reconstruction has taken place to the structure. Because the tribal house is listed on the National Historic register, the replacement timbers must be hand adzed. Master carvers from other communities are overseeing and training locals to complete the adzing. The old structure needs to be dismantled and then a new structure erected in its place with the hand-adzed timbers, new electrical and a new roof of split cedar shakes. The totem poles on the island also need to be refurbished. When the project is complete, a celebration of project completion will be held.
Related news:
WCA Covers Shakes Island Totem Poles for Winter; Totems to be repaired, repainted and put back up next summer – Over the last days of September and early October, master carver Wayne Price and members of his adzing team worked through and around hard rain, gale force winds, and ankle deep mud on the behalf of the Wrangell Cooperative Association (WCA) to position and then cover all of the downed totem poles on Shakes Island. The totem were taken down for refurbishing earlier in the month and placed on the lawn behind the Chief Shakes tribal house. - More...
Wednesday - October 12, 2011
On the Web:
Learn more or make a donation to the Shakes Island Renovation Project
www.ShakesIsland.com.
Source of News:
Wrangell Cooperative Association

Wrangell Cooperative Association (WCA) is the federally recognized tribe of the Stikine River region. WCA's charter was approved by the Department of the Interior in 1942. The tribe's mission is to support the cultural, ceremonial and subsistence lifestyle for all Alaskans and to promote the safe use and availability of a healthy environment for present and future generations. WCA provides social services, employment and educational opportunities to both the tribe and the Wrangell community. Of the 2,000 residents of Wrangell, approximately 800 are tribal members.
E-mail your news & photos to editor@sitnews.us


Publish A Letter in SitNews Read Letters/Opinions
Contact the Editor
SitNews ©2011
Stories In The News
Ketchikan, Alaska

Articles & photographs that appear in SitNews may be protected by copyright and may not be reprinted without written permission from and payment of any required fees to the proper sources.