After Alaska primary upset, missteps cost Miller


By BECKY BOHRER
Associated Press Writer
October 20, 2010
Wednesday PM

Since his stunning defeat of Sen. Lisa Murkowski in the Republican primary, tea party favorite Joe Miller has suffered a series of potentially crippling missteps that have helped turn the Alaska Senate campaign into a highly competitive race.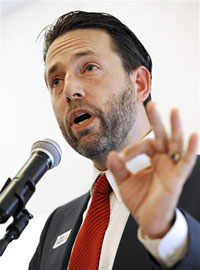 In this Sept. 16, 2010 file photo, Alaska Republican Senate candidate Joe Miller gestures in Juneau, Alaska. The biggest obstacle to Joe Miller winning the Alaska Senate race may be Miller himself. Since his stunning defeat of Sen. Lisa Murkowski in the August GOP primary, the fiscal conservative has endured a series of potentially crippling missteps that critics say paint him as a hypocrite or flip flopper.
(AP Photo/Chris Miller, File)
Miller has been forced to acknowledge his family has benefited from the kinds of entitlements — Medicaid, unemployment, federal farm subsidies — he now rails against. He used a Cold War symbol of suppression, the Berlin Wall, as an example of how the U.S. can secure its own border. He had to deal with the fallout from his security handcuffing and detaining a journalist at a town hall meeting.
And that's only part of it.
With less than two weeks until the election and early voting under way, the near-constant hiccups have helped to make this a heated three-way race between Miller, Murkowski as a write-in candidate and Democrat Scott McAdams, a former Sitka mayor.
Supporters see the media as unfairly targeting Miller. To them, he's the voice of an angry populace, one of the tea party movement's brightest prospects for shaking up an out-of-control Washington.
"Is any candidate perfect?" asked Jennie Bettine, whose Wasilla-based Conservative Patriots Group is backing Miller. "No. But Joe Miller is closer to what we think we need for this country" — a pro-gun, anti-abortion defender of the Constitution.
Critics have labeled him an extremist, whose ideas, like weaning Alaska off its reliance on federal aid by giving it greater control of its resources, imperil the future of the state.
They also accuse him of being a hypocrite and a flip-flopper.
After criticizing Murkowski during the primary for voting with Democrats on some issues, Miller now stresses a need for bipartisanship to break through congressional gridlock. He once said he'd "absolutely support repeal" of the constitutional amendment that lets voters elect senators but later said he doesn't see amending the Constitution as the "practical solution" to addressing issues in Washington.
Miller considers himself a "constitutional conservative," favoring limiting the federal government to the constraints laid out in the Constitution and giving greater control to the states. He admits he and his family received government benefits — he says they once struggled, like many people have — but that they no longer receive aid and that he sees nothing contrary in the life he's lived and the positions he now advocates.
He believes he speaks for "commonsense" Alaskans — and said the strong support he continues to see across the state shows his message resonates.
"Now, I'll admit, and I've said this before, I'm a man of flaws, there's no question about it. You know, I wasn't born with a silver spoon," said Miller, who has eight children with his wife, Kathleen, and put himself through Yale law school in part with student loans, on which he still owes.
He accuses his opponents of focusing on "petty" things from his past, trying to divert attention from the issues.
"I don't think there's been a stone that hasn't been uncovered in my background," he said in an interview, adding that he believes an "uneven hand" has been used in looking at his background, compared to his rivals.
Miller's upset of Murkowski thrust him onto the national political stage. There he was, all over the cable news shows, an articulate, attractive, Ivy League-educated, veteran of the first Gulf War who did what few imagined possible. That he had Sarah Palin's endorsement — and Palin and Murkowski had tangled politically in the past — only sweetened the narrative.

It also prompted deeper digging into his background: He's never held elected office, having built a law career that included stints as a state court judge and part-time federal magistrate. His only other run for public office was a failed bid for the state Legislature in 2004.
The future of Alaska and the nation is at stake, he argues. His mantra: You can't change Washington unless you change the people there.
Last week, after having earlier declared he'd be as transparent and honest as possible, he said he'd no longer answer questions about his past, following what he alleged was a leak of his personnel record from when he served as a government attorney. He offered no proof but claimed it was an effort to distract voters from the issues and that he would no longer stand for it.
After a former Fairbanks North Star Borough mayor went public saying Miller was nearly fired in 2008 for using government computers in a failed effort to overthrow the state GOP chairman, Miller acknowledged on CNN Monday that he'd been disciplined. But he said it had nothing to do with his leaving the job in 2009 and isn't related to the issues in the Senate race. He hadn't answered similar questions from Alaska reporters, including the online editor detained at Sunday's town hall.
Jerry McBeath, a political science professor at the University of Alaska Fairbanks, believes Miller remains the one to beat. He sees the "religious right," which is estimates at 25 percent of the electorate, as strongly in Miller's camp, and independents frustrated with the way things are headed nationally as capable of being swayed in a sufficient number for Miller to win.
Murkowski and McAdams are ceding nothing, seizing on Miller's every misstep even as they tout their own positions, as has the independent, pro-Murkowski group Alaskans Standing Together, which has spent over $1 million so far on ads.
Licensed from Associated Press for republication in SitNews

© 2010 Associated Press. All rights reserved. Licensed by SitNews for 4500 estimated copies in circulation on October 20, 2010 . iCopyright license 3.5721-28306. Press Association and Associated Press logos are registered trademarks of Press Association . The iCopyright logo is a registered trademark of iCopyright, Inc.
E-mail your news & photos to editor@sitnews.us


Publish A Letter in SitNews Read Letters/Opinions
Contact the Editor
SitNews ©2010
Stories In The News
Ketchikan, Alaska

Articles & photographs that appear in SitNews may be protected by copyright and may not be reprinted without written permission from and payment of any required fees to the proper sources.