Alaska's young fishermen to gather to become
savvy businessmen, chart industry future
October 29, 2009
Thursday

Cordova, Alaska - Eric Lian was 12 years old when he began commercial salmon fishing on his dad's purse seiner in Prince William Sound, Alaska. His dad, Phil, now a veteran of 50 fishing seasons on the sound, urged him not to take up fishing as a livelihood. Working at sea is dangerous, and unpredictable salmon prices make it a boom and bust industry, he said. Those warnings grew especially strong in the years after the 1989 Exxon Valdez Oil Spill.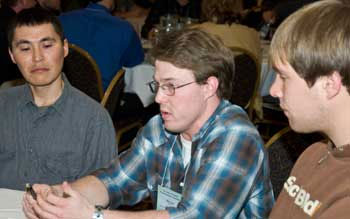 Eric Lian, center, 2007 AYFS participant, now helps lead the Cordova District Fishermen United.
Photo Courtesy Marine Advisory Program.
"My father started fishing on the sound when he was just a young boy," recounted Lian. "He went through the good times and the bad times; he saw it all. Then the spill happened, and what Exxon did to fishermen really took the wind out of his sails. He was really pessimistic about me getting into fishing after that."
So Lian went to college, and in 2007 he graduated magna cum laude with a bachelor's degree in political science from Washington State University. He also learned to weld at Bellingham Technical College, a skill he knew would come in handy back home in Cordova.
After school, he did a number of jobs around the sound. But none lasted. Salmon fishing also was in the midst of one of its bust cycles; prices were way down and the runs were weak. But it also was a great time to buy into the fishery, as permit prices were the lowest in decades. So he bought himself a boat and a limited-entry salmon gillnet permit for Prince William Sound and Copper River Delta.
Lian knew how to catch fish, thanks to a childhood spent on his dad's seiner, but there were aspects of the industry he realized he needed to know more about if he was to be successful in the long term.
"There's a lot to know about running a business, there are more regulations on running and operating a boat now," said Lian. "Just getting into the fisheries, buying a boat and a permit, is really expensive. And then there are the fisheries regulations, the management, and the politics. It's just so much more than netting fish and selling them to the processor."
The Cordova District Fishermen United (CDFU), the local fisherman's association, recognized Lian as an up and coming leader in the industry. In 2007, CDFU sponsored Lian's participation in the Alaska Young Fishermen's Summit. Organized by the Alaska Sea Grant Marine Advisory Program, the two-day summit brings young fishermen together with leading experts in business management and finance, marketing and fisheries management.
"It was an eye-opener," Lian said. "I had just graduated from college, and so this was a great opportunity to see what was going on in the industry. I am glad I did, I really am, because you have to understand the fisheries on business terms. My favorite part of it was learning how to acquire loans, who to talk to about financing, and how to structure a business."
For other young fishermen like Lian, the next Alaska Young Fishermen's Summit will be held in Anchorage, December 7­9. The 2009 summit is the third in the series for people just getting started in commercial fishing, and who want to take leadership roles in the industry. The summit is designed to help fishermen improve their business management and marketing skills and decision making; understand the global seafood marketplace; broaden their understanding of marine and fisheries sciences; and become effective participants in state and federal fisheries management processes. Small group sessions are designed to directly link attendees with industry experts in policy, science, marketing and business.
"We started the Alaska Young Fishermen's Summit with the realization that it's getting more complicated to enter into the fisheries," said Sunny Rice, summit coordinator and Marine Advisory Program agent based in Petersburg. "So this is an attempt to help fishermen understand and deal with these changes in ways that can help them be successful."
Lian said the summit also gives fishermen, traditionally an independent, keep-to-yourself-lot, the chance to network, develop friendships and share experiences.
"As a fisherman, you have this distance relationship with fishermen who are involved in other fisheries around the state," said Lian. "But at the summit you all come together, and you have the opportunity to establish some common ground, which is rather nice. You gain an appreciation and respect for one another."
More than 130 fishermen participated in the previous two summits. Past summit attendees adopted new quality and handling procedures aboard their vessels as a result of the training they received. Others were elected to the boards of fishermen's associations and have testified before the North Pacific Fishery Management Council and the Alaska Board of Fisheries. Lian said the help and hands-on training he received at the fishermen's summit has inspired him to become more active and outspoken as he seeks to make changes to keep fishing a viable career in Alaska.
"It's a cliché, but it's up to us as the younger fishermen to take up the torch and bear the responsibility for the future of our industry and our communities; to step up and give back," Lian said. "So I've been participating in my local fishing association and talking to other fishermen about ways to make fishing better."
Last year, Lian was elected to the CDFU Board of Directors, where he serves as a cochair of the driftnet division. There, Lian has the chance to speak with fishermen, politicians, and resource managers about ways to make his local fishery more sustainable for himself, his fellow fishermen and his community.
"Eric has really stepped up in his role as cochair of our gillnet division. We are definitely getting back our investment in sending Eric and other younger fishermen to the AYFS training," said Rochelle Van den Broek, CDFU executive director.
This year's Alaska Young Fishermen's Summit will coincide with Alaska Board of Fisheries and North Pacific Fishery Management Council (NPFMC) meetings in Anchorage. A joint reception with summit attendees and the NPFMC is scheduled for December 8.
Optional post-conference workshops include training to serve on fisheries and other nonprofit boards, starting a direct marketing operation, and an Alaska Marine Safety Education Association drill conductor safety certification course.
AYFS keynote speakers this year include Al Burch, a 40-year veteran of Alaska fishing and Executive Director of the Alaska Whitefish Trawlers Association, a nonprofit group representing approximately 40 vessels that fish out of Kodiak; and Linda Behnken, Executive Director of the Alaska Longline Fishermen's Association, a Sitka-based nonprofit association of independent commercial longline vessel owners and crewmembers. Other speakers include world seafood market experts, tax advisors from the Internal Revenue Service, financial advisors, maritime attorneys, state and University of Alaska Fairbanks marine scientists, and state and federal fishery managers.
November 30 is the deadline for signing up to participate in the 2009 Alaska Young Fishermen's Summit. Learn more about the summit and see the full agenda at http://www.marineadvisory.org/ayfs.
The Alaska Young Fishermen's Summit is sponsored by the Alaska Sea Grant Marine Advisory Program, through a federal Fisheries Extension Education grant and the United States Department of Agriculture's Intensive Technical Assistance program. Additional support comes from the North Pacific Fishery Management Council, the Marine Conservation Alliance, United Fishermen of Alaska, United Catcher Boats and Northwest Farm Credit Services.
As for Eric Lian, he believes Alaska's best fishing days are ahead. He's so optimistic that he was recently in Blaine, Washington, talking to boat builders about buying a new purse seiner to go with the seine permit he hopes to buy one day soon.
Source of News:
Alaska Sea Grant College Program
http://seagrant.uaf.edu/index.html

The Alaska Sea Grant College Program is a statewide marine research, education, communication, and extension service at the University of Alaska Fairbanks, School of Fisheries and Ocean Sciences. Alaska Sea Grant is funded by the National Oceanic and Atmospheric Administration, in partnership with the State of Alaska and private industry.

The Alaska Sea Grant Marine Advisory Program is a statewide university extension and technical assistance program that helps Alaskans wisely use, conserve, and enjoy Alaska's marine and coastal resources.

E-mail your news & photos to editor@sitnews.us


Publish A Letter in SitNews Read Letters/Opinions
Contact the Editor
SitNews ©2009
Stories In The News
Ketchikan, Alaska