Ketchikan's Arts & Entertainment
October 05, 2009
Monday

Ketchikan, Alaska - This week in Ketchikan, Alvin Youngblood Hart Performs! Alvin Youngblood Hart defies genres- a blues, rock, jazz, metal, anything guitarist. He's a "musician's musician" whose praises have been sung by everyone from Bob Dylan to Eric Clapton and Mick Taylor. He's had multiple Grammy nominations, two Living Blues Awards, had a New York Times top 10 album, the BBC's Best Release of the Year, and the blues and guitar magazines continue to shower him with awards and nominations.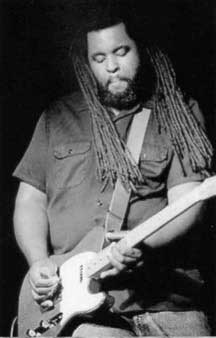 Alvin Youngblood Hart Performs
6:00pm and 8:00pm on Saturday, October 10th at the Saxman Tribal House
In short, he's one of the world's foremost practitioners of the blues genre. His collaborations include Bo Diddley and Ruthy Foster, David Murray, Leo Onocentelli and Ishmael Reed Audley Freed (Black Crowes), and he's opened for Taj Mahal at Yoshi's, (who said of Hart: "Boy got thunder in his hands,"). He has worked on multiple film projects including a feature in "the Soul of a Man," in Martin Scorsese's film series "The Blues," and was also featured in the documentary "Last of the Mississippi Jukes." He has a list of recordings, collaborations, and praises that can't fit here. Don't miss the hottest blues to visit Ketchikan! The Alvin Youngblood Hart concert is part of the Arts Council's Torch Nights Performance Series, and will be at 6:00pm and 8:00pm on Saturday, October 10th at the Saxman Tribal House. Tickets are $20 for Adults, $16 for Students and Seniors. Call the Arts Council at 225-2211.
Seeking Volunteers for the Alvin Youngblood Hart Concert! We couldn't make the Torch Nights Season of Performances happen without the help of our volunteers taking tickets, ushering, helping us load in, and so much more! Want to get involved? We would love to have you help at the Alvin Youngblood Hart performance on Saturday, October 10th. Give us a call at 225-2211, or e-mail anitam@ketchikanarts.org
Sweet Second Saturdays. Dance to old time music- no dance partner or experience necessary! Join the fun on Saturday, October 10th, 7:00pm at the stARTled Salmon. All are welcome, FREE!
DEADLINE for Winter Arts Faire BOOTH RENEWALS. Make sure you get your application form in if you want to keep your Winter Arts Faire booth from 2008!!! The deadline is Friday, October 9th. This year's faire will be on November 27th and 28th, and as always, features fine art and craft booths, visits from Santa and Mrs. Claus, a kids craft room thanks to First Bank, lots of family fun and shopping! Applications are at www.ketchikanarts.org <http://www.ketchikanarts.org/> under Events and Artist Opportunities, or stop by the Arts Council at 330 Main Street. Call 225-2211 for more information. New Booth applications are due on November 6th.
Angie Taggart Fundraiser. Enjoy dinner and live music for a great cause! Help send Angie out on the Iditarod trail on Saturday, October 10th from 6-9pm at the Kayhi Commons. Tickets are $50, contact Angie: taggarta@kgbsd.org .
Kyle Palmer Medial Fundraiser. Silent Auction and live music, plus appetizers and a no-host bar at the Ted Ferry Civic Center Saturday, October 10th, 7:00pm. Kyle Palmer, victim of a violent crime is recovering at Harborview Medical Center in Seattle. Kyle is uninsured and will be requiring extensive surgeries. Auction Items or Gift Basket donations can contact Tonia Nebl at 617-2268.
New Fall Class Schedule for the Totem Heritage Center Native Studies Program. Time to sign up for learning Native Arts! Take Introduction to Power Tools, Intermediate Northwest Coast Carving: Masks, Intermediate and Advanced Cedar Bark Weaving, Introduction to Northwest Coast Design and Carving, and Cedar Bark Weaving. Classes start up in September, so be sure to sign up! For more information, visit http://www.city.ketchikan.ak.us/departments/museums/totem_native.html. To register, call 225-5900, or stop by the Totem Heritage Center at 629 Dock Street.
Torch Nights Season Tickets! We've got everything from African, to Blues, to folk, to Wearable, to vaudeville to keep the winter season bright! The Arts Council's Torch Nights Season is now available, don't miss your chance to save big and reserve your seats for this year's line-up! The first event of the Basic Season Subscription is Maya Soleil on Saturday, September 26th! For more information, contact the Arts Council at 225-2211, or visit www.ketchikanarts.org <http://www.ketchikanarts.org/> . Season brochures are available online, or stop by 330 Main Street!
Coming attractions:
Family Night at the Library! The Association for the Education of Young Children (AEYC) and the public library present another family night starting at 5:30pm on Thursday, October 15th. Come to the Library for food, fun and free books. Space is limited so free tickets must be picked up in advance. The theme this month is "Saving Money for the Future and A Million Pennies" with guest speaker Susan Fisher, CEO of the Tongass Federal Credit Union and friends. Call 225-0370 for more information.
Northern Lights; Lighthouses of Alaska Exhibit. The fall exhibit at the Tongass Historical Museum introduces audiences to the romance, intrigue, significance, and history of Alaska's famed lighthouses and light stations. Vintage and contemporary photographs, along with lighthouse and maritime related artifacts and memorabilia, will highlight each of the eleven historic lighthouses still operating in Alaska, as well as seven lighthouses no longer in operation. Students of all ages will enjoy learning about the history and operation of Alaska's lighthouses. See it on display from October 16- November 15! Northern Lights also acts as a springboard for introducing students to a variety of maritime concepts involving mathematics, navigation geography, creative writing, and artistic/visual skills. Hands-on educational programs are available to suit a variety of ages and interests. Students can participate in several programs including "What is a Lighthouse?," "The Language of Lights," "Chart Tactics," "Knot Know-How." Schedule tours and educational programs by contacting Lacey Gilbo at 225-5900, or e-mail laceyg@city.ketchikan.ak.us <mailto:laceyg@city.ketchikan.ak.us> , or website: www.ketchikanmuseums.com <http://www.ketchikanmuseums.com/> .
Invasive Plant Curriculum Workshop. The Alaska Committee for Noxious and Invasive Plant Management (CNIPM) will hold a conference on Monday, October 26th, from 12:30-4:30pm at the SE Alaska Discovery Center. The invasive plant workshop is led by educator and scientist, and offers teachers the opportunity to increase their content knowledge of invasive plant identification and ecology, learn about new Alaska-specific curriculum materials aligned with Alaska science standards and GLE's, and gain hands-on experience doing invasive plant activities and inquiries. The workshop is free, and open to all formal and informal educators. Contact Katie Spellman for more information or to register for the workshop: (907) 235-6174, Katie@akcoastalstudies.org <mailto:Katie@akcoastalstudies.org>
Free Public Lecture- Ketchikan: Gateway to an Invasive-Free Future. Come to a free lecture at the Forest Service Discovery Center on Monday, October 26th at 7:00pm. The program features Gary Freitag, Marine Advisory Program Agent of the Alaska Sea Grant Marine Advisory Program, who presents: "Marine Invasive Species Sampling in Ketchikan, Alaska: A High Risk Area as the First Entry Point for Marine Traffic and Northerly Currents." Sarah Reichard, Associate Professor of the College of Forest Resources at the University of Washington, who presents "Ecological Impacts of Knotweed, an Invasive Plant Threatening Southeast Alaska Resources." For more information on the program or the conference, Contact Elizabeth Bella at Elizabeth.bella@hdrinc.com <mailto:Elizabeth.bella@hdrinc.com> , or call 907-664-2118.
Haunted Ghost Town. Get your little ghouls and goblins bundled up and head downtown for a map challenge with lots of fun activities! Get a stamp at each location, participate in games and crafts, and enter to win some great gift baskets! Get your map at the Ketchikan Visitors Bureau or any participating location, and have some Halloween fun on Friday, October 30th between 6 and 8pm!
Halloween BreastFest! Breast cancer benefit concert at the stARTled salmon, 500 Mission Street. See Pariah, DemoPhat, Damaged Justice, Pink cloud Project, Buck Up Little Kamper, and Peter Jacob on October 31st starting at 7:00pm. Tickets $5 at the door. Proceeds will be going to the First City Council on Cancer for breast cancer patients.
KRBD's Halloween Party! Boogie men and women are invited to. Well, boogie! It's an annual Halloween favorite, with dancing, a no-host bar, costume and dance contests- PRIZES!, and enough fun to wake the dead! Tickets are $20 at the door, must be 21 or over. 8-12pm on October 31st at the Cape Fox Lodge.
Calling all Collectors: the Tongass Historical Museum is Requesting Works of Art from Private Collections to be included in the winter exhibit Off the Wall: Ketchikan Art from Private Collections. High quality artworks in any medium, created by a Ketchikan artist (past or present) or relating to Ketchikan, will be considered for inclusion in the exhibit. Contact the museum staff by Monday, November 2nd by 5pm at 225-5900 or send an email to museum@city.ketchikan.ak.us <mailto:museum@city.ketchikan.ak.us> to let us know if you would like to lend.

Upcoming Opportunities: calls, auditions, contests, artist opportunities, etc:

WINTER ARTS FAIRE!!! Fine artists and crafts people, reserve your booth today! The deadline to renew your same booth from 2008 is Friday, October 9th, new booth holders have until November 6th. Be sure to fill out your registration form- get it online at www.ketchikanarts.org or stop by 330 Main Street. For more information, call 225-2211, or e-mail anitam@ketchikanarts.org. The annual Winter Arts Faire is on November 27th and 28th, a fun chance for the community to holiday shop for original creations! This is a family-friendly event, with visits from Santa and Mrs. Claus, a kids craft room, and food booths. Remember, the most festive booth earns you a free booth for next year!
FRIDAY NIGHT INSIGHTS WANTS YOU TO PRESENT!!! Fall is fast approaching and we are looking for ideas for presenters or programs of local interest! The Friday Night Insight programs are presented at the Southeast Alaska Discovery Center by a variety of speakers addressing the cultural and natural history of Alaska. From November to March, these informative and entertaining programs begin at 7:00 PM and last an hour every Friday night. If you have any ideas or would like to do a presentation yourself, please let me know as soon as possible. Call Leslie Swada at 228-6247 for info and to sign up!
New Band Student Scholarship Opportunity! Ketchikan Community Concert Band would like to announce a new scholarship program for beginning band students! The program provides instruments and lessons for students who want to learn to play a band instrument but don't have the financial means. The instruments will be donated by community members, refurbished by McPherson's Music, and distributed by music teachers in consultation with classroom teachers. The lessons will be provided by McPherson's Music using scholarship funds and given on the recommendation of band teachers on a case by case basis. This is where you come in, KCCB musicians and community members!!!! Do you have band instruments that are not being used? You can make a tax-deductible donation of a band instrument to KCCB and help a child learn to play! We are especially interested in flutes, clarinets, trumpets, trombones and baritones. Please contact McPherson Music if you have any questions, 225-3650.
Calling All Videographers! KPU invites videographers of all skill levels to submit videos of their creation to air on the new KPU Channel 611. From documentaries, to musical performances, local events, and humorous skits all submissions are welcome. After watching the videos, you can go to www.liveinketchikan.com <http://www.liveinketchikan.com/> and vote for your favorite! Each month the most popular video wins a great prize!
Alaska Tour and Travel's Alaska's 50th Anniversary Photo Contest! Alaska Tour & Travel is celebrating Alaska's 50th Anniversary of Statehood by awarding one lucky photographer the limited edition Sydney Laurence print "Legacy of Alaska" depicting Alaska's Mt. McKinley. (See a copy on display at Scanlon's). This special print was signed on May 10th, 2008 by all of the living governors of Alaska, including Mike Stepovich, Walter Hickel, Keith Miller, Bill Sheffield, Steve Cooper, Tony Knowles, Frank Murkowski, and Sarah Palin. The print is marked with an embossed seal noting the 50th Anniversary of Alaska Statehood and has current retail value of $1500. The Sydney Laurence print can be viewed all summer at the Artique Gallery in Anchorage at 314 G Street. The Grand Prize print will be awarded to the photographer whose photo best depicts Alaska's spectacular wildlife, scenery, people or adventure. The contest is open to visitors and residents alike. To enter, just email us your photo to photos@alaskatravel.com <mailto:photos@alaskatravel.com> no later than October 31, 2009. Please include a brief description of the photo along with your name and hometown. We will post select entries on our Photo Contest Gallery at AlaskaTravelPhotos.com. Be sure to click on LEARN MORE below for all of the contest rules.
ARTFULLY ATTIRED, the successor of the 2008 ART TO WEAR show, will be held October 9, 2010. The event will showcase handmade fashions, jewelry, and accessories, and will include a boutique and a runway fashion show. In a nutshell, there will be a jury process, submissions must be original and of high quality, and we hope for a broad spectrum of entries. Full details will be available in late November, 2009. Please share this information with friends who might be interested. For more information, email Jean Bartos at jeanb@kpunet.net or Jackie Keizer at jackiekeizer@yahoo.com .
String Ensemble in Ketchikan!!! Heidi Nelson is organizing a string ensemble! Want to play? There are two classes per month, and all skill levels of string players are welcome! Rehearsals are at the Cape Fox Market Place. E-mail Heidi for more information and to sign up: highdnelson@comcast.net <mailto:highdnelson@comcast.net> . There is a monthly per student fee.
Attention All Native Artists! "Our" Living Legends Gallery is currently seeking vendors, artists, and instructors! Consignments are now being accepted: You set the Price of your work, with 20% of purchase price retained by the gallery. This shared artist space is now looking for creative people who can teach others to make their native crafts quickly and easily for a fee. Lots of opportunities are now available at 331 Stedman Street. Call for available space even if you just need a place to work on your project! Call Alice at (907) 225-2266.
Venue for musicians at St. John's Episcopal Church: Members of St. John's are offering the use of the sanctuary for rehearsal and performance space during non-service times. Please contact the church office for availability at 225-3680.
Need Studio Space??? If you are interested in renting space to work and create, an opportunity may be on its way! A local building owner is interested in constructing artist's space, approximately 2,000 square feet of studio floor for local artists to use- think of the potential! Please let us know of your interest. Call 225-2211!
Ongoing attractions:
Herds, Crowds, and Schools at the Main Street Gallery. Join us for a multimedia installation by Jessica Davila on display October 2-30. Jessica explores the relationship between individuals and groups be creating large-scale works composed of intricate, hand-crafted creatures of the animal kingdom. Visit us at the Main Street Gallery, 330 Main Street, Monday through Friday 9am-5pm, and on Saturdays 11am to 3pm. Call the Arts Council at 225-2211 for more information.
Totem Entertainment presents Chapter 6, and Chapter 4 & 5 Albums- Now Available! The Southside Totems have cd's for sale at RadioShack, South Tongass Service, Everyday Alaskan Gifts, Our Living Legends, and House of Haida support local musicians!!! To find out more, visit www.myspace.com/thesouthsidetotems <http://www.myspace.com/thesouthsidetotems> , or www.southsidetotems.com <http://www.southsidetotems.com/> .
Tidal Echoes now Available! The 2009 edition of the University of Alaska Southeast Literary & Arts Journal, Tidal Echoes, has just been released. This is the seventh edition of the journal and this year it features pieces by Ketchikan residents Rod Landis, UAS Ketchikan Associate Professor of English; The Reverend George Pasley, poet; and Mary Ida Henrikson, artist and UAS Ketchikan Adjunct Assistant Professor. Be sure to get your copy of this annual showcase of writers and artists of Southeast Alaska at the UAS Ketchikan Campus bookstore, 2600 Seventh Avenue, and at Parnassus Books, 5 Creek Street Upstairs.
Live Music at Ketchikan Coffee Company. Enjoy great live music at the New York Café on Fridays during the summer- they've got a hot jazz combo that you have to hear! If you haven't been there, you are missing out! Ketchikan talent at its best, and a great menu and drinks! Plus, Live music on Saturdays, too! Different local talent every weekend- enjoy!
Jam to Gospel/ Bluegrass music every Thursday night at 7:30pm at the stARTled Salmon in the Cape Fox Market Place, 500 Mission Street #5. Sponsored by Squares and Contras, call 225-2211 for more info.
Live Music Every Friday at the New York Café. Stop by for an evening of bluegrass jams every Friday of the winter months from 6pm to midnight. Light dinners and appetizers served from 5pm-9pm. Bring your instrument and join in the music making or just come to listen. For more info, call 225-0246.
Sweet Second Saturdays: Dances will be held every second Saturday of the month at 7pm in the Schoenbar Commons. Donations of $5 will be accepted for those 16 and older.

Workshops & Classes:
Art Classes available now. Sign up for three week sessions learning Calligraphy, Cooking, Beginning Sewing, Beginning Quilting, Painting and Drawing. For information on costs, times, ages and locations, call Trudy at 225-0401 or 617-2748.
Bigfoot Pottery Studios at 325 Bawden, lower. Drop-In Pottery is on Saturdays 10-12pm, and 1-3pm. Come in and play with some clay! Classes and Birthday Parties are available. Call Erik or Leif at 225-POTS for more information.
Beading, Knitting, and other fabric art sessions are ongoing throughout the year at The Point, 25 Jefferson Way. Call Cheri Pyles at 225-2858 for more information.
Sewing, Quilting and other fabric art sessions are available through Rainforest Crafts. For more info and to register call Rainforest Crafts at 247-2738.
Quilting classes: The Silver Thimble Quilt Shop is hosting a variety of quilting classes for the beginner to more experienced quilters, available at varying times. Please call the Quilt Shop for more information and registration at 225-5422.

Meetings and Gatherings:
Ketchikan Community Concert Band meets every Monday at McPherson Music from 7-9pm. REHEARSALS RESUME SEPTEMBER 21st! Call 225-3650 for more info.
Ketchikan Community Chorus meets every Tuesday from 7-9pm, REHEARSALS RESUME SEPTEMBER 8th at the Presbyterian Church. Call 247-2356 for more information.
The Ketchikan Area Arts and Humanities Council Board of Directors meets the third Tuesday of every month at 6pm at the Main Street Gallery, 330 Main Street!!!
Rainy Day Quilters meet on the fourth Tuesday of the month, at 6:45pm, at Holy Name.
First City Toastmasters meet Thursdays at noon at the Presbyterian Church, 2711 2nd Ave. Come practice your public speaking, guests are welcome! Call 225-3519 for more info.
Yarn Bee. One Sunday each month in the adult library from 1-3 pm. Each session will begin with a short presentation about new knitting, crochet and craft books at the library, then participants will be free to socialize and work on projects. Refreshments will be served. Call 225-0370 for more information.
Book Talk on KRBD Ketchikan each Thursday evening from 6:30-7pm at 105.3. Listen to news about the library, books, and book reviews.
Source of News:
Ketchikan Area Arts & Humanities Council
www.ketchikanarts.org
E-mail your news & photos to editor@sitnews.us


Publish A Letter in SitNews Read Letters/Opinions
Contact the Editor
SitNews ©2009
Stories In The News
Ketchikan, Alaska