COAST GUARD COMPLETES MISSION TO NORTH POLE
October 29, 2007
Monday AM

BARROW, Alaska - The Coast Guard successfully reached the North Pole Thursday as a test of its ability to operate in the Arctic region.
The 1,100 mile flight aboard a Coast Guard C-130 Hercules airplane originated in Barrow at 8:30 a.m., and reached the North Pole at 12:32 p.m., AST. As the airplane headed north the sun rose off the aircraft's right side, but then descended below the horizon as the airplane reached higher latitudes. The sun rose again as the aircraft headed toward Barrow.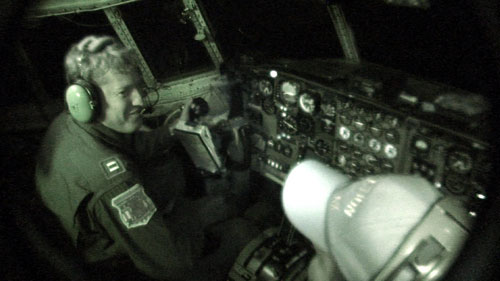 Lieutenant Tommy Wallin, aircraft commander, left, and lieutenant Bill Sportsman, copilot, nod to each other as they cross the North Pole Thursday. The flight was more than 1,100 miles one way from Barrow and took more than eight hours.
Official U.S. Coast Guard photo by Petty Officer 1st Class Kurt Fredrickson

Although the inside of the aircraft was kept at a comfortable temperature for the 21 passengers and crew, temperatures outside reached -40 degrees. To navigate the crew relied on GPS navigation, as magnetic compasses had a fluctuating variation of more than 70 degrees.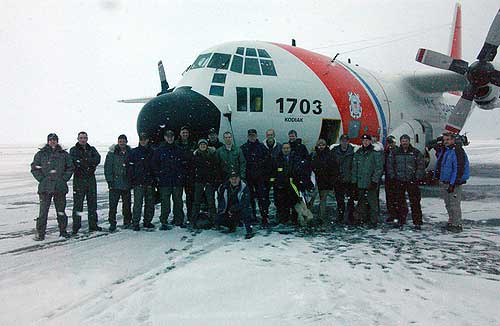 The 21 passengers and crew of Coast Guard C-130 Hercules airplane 1703 stand for a group photo after successfully reaching the North Pole Thursday. The airplane and crew are from Coast Guard Air Station Kodiak.
Official U.S. Coast Guard photo by Petty Officer 1st Class Kurt Fredrickson

As the aircraft crossed and circled 90 degrees north longitude 157 degrees west latitude, the North Pole, it briefly traveled into Friday before returning to Thursday. Before departing for Barrow the aircraft circled the pole and passed through every time zone, briefly making it the fastest moving object on the planet.
Coast Guard history in the Arctic dates back to the 1860s when the first Lighthouse Service Tender was deployed to the region. Thursdays trip to the North Pole was the first time the Coast Guard has reached 90 degrees north in a C-130 exclusively for the purpose of Arctic Domain Awareness.
Related news:
COAST GUARD CONDUCTING FIRST NORTH POLE FLIGHT - The U.S. Coast Guard announced a C-130 departed Barrow, Alaska today to fly 1,183 miles to the North Pole as part of an increase in Arctic orientation flights. The crew, which will include a representative from the National Oceanic and Atmospheric Administration and the Barrow community, will assess changes in maritime activity in the region as recently observed climate changes provide greater access to the Arctic. - More...
Source of News:
United States Coast Guard
www.uscg.mil
E-mail your news & photos to editor@sitnews.us


Publish A Letter in SitNews Read Letters/Opinions
Contact the Editor
SitNews ©2007
Stories In The News
Ketchikan, Alaska