Ketchikan Veneer Mill in Production
Over One Million Square Feet of Veneer Shipped
By Mary Kauffman
October 22, 2007
Monday AM

Ketchikan, Alaska - After 78-weeks of startup preparations and working out bugs, the Ketchikan Veneer Mill is rolling out veneer. The new mill has just completed its first full week of production and has shipped a million square feet of veneer over a four week period said Renaissance Ketchikan Group President Jerry Jenkins.
Prior to this past week Jenkins said, "We've been unable to run a complete week of production due to working out bugs in the system. We now believe we are at the point we can sustain complete days of operation."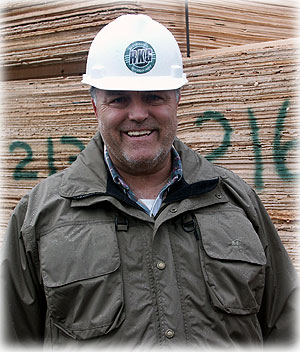 Renaissance Ketchikan Group President Jerry Jenkins stands in front of veneer ready for shipment.
Photo by Mary Kauffman
Jenkins said the Ketchikan Veneer Mill sent its first veneer shipment out on the 27th of September. Another shipment was sent on the 3rd of October which doubled what the mill sent the first week and the shipment on the 10th, doubled what the mill shipped the second week. The mill sent its fourth shipment on October 17th. Jenkins said that shipment was about the same as the week before." He said, "We had some problems with the boiler, got it fixed and we're still having some bugs we're working out." Shipments are planned every Wednesday.
The Ketchikan Veneer Mill is currently shipping the veneer via Northland Marine. Jenkins said, "It's going to Seattle and it's being picked up in Seattle by a customer called Centurion Lumber out of Canada." He said Centurion Lumber trucks the veneer up to Kamloops which is located in south-central British Columbia and has a population of approximately 78,000.
Jenkins said Centurion Lumber is an end-user and a broker. He said Centurion Lumber gave Renaissance Ketchikan Group a letter of intent in 2006 saying they would take 25% of what is produced. That changed after the product was tested by the mill last August. The tests demonstrated the quality of the veneer product that could be produced in Ketchikan and Centurion Lumber came back with a letter of intent saying they would purchase 100% of what the veneer mill can produce in one shift.
Jenkins said, "We have five other letters of intent from companies from down south that have various stages from 15% to 30% of what we can produce in a shift." He said, "If you take Centurion's 100% and add it to the rest of them, we actually have 249% of what we can produce in one shift. So we actually have letters of intent for two shifts."
"We are also a value added product which means we don't need a saw log which is what a saw mill produces." He explained, any logs that are over 20 inches in diameter could go to the saw mill and any logs under 20 inches which is not cost effective for the saw mill to mill could come to the veneer mill to be lathed. "Right now our average size out here is about 18-inches," said Jenkins.
"What's coming out of the woods is anything over 21-inches and anything 32-feet in length. If it's under 21-inches or less than 32-feet they're not bringing it out," said Jenkins. "While they're [logging companies] in there, if they would bring out the [logged tree] tops - we could take down to a 7-inch top - we could then sustain probably a two-thirds to 75% of a shift by what is staying in the forest that we would help clean up that would come to us," said Jenkins.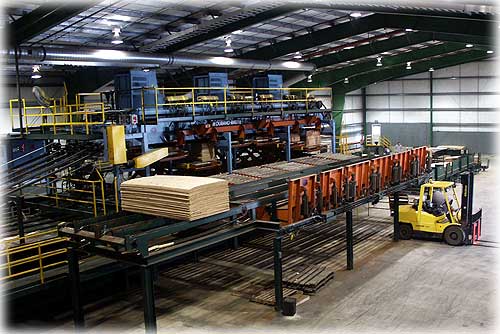 Veneer is sorted
Photo by Mary Kauffman

Jenkins said between the veneer mill, the log processing line, the log sorting line, the office and fabricating, the mill currently has about 35 employees.
The plan for the number of employees could vary said Jenkins. The mill is budgeted to run with 24 people which would cover the log sorting line, the log processing line, the mill and the office. Jenkins said, "We have more people working now than we will have once we get totally up and running."
Jenkins said the majority of people working at the veneer mill are locals. A couple of times this summer during fabricating they were up to 45 employees he said. The jobs can vary from those requiring specialized skills to positions where training is provided by the company. Wayne Crabtree, owner of approximately 60% of the patents on lathes, originally set up the lathe located in the building. Jenkins said Crabtree trained the Ketchikan Veneer Mill lathe operator for RKG and noted that this operator was probably the best operator he's seen and trained. "Which is a heck of a compliment," said Jenkins. We have a good crew that cares about the job.
Of the Ward Cove property Jenkins said, "The location is perfect. It's the last deeded deep water tidal rights in Southeast Alaska. The fresh water comes with it and the veneer mill." Jenkins said there are 140-acres of cove. He said the property goes out to the buoys, out to the point. He explained, the cove property Renaissance Ketchikan Group (RKG) is purchasing extends from the Ward Creek bridge north around to Arrowhead gas. Jenkins said the Alaska Marine Highway System (AMHS) is purchasing their building from the Ketchikan Borough. The AMHS parking lot and AMHS access piece has been carved out. That is not part of the Renaissance Ketchikan Group property.
Problems arose with startup
Regarding the delay with startup of the veneer mill Jenkins said, "If we would have taken the Canadian [log] supply last summer, we would have been in operation last summer which was Ted's [Falconer] plan." By not doing that and with the death of Falconer, that delayed startup through the winter of 2006. Jenkins said what he should have done was given up when Falconer was killed. "It would have saved me a couple of million dollars," he said. "But we were already into it, we believed in the project, we'd already done our testing, I'd already spent a half-million dollars in testing the mill, and said yes it will work and it can be fixed and we set down pretty much the budget."
Jenkins said, "We had contracted to have our logs delivered, actually on the 4th of July, with the intent of starting up on the 15th of July. One thing led to another with the fabricating of our conveyors, getting parts, getting equipment, getting skilled labor to come in, working with the hardware and the software of the mill - it's now the first of October." Jenkins said they are three months from where they considered they'd be when Ketchikan Veneer Mill bought their first load of logs.
Jenkins said there was much work to be done as the building and equipment had set idle for 6-years prior to Renaissance Ketchikan Group purchasing the property.
"This mill had a reputation that it wasn't a good product, that the product going down south has some variables, thick and thin, and we worked on it last fall before I put in a lot of money on the log processing line to make sure that it worked. And it did."
Jenkins said there was software and hardware that had to be changed which was done this summer. Explaining the software Jenkins said, "The whole line is computerized. There are 1100 switches on the line that's controlled by the computer. Well as you can well imagine, it's been sitting for six years, so switches, contacts, wired correctly not wired correctly, so as the software talked to them some of the hardware - the switches - some of them would work, some of them wouldn't. Some of them were hooked up, some of them weren't." He said, "So we just had to start from one end and keep working through the project." Jenkins said they underestimated the amount of time to complete this work thinking it would take about 30-days but instead it took 90-days.
Jenkins said they also had to rebuild the whole log processing line because the Borough had auctioned off the saw mill and they had no way of processing the log line. He explained, "By what I mean about processing the log processing line is that we take the whole log, put it through a debarker which takes the bark off around it. We then put it through the saws which cuts it into the blocks. The blocks are either 8-foot, 9-foot or 10-foot - so we can actually make 8-foot, 9-foot or 10-foot veneer. It then goes down a log processing line. We then take it from the log processing line and put it into the vats. There are 12 vats out there." Explaining the vats Jenkins said water is heated, which covers over the top and heats the log up to about 145º - 150º which makes the log softer so it peels. "We can take a 30-inch log and convert it into a 3 & 1/2 inch log in 90 seconds." He said the veneer product is then graded, stacked and shipped south green, where it is then converted into plywood. To make plywood, sheets of veneer are dried, glued together and pressed.
Relief Requested
Under the contract to purchase the Ward Cove property, Renaissance Ketchikan Group is obligated to pay the Ketchikan Gateway Borough monthly interest earned on a Certificate of Deposit. Jenkins acknowledged that the payment is behind. Renaissance Ketchikan Group made its last interest payment in August 2007, and is $150,000 behind in double-interest payments to the Ketchikan Borough.
Jenkins said he told the Borough that it is his full intent to continue to operate the mill, develop the cove and complete the purchase of the property. He said he wasn't asking the Borough to renegotiate or for a bailout nor asking for a waiver of the interest. "All I'm asking for is relief," said Jenkins. "What I need is six-months relief on the payments." Jenkins said he needs time to also show financiers and investors that the mill is economically viable.
On the local level some have called him a "carpetbagger" Jenkins said. He said he'd never met any of these people or talked to them. "It's been said that we're using public money to do this. Somebody do the math. This is real simple. Go back and look at the Borough's budget 2002, 2003, 2004 and 2005 and you'll see that the expenditures on the Cove by the Borough went anywhere from $500,000 to a million dollars per year. That money being spent by the Borough was generated by taxpayers' dollars." He said, "That's real money."
Jenkins said now he pays to run the Cove. "If the Borough takes it they have a real number of $750,000 it's going to cost them to run the Cove. That money has got to come from someplace - it won't be generated from the Cove cause the mill will not be operating."
He said currently he has paid about a half-million dollars to the Borough. All the costs of setting up the operation of the veneer mill up has been paid by Jenkins he said.
Jenkins said, "Mr. Houts [Borough Finance Director], Mr. Eckert [Borough Manager], and Mr. Scott Brandt-Erickerson [Borough Attorney] have seen my timber supply contract and they have seen my letters of intent from the buyers." He said he provide these documents not as a part of the public record but for their information.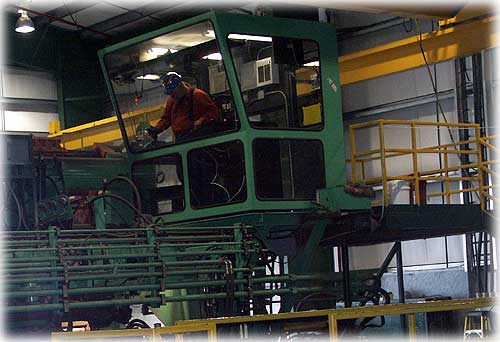 Lathe Operator
Photograph by Mary Kauffman

Jenkins said he has maintained the $9 million in a certificate of deposit (CD) as required. He said Renaissance Ketchikan Group owns the CD. The money was not shown to the Borough to show that he had proof of financing said Jenkins. "What it was, was to show that I did have the bonding, the bonding was there, it was generating income that I could then use that income to pay the interest to the Borough. But as it is now, the interest rates have gone up. It's costing me more money for the bond and I've taken the other proceeds and put it into this property."
Regarding the bonds Jenkins said, "If you take a look at the documents they clearly state the Borough doesn't own the money, they don't have the rights to the funds. But I did pledge the income that was produced off of those bonds to pay the Borough. Which is how we got the 4.4% interest."
Jenkins said he hasn't tried to hide this from anyone. He said part of the problem that he's having is somehow, some way local proponents of foreclosure are trying to link collusion between him and the Ketchikan Borough Manager. "I don't know where that's come from."
Jenkins said he's kept the Ketchikan Borough informed of the veneer mill progress, what is needed to continue, the time needed and put this in a letter.
He said the Borough has never led him to believe that he would be allowed the time to get on his feet and get the veneer mill project going. "The Borough has always said you've got a contract - which I do - and in the contract it says you need to pay your interest."
Jenkins said he's gone to the Borough and said, "I can't pay the interest. I can fold my tent and go home and you can take it [the property] back or I can continue improving the asset and continue to try to get the veneer mill up and running. And if I'm successful, then I'm going to be successful in fulfilling my contract." He said, "But at no time did anybody - whether it was an Assembly member, a manager or any of the staff - say don't worry about it, don't pay your money. That was never said. They've always said let us see how we can work with you."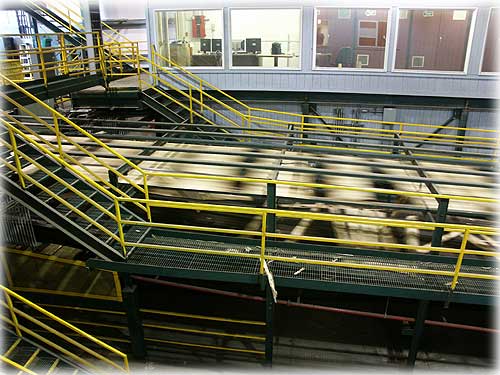 Veneer moves down the line
Photo by Mary Kauffman

Jenkins said, "What I think the misnomer is they think that the Borough is paying or somehow I'm getting funds from public funds to do this. That's not so. I'm saving public funds." The Borough could take the property.
Jenkins questions if proponents of foreclosure have even seen his business plan and if so, it wasn't requested from him. Jenkins said "potshots" and personal attacks on him have been made.
He said he is a managing member of the project in Boise and confused why a Ketchikan local asserts publicly that he's never done that project. "I don't know where he's getting his information." Jenkins said, "They [proponents of foreclosure] questioned my involvement in my project in Prospect Heights, IL. They [the Borough & proponents of foreclosure] got a letter from the City Attorney that said no that's not correct, here's what Jerry did." Jenkins said the proponents of foreclosure came back and said of the letter, how do we know it really was the City Attorney?"
Jenkins said, "Where it became emotional to me was when they started attacking me personally. Is it because I'm an outsider, because I'm not a local? I don't know. Is it because they have ulterior motives in mind because we are killing the forests? I don't know." Jenkins said he's been accused publicly of being in collusion with the manager and accused of running his last project broke."
Funding the work on the veneer mill project has been going on for 78 weeks said Jenkins. "Actually we've been on the project for 2 & 1/2 years working with the Borough. We finally closed it around the 1st of May."
He said he hasn't pocketed any public funds what-so-ever. The property is a public asset which Jenkins is improving and intends to purchase. He said if this property sits vacant, it will cost the taxpayers.
Regarding financing and documenting a track record of income and expenses for the veneer mill, Jenkins said, "It's going to take awhile for us to have records to show that it can be sustained." That could take 4 to 12 months. "I'm assuming I can get it done in 6 months."
Renaissance Ketchikan Group, LLC
Renaissance Ketchikan Group, LLC was organized in Idaho. Jenkins said he is from Idaho and has a number of companies and property in Idaho. And he added, "What difference does it make where I incorporate at?"
Renaissance Ketchikan Group, LLC was not organized for the purpose of banking said Jenkins. He explained, Renaissance Ketchikan Group, LLC has done a series of bond finances - private placements - where they go out and get investors to put together a pool of money. "What we can then do is that we provide legitimate replacement collateral - real estate, operating businesses" He said, "We can then borrow from that bond pool at a cheaper rate." Jenkins said he pays interest to the investors and they get higher interest than the investors would get with passbook interest. He said, "I have to give them secure collateral before I can use that pool of funds to purchase anything." Jenkins said, "Right now, the collateral here is not secure enough because it won't sustain the cash flow."
Future Plans for the Ward Cove Property
Jenkins said with the veneer mill is up and running he can turn his time to developing other uses for the Ward Cove property. Of the property Jenkins said, "The idea behind it was to create a light industrial park that's self-sustaining based on renewable resources."
Concerning future development of the Ward Cove property Jenkins said, "Without the veneer mill, it doesn't work." The original plan was to get the veneer mill up and running with Ted Falconer running the veneer mill, lease it, make the payments, finance the project, and then he and his son, Cory Jenkins, develop the rest of the property.
"We want to restore some of the buildings," said Jenkins. There are a couple of nice warehouses that can be fixed up that the company could setup for boat storage, indoor storage for boats, a travel lift on the marina, fuel, water."
"We're self-contained here, we can do our own water for the system. We have our own sewer system here, that came with the property." There has been interest in using some of the buildings for manufacturing such as building boats said Jenkins.
Jenkins said the only thing finalized in development plans is that the veneer mill is running. "Everything else is in the over-all plan and as people come to us, we add to our plan." One example is pellets for wood stoves. Jenkins said, "There is actually room to set a pellet mill right inside here, that we would then use our chips to make pellets out of."
Jenkins said he'd been told that about 60% of the wood pellets demand for the west coast can be produced. "This would be something interesting to look into," he said. "The intent would be to deliver within Southeast Alaska. Hopefully we could have production of our raw product and we don't have to ship out of here. We're at a disadvantage to the rest of the world because we have to ship stuff in and we have to ship stuff out. We can't just put it on the truck and deliver it. So those are obstacles that we are working around."
Jenkins said there has been talk with with a couple of other suppliers and vendors - one that wants to do a small facility at Ward Cove to dry the veneer to make plywood in Ketchikan. This is only in the planning stages. "In order to do that we'd add about 120-feet on the end of the building, which would go out to the gate and then we'd just set up dryers in there," said Jenkins. Again, this is only in the planning stage.
Jenkins said he'd also received a call from a small logging operation on Prince of Wales that showed an interest in selling the veneer mill their smaller logs. He said the veneer mill can use smaller logs. That would help sustain them and the veneer mill can have some American timber. "I would still maintain my annual supply from Canada and as soon as I got enough logs stored, I would run a second shift," said Jenkins. "I have to have a steady supply and the only place I can get that is out of Canada."
Jenkins said they have already purchased a small water bottling facility that they are currently in the process of installing on the Ward Cove property. He said the company is currently conducting interviews with water testing companies to test the water product.
"There are 49-million gallons of fresh water that comes with the property." Jenkins said there are three-miles of pipeline that goes to a dam that goes with the property. He said the dam on Connell Lake feeds the Cove property and RKG would own the dam and pipeline.
Jenkins said, "The intent is to initially start with bottling one-gallons and five-gallons." He noted that one local company that delivers water has the water shipped up from down south which results in a small profit margin. The intent, said Jenkins, would be for us to bottle a quality product and do it with local help, sell it to a local water delivery company allowing for a profit increase by eliminating bottled water shipping costs to Ketchikan.
Jenkins said he would like to invite members of the Ketchikan Borough Assembly to visit the veneer mill to actually see the work that is going on and to talk to the workers if they like. "Half of them haven't been here," he said.
E-mail your news & photos to editor@sitnews.us


Publish A Letter in SitNews Read Letters/Opinions
Contact the Editor
SitNews ©2007
Stories In The News
Ketchikan, Alaska