Quitting tobacco agrees with Marvin George
October 11, 2007
Thursday

Klawock, Alaska - Tobacco was taking over Marvin George's life. He had bad headaches. He hurt too much when he coughed. Worst of all, the cigarettes were making him nervous, and he said that was "getting me angry, getting me mad at my family."
George said his blood pressure was soaring to "alarming rates," and his doctor told him to quit smoking. He also had several family members tell him to quit, even though he tried to keep his 2 1/2-pack a day habit secret from others in the family. Finally, it took an April incident with his younger brother before George said he looked in the mirror and decided he didn't like what he'd become.
"Cigarettes got me tempermental, and it took a slap from my younger brother to get me to quit," said George, a 10-year Craig resident who was born and raised in Klawock. "I deserved that slap. I reached into my pocket and threw out my pack of cigarettes."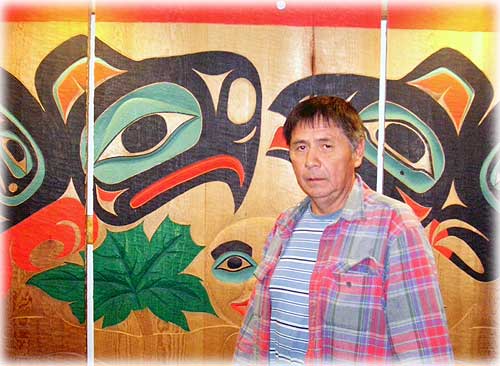 Marvin George stands in the entry way of the
SEARHC Alicia Roberts Medical Center in Klawock
PHOTO COURTESY OF SEARHC

George called his niece, Brenda Isaacs, who is a Community Wellness Advocate and WISEWOMAN Health Educator at the SouthEast Alaska Regional Health Consortium (SEARHC) Alicia Roberts Medical Center in Klawock. Isaacs provides tobacco cessation services at ARMC, and George thought Isaacs could help him quit.
"Brenda gave me guidance and she got me (nicotine) patches," George said. "Getting moral support is the best way for fighting cigarettes. Find a mentor. Reach for the phone and don't be afraid to ask for help."
George is 55 years old and a non-campaign Vietnam Era Army veteran. He also spent 23 years as a longshoreman for Southeast Stevedoring and worked 10 years as a crew member on purse seiners and commercial troll boats. He said he smoked about 13 years, off and on. He was able to quit for two years (1998-2000), but he started up again and this time the tobacco took over his life. He tried to quit three times before he finally called Brenda for help.
"I couldn't do it on my own," George said.
George said smoking became a part of his day. He'd wake up and light up a cigarette. He'd eat breakfast and fire up another. He'd smoke another cigarette before work and more during his breaks, after work, and when he hung out with friends. And the more George smoked, the more he felt the effects. George said in 1974 his father died at age 51 of lung cancer, after being a smoker since he was 17, and George didn't want to go that same route.
"I had a real bad whooping cough, and my lungs were hurting, it felt like they were burning," George said, adding that he's been sober for nine years. "The first month after I quit it was hell. But now, no more headaches. No more booze, no more drugs, no more cigarettes. I'm enjoying life."
When he smoked, George said he could barely walk 100 feet before he'd be out of breath, then he'd fake an ankle injury and go back home. Now he loves to go for long walks in the morning and he walks 4 1/2 to five miles a day. He also said the smell of cigarettes bothers him, so he tries to stay in non-smoking environments and he tries to avoid smoke even when he's outdoors.
Now that he's not spending about $7.50 a pack for cigarettes (or $18.75 a day for his 2 1/2-pack a day habit), George's already feeling the financial reward. He bought a used Dodge 318 pick-up truck with his savings (he spent $1,000, but said the truck is worth $3,200). He's also enjoying the fact that his clothes and house no longer smell of tobacco.
"We can go out and do subistence hunting and fishing. We can cut firewood. We can help with housework. And when we're done, we can help an elder or other family member," George said, adding that he'd like to be a mentor for youth and said they should free to talk to him. "We can take long bike rides or go for long walks. We just need to keep our hands busy and don't light up."
Editor's Note:
There recently have been changes to the SEARHC tobacco cessation services provided on Prince of Wales Island. Women can call WISEWOMAN health educator Brenda Isaacs at 755-4983, men can call SEARHC Tobacco Health Educator Amelia Mosher in Sitka at 1-888-966-8875, and people interested in joining a tobacco quit support group can call Health Educator Deniese Weyhmiller at 755-4925. The Alaska Tobacco Quit Line is open toll-free 24 hours a day, seven days a week at 1-888-842-QUIT (842-7848).

Source of News & Photograph:
SOUTHEAST ALASKA REGIONAL HEALTH CONSORTIUM (SEARHC)
www.searhc.org
E-mail your news & photos to editor@sitnews.us


Publish A Letter in SitNews Read Letters/Opinions
Contact the Editor
SitNews ©2007
Stories In The News
Ketchikan, Alaska