15th Annual KHRA Bike Show Fun For All Ages
Miller Wins Grand Prize, Harley-Davidson Street Bob
By Valerie Hendel
October 18, 2006
Wednesday

Ketchikan, Alaska - On October 14th, the Plaza Mall in Ketchikan opened its doors to the 2006 15th Annual KHRA Bike Show. The Ketchikan Harley Rider's Association (KHRA) sponsors the event each year to help raise money for its charity fund.
Twenty-eight bikes were displayed throughout the mall and competed for recognition in various classes. On Saturday, Gene Beebe, Jim Amos, and Ken Arriola judged and awarded each class.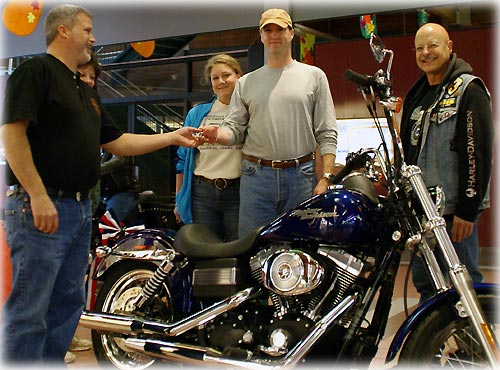 KHRA President Gregg Wilks hands the keys to the Harley-Davidson Street Bob to the Grand prize to winner Kevin Miller. Standing next to Miller is his wife Nettie . Heather Phelps, KHRA treasurer, is standing next to Wilks, and on the far right is Dan Hart, KHRA VP.
Photograph by Ruth Hart

Best Touring bike went to Phil McElroy's 2005 Electraglide Classic. Best Sportster went to Bill Kacenas' 2002 which sported an All-American theme with chrome and gold plaited eagles. Ed Frye's skull-themed Screaming Eagle bike boasting some bling-bling special effect lights took Best Softail. He also took the Custom award with his 2006 Firefighters Edition. The Classic award went to "Bella," Brian Stewart's 1980 Shovelhead. Mike Puckett's Best Foreign win dressed up the display with a 2002 camouflage URAL Patrol complete with hammer and sickle. Best FX went to Bill Hollywood's 2002 Deuce with chrome tool kit. Best Shovelhead went to Tom Harrell's flame painted rigid.
Event organizers Dan and Ruth Hart kept things lively by pushing tickets and candy and encouraging spectator participation. Dan's Electraglide touring bike provided the weekend's musical entertainment and provided show goers a chance to see just how many gadgets -GPS, heater, mounted camera, and more- can fit on a bike. Spectators cast votes for their favorite bike and decided the winners of the "People's Choice" and "Kids' Choice" awards.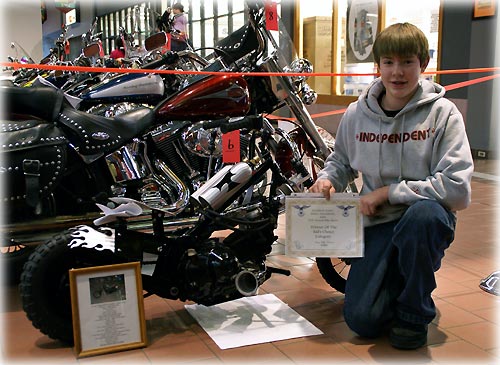 Tanner Thomas
Tanner Thomas won the Kid's Choice award with the bike he built.
Thomas finished his bike just in time to make it into the show.
Photograph courtesy Dan and Ruth Hart

One of the highlights was a custom entry by 14 yr. old Tanner Thomas who took home the Kid's Choice Award and kudos from show goers. Last year Thomas entered his custom bicycles. This year, Thomas entered the competition with his custom 110 cc engine, springer front end mini bike. "I've been building since I was eight," says Thomas. He built his bike in six days complete with brushed steel flames and seat, suicide shifter, and nitro-look tanks. Association members were thrilled to see the entry. "It's fun to see him grow. We'll be watching him on Discovery Channel someday," says association member Brian Stewart.
When the people spoke, their vote for People's Choice went to Kyle Burnett's beautiful crimson-flamed West Coast Custom.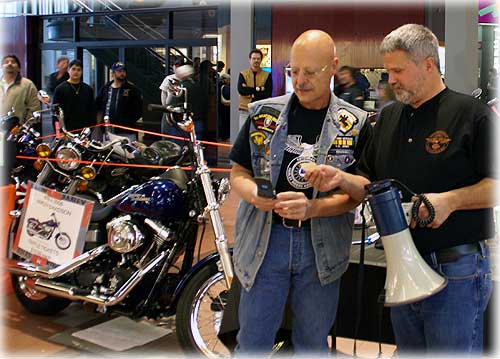 The Call to the Grand Prize winner of the Harley-Davidson Street Bob ...
Dan Hart, Vice-President of the KHRA, is dialing the phone number to the Grand Prize winner as Gregg Wilks, President of the KGRA, reads off the number. Everyone wanted this call, and Kevin Miller was the lucky one.
Photograph by Ruth Hart

On Sunday, hopefuls gathered to watch the drawing for the 2006 FXDBI Harley Davidson Street Bob. The ten dollar ticket price made it easy to dream and approximately 2,933 tickets were sold for the raffle. Second and third cash prize winners were announced first. Tom Secrest won the $250 cash prize and Dave Hanson won the third prize of $100. Kevin Miller's name was announced as the grand prize winner and Dan Hart, Vice President of KHRA called him from the Plaza to give him the news.
Approximately $3000 went to the charity fund from this year's show, according to Heather Phelps, KHRA Treasurer. The KHRA works all year to raise money for its charity contributions. Their next event is the Holiday Toy Run. Look for them in the community or call Greg Wilks at 617-6367 for information on how to donate. Last year, about $10,000. in toy purchases helped 650 local families.
More Photographs:
Valerie Hendel is a freelance writer living in Ketchikan, Alaska.


Publish A Letter on SitNews Read Letters/Opinions
Contact the Editor
SitNews
Stories In The News
Ketchikan, Alaska