Budding Artists Beautify a Corner of Our Island
By Nancy Coggins
October 16, 2006
Monday AM

Ketchikan, Alaska - A corner of our island came alive with color! On sunny Sunday, October 8, 2006, Ketchikan residents of all ages gathered to paint their dream images on Diamonds International of Alaska LTD's boarded-up windows. In a mere four hours, more than twenty budding artists transformed 16 dull-looking panels, which face the corner of Mill Street, into some beautiful works of art.
The pre-planning and preparation by Bobbie McCreary and Jesse Harrington, who was assisted by Kali, Angie and Andy (three other talented artists), paid off because their efforts made this painting experience seamless for these painters. Each and every one had so much fun!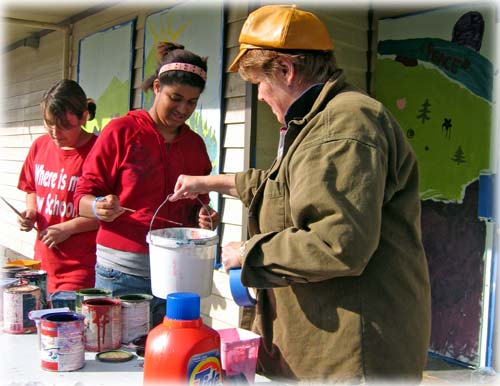 Bobbie McCreary, Stephanie and Kacey
Photograph by Nancy Coggins

The painters went to work, painting their favorite subjects on the windows. Jesse had prepared each window with a very pale blue background and a light green island in the middle. The artists' challenge was to populate not only the islands but also the sky above them and the water below with birds, buildings, and boats, and whatever designs their minds conjured up.
In general, the effort was called a window art program. Historic Ketchikan and the Ketchikan Area Arts and Humanities Council sponsored the event.
Of course these painters didn't just go down there and start painting, as there's a four-year history behind this tradition of Ketchikan's beautiful windows. The idea of painting windows got started after people complained about the old Tongass Realty storefront on Dock Street, sitting there a whole year with dirty windows. After a Point Higgins School teacher's aide displayed second and third grade art projects in this storefront's windows, Diamonds International (DI) agreed to support a local effort to paint over its dull brown boarded-up windows. For the first three years of painting on DI's windows, MJ Turek and friends were responsible for the backgrounds on each window, and "Project Ketchikan" became a reality.
Since the name, "Project Ketchikan," had been given to an earlier project by four Revilla High School students (supported by teacher Clare Patton Bennett, Dave Kiffer from Historic Ketchikan, and Bobbie McCreary), the window-painting organizers had to ask for permission to use it. Permission granted, the name is still being used.
All kinds of imaginable materials had been prepared for the artists! On the four craft tables, which were spaced evenly along the outer edge of the sidewalk, there were buckets of at least 20 different colors of acrylic paint and brushes of all kinds, shapes and sizes. Then there were empty plastic containers and paint stirrers for mixing just the right color. Large buckets of clean water were ready for cleaning the brushes, and rags, for wiping the drips. Chalk and pencils were available for sketching designs, and stools to help the painters reach the tops of the boards.
The bottom of one window had been taped off and labeled "Small children (tots)" to make it easy for the youngest ones to reach the painting area. Jenna Miller opted to paint there, and painted her two cats, Jack and Edgar. She was very excited about having the chance to paint there; she is already counting the days until next year's painting event.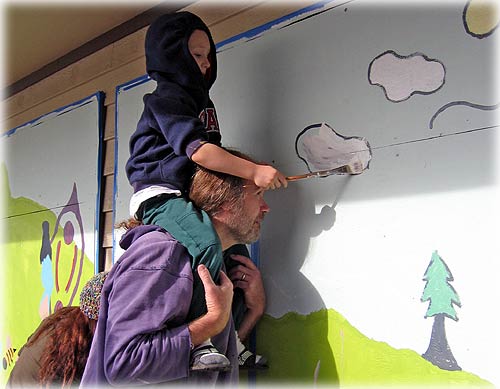 Dave Lieben and son Danny...
Photo by Nancy Coggins

The whole Lieben family came to paint and worked as a team -- clouds overhead, trees on the pre-painted island, and fish in the water. Son Danny, while sitting atop his father's shoulders, had a great perch from which to paint the clouds that were up toward the top of the panel. Sara painted inside the fish silhouettes drawn by her mother. When finished, Danny was so pleased with his artistic contribution, he stood there, looking at his painting, and clapped for himself. The Loughmans family painted another window. Youngsters, Melanie and Jess painted small wild flowers and an animal respectively.
Most of the paintings became a collaborative effort among a group of from two to four painters. For example, Tracy Arce's totem pole on the island blended with Kevin Shields' Ketchikan Princess ship in the water, as well as Allison Sebcioglu's self portrait of her walking her dogs on a shoreline trail near Saxman.
In previous years, there were two other art projects that were created by students from the Tongass School of Arts and Sciences. One was in the empty building that is now at the location of the Pioneer Pantry on Mission Street. Another, the windows on the second floor of the Plaza mall before the school district offices moved in. Then last year, the boarded-up windows of Bernard Passman's were decorated by a group of Revilla High School students under the direction of local artist, Mary Henrikson. Its exhibit is permanent, and, this year, it has been reinstalled for its second year.
For this year's DI project, the group of artists was very fortunate to have a very well qualified artist as a guide -- a new VISTA volunteer, Jesse Harrington, from New York. His efforts generated some precious artwork from the youngest participants, bold statements from older children, and mature depictions from adults.
Jesse's Sasquatch loomed up over the mountain, while Kali's mermaid rested calmly in the waters below. Near the end of the painting session, Jesse transformed the pale blue sky into a dark murky-looking one, seemingly moving with lots of action and fury around a full moon. Waves pounded against the shore. On the other end of the island in this same scene, Kali painted buildings with yellow, lighted windows.
These paintings have received a lot of attention from people driving by in their cars. Residents who walk along the Salmon Landing area across the street are able to enjoy a bird's eye view of all the pieces.
The youngest artist must have been about three, and from there, the ages went on up. Whatever the age, everyone was pleased with his or her art. Each and every one who was asked to was willing to pose by his or her work. Those four hours were well spent, very satisfying, and the results speak for themselves.
As you pass these beautiful paintings around the corner, no one would mind if you yelled out, "Yeah, Ketchikan."


Nancy Coggins is a freelance writer living in Ketchikan, Alaska.


Publish A Letter on SitNews Read Letters/Opinions
Contact the Editor
SitNews
Stories In The News
Ketchikan, Alaska