Governor Will Include $195 Million Budget Request for Gravina Access Project in FY 2008 Capital Budget
By M.C. Kauffman
October 02, 2006
Monday

Ketchikan, Alaska - Governor Frank H. Murkowski met in Ketchikan with over two dozen Ketchikan elected and community leaders Friday in an effort to reach a consensus on how to proceed with the Gravina Access project.
"We had two questions we needed answered, and we got those answers," Murkowski said. "We wanted to know if Ketchikan wanted to move forward with the F-1 preferred alternative and would they be willing to fight for the additional state funds it's going to take to get it done."
Mike Chambers of the Alaska Department of Transportation provided SitNews the names of the twenty-seven invited to the meeting in Ketchikan. Those invited were: KGB Vice Mayor David Landis; Ketchikan City Mayor Bob Weinstein; Joe Johnston - (Chamber President); Blaine Ashcraft - (Chamber Director); Renee Schofield - (Past Chamber President); J. C. Conley; Sherrie Slick; Sen. Bert Stedman; Rep. Peggy Wilson; Rep. Jim Elkins; Rep. Elect Kyle Johansen; Doug Ward; Jim Taro; Bob Berto; Paul Axelson; Bill Williams; Pete Ecklund; Lew Williams III; Linda Adams; Ray Matiashowski (Lobbyist); Dick Coose; Mike Salazar; Roy Eckert (Borough Manager); Jim Voltberg (City Public Works Director); Mike Carney (Airport Manager); Capt. Karl Calvo (USCG); and Lew Williams Sr.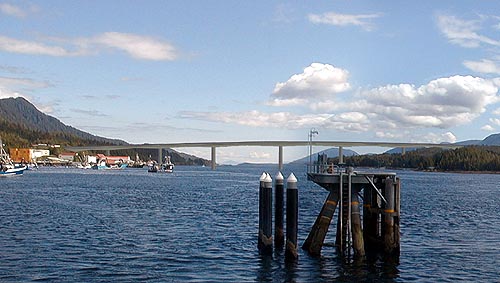 Rendering of F1 Preferred Alternative Bridge As Viewed From Salmon Landing
Alternative F1, a combined 200-foot high/120-foot high bridge crossing that incorporates Pennock Island.
Rendering courtesy AK DOT

According to a news release, Murkowski told the group that he is prepared to include a budget recommendation for next year's capital budget to fund the difference between the $133 million of mostly federal money now in hand for the project and the $328 million the preferred alternative is estimated to cost. The Department of Transportation and Public Facilities is ready to begin committing funds to the project.
"Gravina access has been a priority for Ketchikan since at least 1972, when the Ketchikan airport was constructed directly across Tongass Narrows from the city," Murkowski said. "The late Mayor Ralph Bartholomew, for whom the bridge will be named, was a dedicated advocate for its construction. Murkowski said when the bridge is built, it will not just connect the city to its airport, but will allow Ketchikan to expand and grow in an area where it logically should. In Juneau, the residents of Douglas Island and in Sitka, the entire community access their airports by bridge; Ketchikan should also have such access said Murkowski.
"We have a substantial portion of the funding, but the preferred alternative will reqire another $195 million. We wanted to make sure Ketchikan is still behind this alternative and that the community will engage in a strategy needed to get the funding through the Legislature."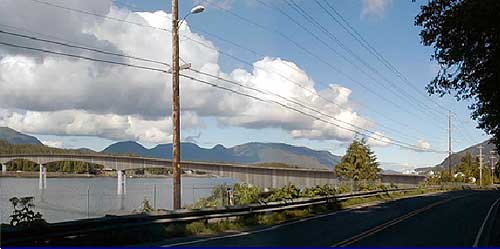 Rendering of Alternative F3 - Alternative F3 crosses Pennock Island and the east and west channels of Tongass Narrows. This alternative would start at Tongass Avenue south of the U.S. Coast Guard Base and north of the Forest Park Subdivision and cross the east channel of Tongass Narrows to Pennock Island with an
approximately 18-meter (60-foot) high bridge.
Rendering courtesy AK DOT

Murkowski and DOT&PF staff discussed other possible alternatives that could be pursued and which would cost less, but would take months or years to revise environmental documents and permits. The F-1 preferred alternative includes two high bridges crossing from Revilla Island to Gravina Island via Pennock Island.
One of the other alternatives (F-3: pictured above) would have a lower, 60' bridge from Revilla Island to Pennock, which would save about $85 million. Ketchikan leaders have turned down that proposal in the past because it would require cruise ships to enter the harbor by going around the north end of Pennock Island.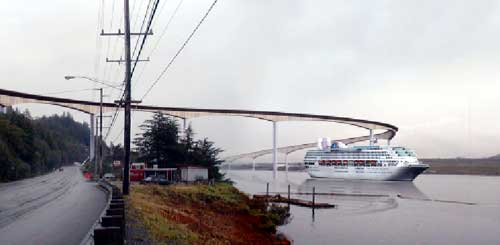 Rendering of Alternative C3 (A) - This bridge that would span Tongass Narrows approximately 500 meters (1,600 feet) north of the airport terminal. The main span of the bridge would have a vertical clearance of 61 meters (200 feet) and a horizontal clearance of approximately 198 meters (650 feet).
Rendering courtesy AK DOT

A second alternative (C3a: pictured above) proposed a single 200' high bridge crossing near the airport, which would cost $252 million, but which would take several months to make changes to the environmental documents. The group also discussed the possibility of using an underwater "tube," which would likely require two years and additional environmental studies.
Sources:
Office of the Governor

Alaska Department of Transportation & Public Facilities
E-mail your news & photos to editor@sitnews.us


Publish A Letter on SitNews Read Letters/Opinions
Contact the Editor
SitNews
Stories In The News
Ketchikan, Alaska