Halloween Hats, Pumpkins & Ghosts
By Elizabeth Flom
October 31, 2005
Monday

Ketchikan, Alaska - Story craft hour focused on the subject of Halloween at the Ketchikan Children's Library Thursday. Featured were howling stories, a spook-tacular movie, and an activity hand-crafting ghostly Halloween necklaces.
The little goblins warmed up their clacking bones with a few sing-a-longs and finger-plays. Then the wee ones nestled on the ground for a spooky story "Pumpkin Eye" by author Denise Fleming.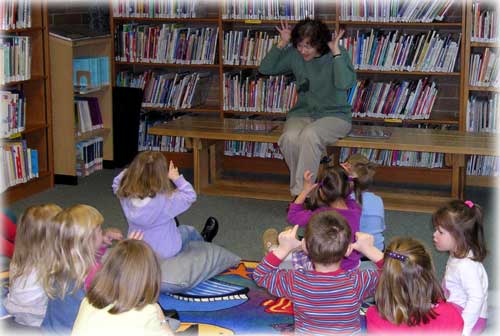 Group singing Five Little Monkeys...

Little eyes then lit up like jack-o-lanterns as the book "It's Halloween Night" was unfolded. As the rising moon lights the way for trick-or-treaters, the mood is set for a spooky celebration where imagination rules. After this foot pounding story, the children were asked if they were going to have a pumpkin at their house on Halloween. All responded with answers at once... "Yes, I have one," "Yes, we painted ours," "Yes, we carved ours!"
For the next story "Halloween Hats" by Elizabeth Winthrop, the children huddled closer. Bats, witches, ghosts and goblins marched down the street on their way to a great big Halloween Party. When this unusual group makes a circle, suddenly Halloween hats are everywhere. The rhythm and pictures made listeners want to pick up a hat and join the parade.
Then it was time for the Halloween movie, "Space Case". Funny things happened as a creature from outer space visited earth on Halloween. This zany story of a space traveler and a young boy he befriends was vividly brought to life through this upbeat musical and colorful animation. All eyes were fixed to the screen throughout the movie.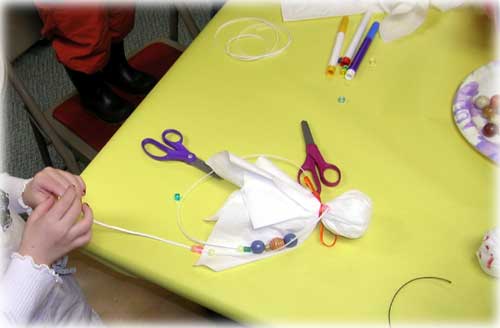 Ghostly bead necklace

Then the children were loosed to make a Halloween necklace. The librarian first demonstrated how to make a ghost with napkins and then how to begin the necklace strand ... and away with the beading. There were glow-in-the-dark beads, big wooden beads, and an array of colorful beads for the little beading monsters. Many designs and creative skills were demonstrated and the ghostly beaded necklaces were worn proudly home.
The children's library will have a "Pooh Corner" booth at the annual All City Halloween Party on October 31st from 4-8 pm at the Plaza Port West Mall.
Elizabeth Flom is a freelance writer and
photographer living in Ketchikan, Alaska.

Publish A Letter on SitNews
Read Letters/Opinions
Submit A Letter to the Editor
SitNews
Stories In The News
Ketchikan, Alaska