News in Photos
Candlelight Vigil Honors Troops
Photo By Carl Thompson
October 27, 2005
Thursday

Ketchikan, Alaska - A small group attended the candlelight vigil held Wednesday evening in front of the Federal Building. The event was planned by organizer Perry Reeve to honor the men and women serving in the Iraq war and to honor those whose lives have been lost. Since the war began, 2,000 Americans have died and 100,000 Iraqis have lost their lives.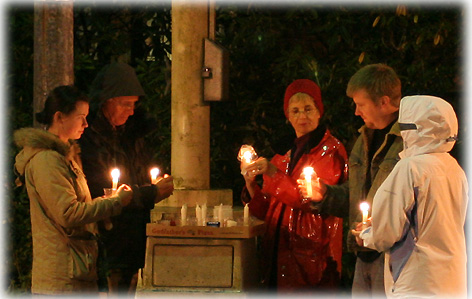 Pictured: Leah, Steve, Perry, Kyan, Michelle

According to Reeve, the candlelight vigil provided an opportunity for Ketchikanites to stand with military families everywhere.
The candlelight vigils were promoted nationwide by the political action group MoveOn.org. According to their website, on Wednesday evening, more than 100,000 people gathered at 1,354 candlelight vigils in all 50 states and DC to remember and honor our fallen soldiers and ask, "How many more?" In Alaska, MoveOn.org reported 11 people participating in Fairbanks, 90 participants in Anchorage and 7 participants in Juneau.
Carl Thompson ©2005
www.carlsphotos.com


Publish A Letter on SitNews Read Letters/Opinions
Submit A Letter to the Editor
SitNews
Stories In The News
Ketchikan, Alaska