Bush Calls Iraq U.S. Front in Battle Against Terrorism

Defeating "brutal enemy" will require more sacrifice, time, resolve
October 26, 2005
Wednesday

President Bush says that the United States will "not rest or tire until the War on Terror is won," and the United States will not leave Iraq until it is secure and free.
The terrorists in Iraq are using it as the front for their war against humanity, Bush said, but Iraq is the U.S. front in the battle against terrorism.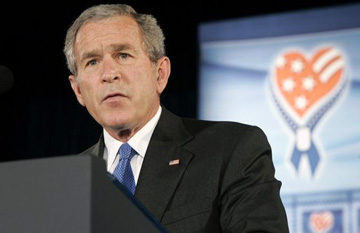 President George W. Bush speaks to the Joint Armed Forces Officers' Wives Luncheon Tuesday, Oct. 25, 2005, at Bolling Air Force Base in Washington, D.C. The President thanked the members for their courage and sacrifice saying, "We don't know the course our own struggle will take or the sacrifices that might lie ahead. We do know the strength and character that our troops and military families bring to the fight."
White House photo by Paul Morse
"We will never back down. We will never give in. We will never accept anything but complete victory," Bush said before the Joint Armed Forces Officers' Wives' luncheon held Tuesday at Bolling Air Force Base in Washington.
The president told the wives "no one should underestimate the difficulties ahead," and said there will be no early withdrawal of U.S. forces from Iraq.
"This war will require more sacrifice, more time and more resolve. The terrorists are as brutal an enemy as we have ever faced, unconstrained by any notion of common humanity and by the rules of warfare," he said.
Iraqi election officials and the United Nations election chief in Baghdad, Iraq, Carina Perelli, confirmed October 25 that the new constitution, voted on in a referendum held 10 days ago, was adopted by a majority of Iraqis, according to news reports.
This outcome signals the will of the Iraqi people, Bush said.
"The Iraqis are making inspiring progress toward building a democracy," he said. "By any standard or precedent of history, Iraq has made incredible political progress, from tyranny to liberation to national elections to the ratification of a constitution in the space of two and a half years."
Iraq is scheduled to elect a new, full-term parliament December 15.
Bush said the United States did not seek a global struggle with terrorists, but the challenge it presents will be met with a comprehensive strategy.
He outlined the five-part strategy:
First, the United States is determined to prevent attacks by terrorist networks before they occur.
Second, the United States will work to deny weapons of mass destruction to outlaw regimes and to the allies of terrorists.
Third, the United States is determined to deny radical groups the support and sanctuary of outlaw regimes and state sponsors.
Fourth, the United States is determined to deny the militants control of any nation, which they could use as a home base for terrorist activities.
Finally, the United States will work to deny the militants future recruits by replacing hatred and resentment with democracy and hope across the entire Middle East.
Transcript:
President's Address To The Joint Armed Forces Officers' Wives' Luncheon at Bolling Air Force Base


Publish A Letter on SitNews
Read Letters/Opinions
Submit A Letter to the Editor
SitNews
Stories In The News
Ketchikan, Alaska