Peterburg Resident Recieves Special Award From Norwegian Ambassador
By Anita Hales, KFMJ News
October 17, 2005
Monday AM

Petersburg resident, Glorianne "Glo" DeBoer, received special recognition from the Norwegian Ambassador to the U.S. last week in Washington, D.C. DeBoer received the "Ambassador's Award 2005" for her work as chairperson of the "Little Norway" festival held annually in Petersburg. DeBoer has been chairperson for the last eight years.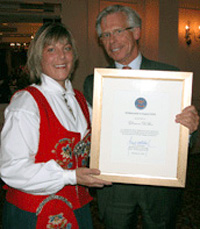 A beaming Glorianne "Glo" DeBoer accepted the Ambassador's Award 2005 presented to her by the Ambassador of Norway, Knut Vollebaek, at the US-Norway Forum in Washington, DC, in October.
Photograph courtesy Norway.org
Glo DeBoer is the daughter of John and Lois DeBoer of Petersburg and grand-niece of Ketchikan resident James Sande, retired State Ferry Captain and Wes Sande, former Ellis Airline pilot. Her grandparents were Pete and Eileen DeBoer. Pete was manager of Standard Oil Company in Ketchikan for many years.
The Little Norway Festival has been held in Petersburg for about 50 years. It is a four day event taking place every 17th of May. It is a main attraction for Petersburg drawing out-of ­town visitors from all over the world to have a taste of Norway in Alaska. Traditional foods and games mark the event as well as a Norwegian folk fashion show. There is also a parade held on the 17th of May.
Norwegian Ambassador Vollebaek gave DeBoer the award at the U.S.-Norway forum citing DeBoer's "drive, determination, vision, volunteer spirit and willingness to the traditions and history of Norway in this country alive and strong." Vollebaek and his wife, Ellen were guests at the Little Norway event this May and were impressed by the people and celebration. Vollebaek said, "what they have done in their little festival has had vibrations far beyond their village in Southeast Alaska to all of Alaska and the United States."
DeBoer presented a DVD presentation showing the beauties of Alaska and comments were made that it took little imagination to guess why Norwegian fishermen chose to come here. DeBoer said to the gathering, ""We have a fierce dedication to Norway and the Norwegian American culture in Petersburg but so often feel a bit forgotten and left out. Whether it is because of our remoteness or the independent spirit that marks a Norwegian, your [Vollebæk's] visit gave a renewed sense of worth to many. We say you are the closest thing to Royalty that we have in this country, and just as King Harald, his sisters and Queen Sonja gave Washington, D.C. a renewed sense of vitality and strength on their recent visit, your visit left Petersburg with that same confidence. We will be talking about you for years to come."
KFMJ asked DeBoer about her experience. DeBoer found out about the presentation in July but didn't really understand what was about to happen until she was given the Award October 6. The U.S.-Norway Forum was started by Tom Burlson former ambassador of Norway to the U.S. This year's forum marks the 100th year of independence from Sweden for Norway. So DeBoer's award takes on special significance. The first such award was given to Walter Mondale and other awardees have been Ambassadors and the like. The Norwegian experience is a major part of DeBoer's life. DeBoer said, "If you were to come to my house you would see how engulfed we are" (in Norwegian things). She even designed her house with a traditional Norwegian blueprint like many of the houses in Petersburg.
Her boyfriend, also of Norwegian descent, who accompanied her didn't understand that the whole world didn't know about the festival. DeBoer said it was like he was thinking, "What do you mean you haven't heard of Petersburg? It's the center of the universe."
DeBoer is the Harbormaster in Petersburg and gets many of her ideas from the local fishermen and old timers that visit her office.

On the Web:
The Annual Little Norway Festival
www.petersburg.org/visitor/littlenorway.html
Source of Photograph:
Courtesy: NorwayThe Official Site in the United States
http://www.norway.org
Source of News:
Courtesy: KFMJ News
http://www.alaska.fm

E-mail your news & photos to editor@sitnews.us


Publish A Letter on SitNews Read Letters/Opinions
Submit A Letter to the Editor
SitNews
Stories In The News
Ketchikan, Alaska