Coast Guard aircrew rescues fishermen
October 12, 2005
Wednesday PM

Ketchikan, Alaska (SitNews) - A Coast Guard helicopter crew rescued three fishermen from a beach near Point Alava on Revillagigedo Island Tuesday afternoon after they were forced to abandon the fishing vessel Yvonne Denise which was disabled and adrift.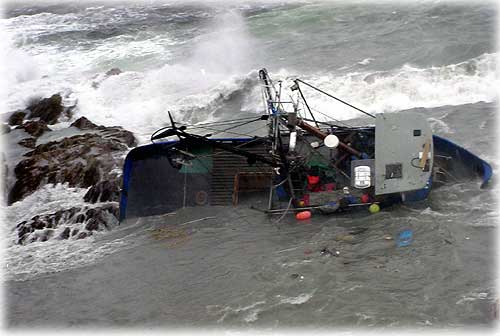 Fishing Vessel Yvonne Denise
Official Coast Guard photo courtesy of Air Station Sitka

The Coast Guard identified the three rescued fishermen as Crewmen Aaron Hudson and Cliff Hudson Sr. of Metlakatla and Noah Makua of Saxman. The three abandoned the ship wearing their survival suits.
The Coast Guard reported they received the call at 11:49 Tuesday morning requesting assistance. A Coast Guard Air Station Sitka helicopter crew arrived on the scene and airlifted the fishermen safely to Ketchikan. No injuries were reported.
Assisting in the search, along with the HH-60 helicopter from Air Station Sitka, were the Ketchikan-based cutters Anthony Petit and the Nashon.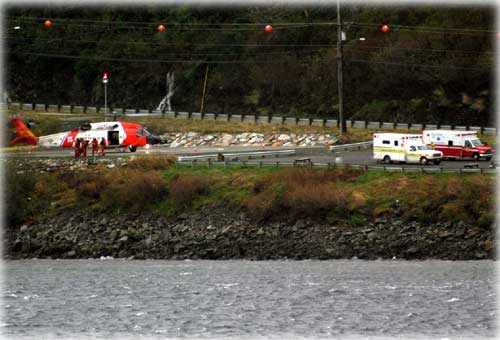 Wolff Point Helicopter Landing Facility: Coast Guard Air Station Sitka helicopter crew airlifted the three fishermen to Ketchikan.
Photograph by Lisa Thompson ©2005

The disabled and adrift fishing vessel Yvonne Denise went down off of Hog Rocks Tuesday afternoon.
According to Federal Aviation Administration's Flight Service Station, wind gusts at the airport Tuesday afternoon were recorded at 81 miles an hour.

Publish A Letter on SitNews
Read Letters/Opinions
Submit A Letter to the Editor
SitNews
Stories In The News
Ketchikan, Alaska