Viewpoints
Whining and Complaining
By Jerry Cegelske
October 26, 2005
Wednesday

For years the teens and young adults whined and complained about nothing to do in Ketchikan, so what do they finally do? They decide that if something is going to be done, they will have to do it themselves.
"Ketchikan Youth Initiatives was organized to serve and empower the teenagers and young adults (19-25) of Ketchikan and its surrounding communities by fostering and funding youth and young adult-led initiatives designed to create a constructive social environment. KYI serves as the sponsoring umbrella organization that assists in the organization of programs and activities that provide youth and young adults alternatives to drug abuse and violence. The programs and activities KYI sponsors will be composed and directed by local teenagers and young adults to strengthen the entire community, allowing all its members access and participation, and proving to the community that teenagers and young adults in positions of leadership can produce positive community assets and make smart, healthy decisions" (KYI intent statement).
Under this umbrella comes KYI/Ketchikan Hot Shots Paintball League which is trying to collect funds and develop a place for them to enjoy some outdoor recreation that they can be justly proud of.
I became aware of their activities when I observed that someone had dumped tires at the rockpit at 4.2 mile Revilla Road. In checking it out, I found that they have been working with the Cape Fox Board of Directors and have a permit for their use of the property. They also have secured insurance for the league covering liability and injuries to participants. They have contacted a local contractor to assist in clearing the lot and installing a netted safety wall along the road.
In order to get things going, they have obtained a tax exempt status and have secured some funding from Cellular One as a founding sponsor in granting $5000.00 in cash and the use of a cell phone. They now have support from Cape Fox, Cellular One, and the Revilla Island Prevention Coalition.
They are in the process of transforming the area from a dumping ground for trash and careless peoples litter to a community asset. They need to raise funds for the netted wall poles but the net and miscellaneous equipment is being ordered this week.
Now it is my turn to whine and complain! Why do I have heartburn over this? Because the same inconsiderate slobs and slobettes are causing problems for them, just as they did for all Borough residents prior to and after the community cleanup of Revilla Road. The tires and wire rope reels are being burned resulting in a loss of materials and making a mess for them to clean up. Tires are being taken to be burned across the road, leaving a mess for everyone to look at and pay to clean up.
The Hot Shots have placed a refuse barrel for people to place their trash, and as important, they empty it regularly. It sounds to me like these are some responsible young adults that have taken on a challenge and have earned and deserve some support from the community. They have not waited to receive a handout, but took an active part in developing a new recreational activity for the community. They are trying to spread the word that this is no longer a shooting range or a dumping spot.
Contrast this with the pictures I recently took at Lake Harriet Hunt. I also noted that after I took the pictures this Trooper report from October 3, 2005 was released. " Troopers responded to the Ketchikan General Hospital emergency room where a 39-year old man reported being assaulted at about 3:00 am while at a party at Harriet Hunt Lake."
Sometimes it feels as if a minority in the community doesn't want anyone to have anything nice whether it is a recreational area, an area used by tourists and locals, or just to drive on the roads without looking at litter.
Help the Ketchikan Hot Shots reach their goal, help the Alaska Department of Transportation keep our roads clean, help the people that clean up their mile of the South and North Tongass Highway, help ourselves to a cleaner environment. Report the slobs that keep destroying what others are trying to build. You can't afford not to.
Jerry Cegelske
Code Enforcement Officer
Ketchikan Gateway Borough
E-mail: jerry.cegelske@borough.ketchikan.ak.us
228-6621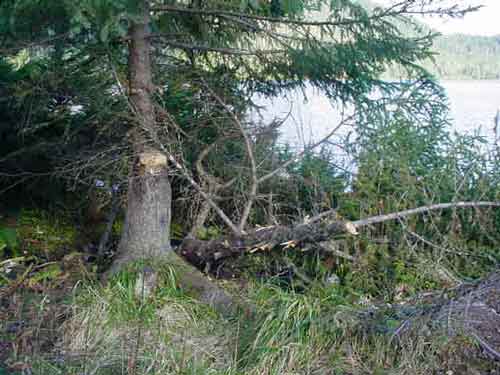 Tree damaged for firewood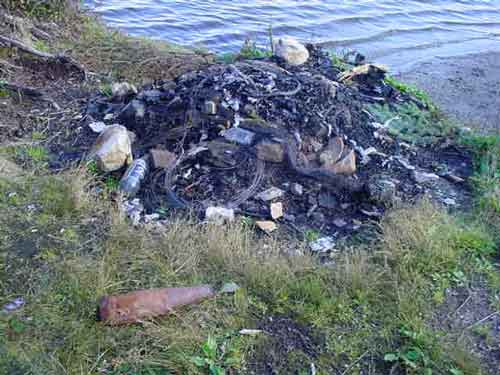 Fire Remains on shore of LHH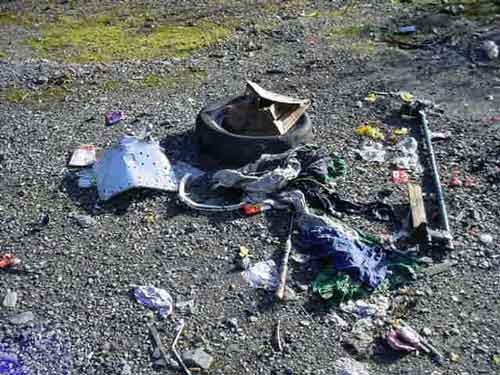 Trash pile at 4.2 mile Revilla Rd.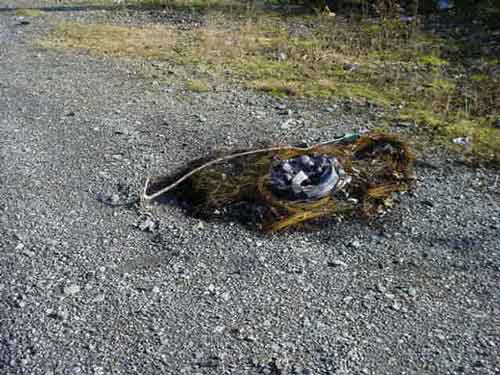 Burn pile with tires at 4.2 mileRevilla Rd.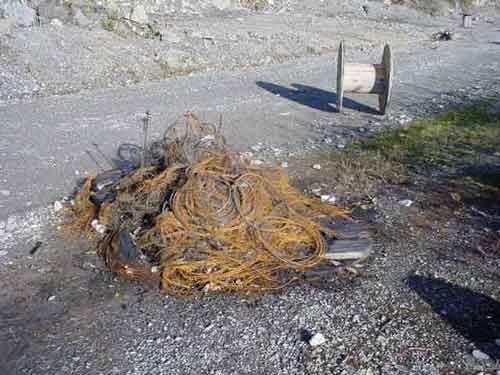 Burned tires from Ketchikan Hot Shots Paintball Park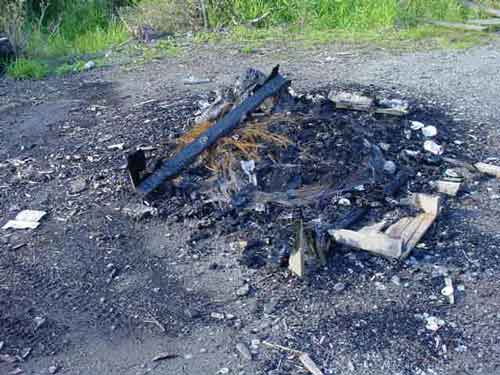 Fire Remains Lake HH taken 10/03/05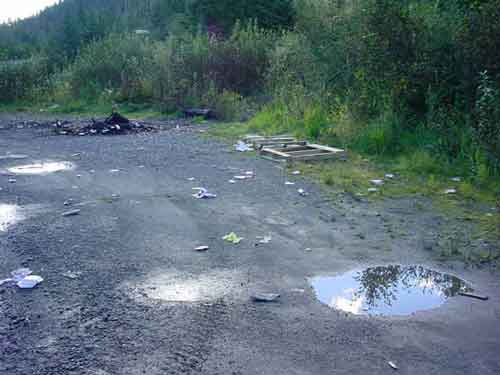 Fire remains and trash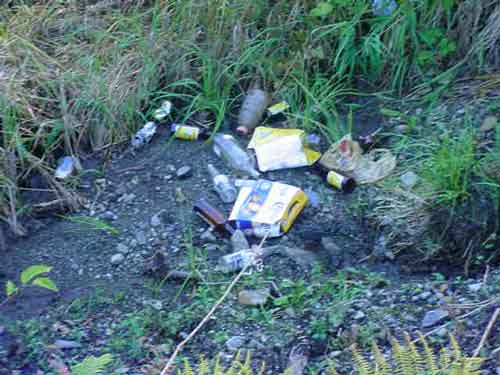 Litter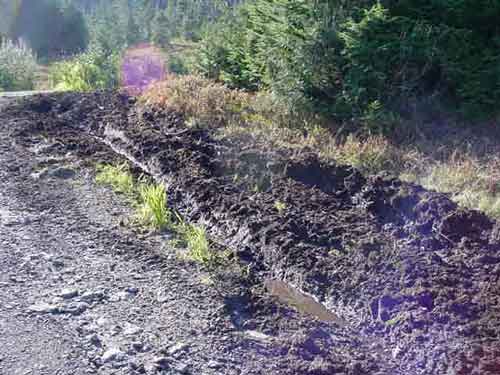 Property damage LHH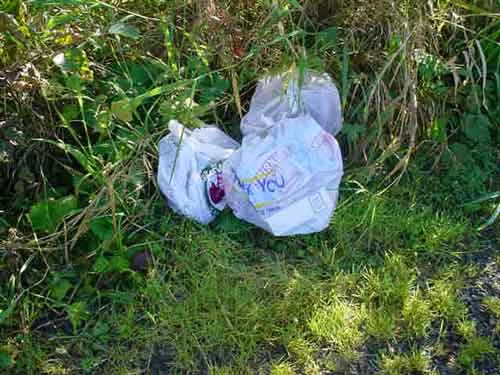 Bags of beer bottles and liquor bottles at LHH
Note: Comments published on Viewpoints are the opinions of the writer
and do not necessarily reflect the opinions of Sitnews.
Write a Letter -------Read Letters

E-mail the Editor

Sitnews
Stories In The News
Ketchikan, Alaska