People became data points in giant Alaska earthquake
by Ned Rozell
October 06, 2004
Wednesday

"I hit G-forces on the dozer that only astronauts are trained for."
These are the words of the operator of a D-9 Cat who found himself in the saddle during the largest earthquake on the planet in 2002.
"You could hear the Alaska Range ripping apart."
That came from a woman who said she was "thrown around, I had no choice," during the earthquake.
These comments and others like them have found their way back to a University of Alaska scientist who took a road trip in November 2002 to the areas affected by the Denali Fault earthquake about one year after it happened. He stopped at lodges, bed and breakfasts, gas stations and restaurants to ask people about the earthquake. He also wrote down addresses of places where the earthquake ripped through and later mailed out questionnaires, a surprising number of which made it back to him.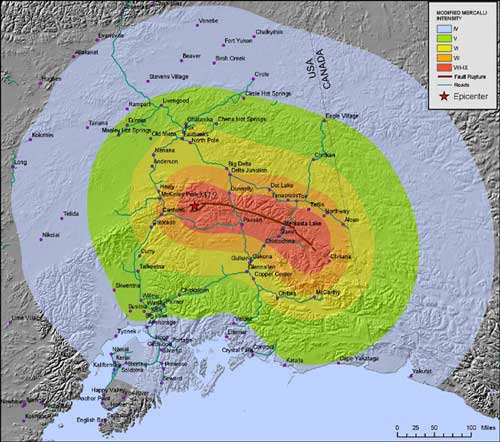 An intensity map of the Denali Fault earthquake, a magnitude 7.9 that ripped through Alaska on Nov. 3. 2002. Descriptions of Intensity IV include "felt indoors by many, outdoors by few; V was "felt by nearly everyone"; VI was "felt by all, many frightened; VII was "considerable damage in poorly built or badly designed structures"; and VIII-IX's description included "heavy furniture overturned, buildings shifted off foundations."
Image Courtesy of Artak Martirosyan, UAF Geophysical Institute

Artak Martirosyan, a scientist who studies strong earthquake motion at the Geophysical Institute, used their responses to enhance a USGS earthquake model of shaking severity. The USGS model separates shaking zones by zip code, and since some Alaska zip codes cover areas larger than Delaware, Martirosyan was looking for a bit more detail within areas rocked by the earthquake.
The Denali Fault earthquake was no ordinary earthquake. A magnitude 7.9, it ripped the ground surface along its path for about 210 miles, made Canadian high-rise dwellers woozy, lit up seismometers in Yellowstone Park, and sloshed water wells as far south as Louisiana. Scientists called the earthquake a once in a lifetime study opportunity, and, due to a lack of precision instruments where the earthquake tore through, people's responses became as valuable as seismometers.
"I was in the Anchorage quake in '64 and this was far more violent," wrote a person who rode out the earthquake on the Nabesna Road.
"Based on an earlier GPS fix, our location shifted 25-30 feet south," wrote another who lives on the Tok cutoff road.
Martirosyan has just written a report about the 99 questionnaire responses he received from people who lived where the earthquake released most of its energy. Some of the questions helped him produce a new shaking-intensity map to supplement a map made by the USGS, which received more than 3,400 intensity reports from people on its website, http://pasadena.wr.usgs.gov/shake/
To the question, "How did you respond?" one person answered, "held on to the outhouse." Another "got on my knees and held on to a snowmachine."
People estimated the duration of the ground shaking to be anywhere from 10 to 300 seconds, with an average of about 112 seconds. One person wrote, "The shaking was too violent for that kind of observation."
"The bolts on most of the door handles shook inside the brass plate . . . and made them egg-shaped instead of square," wrote a man living on the Tok cutoff road. "I lost about 20 percent of my jarred canned goods off my root cellar shelves," wrote a neighbor.
Several people reported spruce trees swishing like windshield wipers. Many people reported sounds, such as very load roars, train noise, creaking, and a mysterious booming:
"We first noticed 'booming' sounds in the mountains to our north in early October," wrote a man who lives on the Tok Cutoff road. "After the October 23rd 2002 Nenana quake the booms became more frequent, sometimes being heard 4-6 times a day. On Oct. 27th (we) heard and felt some very loud booms. These series of booms could best be described as the sounds and vibrations of construction blasting."
The questionnaire also included a line where people described their reactions, ranging from "very little reaction" to "extremely frightened." Seventy percent of people who responded to Martirosyan's survey were frightened to various degrees. The other 30 percent checked the box marked "excitement."
That 30 percent, Martirosyan wrote, were "mostly male responders."
This column is provided as a public service by the Geophysical Institute, University of Alaska Fairbanks, in cooperation with the UAF research community. Ned Rozell (e-mail) is a science writer at the institute.

E-mail your news & photos to editor@sitnews.org


Post a Comment View Comments
Submit an Opinion - Letter

Sitnews
Stories In The News
Ketchikan, Alaska