Viewpoints
Free Boat!
by Jerry Cegelske
October 08, 2004
Friday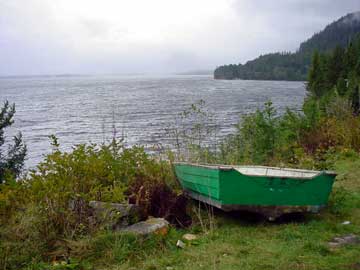 Looking toward George Inlet

Someone was kind enough to leave a green fiberglass 14 foot boat along the road just past Whitman Creek. Apparently they had so much fun with it, they want someone else to enjoy it! I am sure it is free for the taking should anyone be interested. Maybe they think it would help to attract tourists to the south end so they can better enjoy the view of George Inlet and the Herring Cove areas. I must admit that the green of the boat is in sharp contrast to the stormy ocean waters. With a little snow it will really stand out! With some lights it would look like a fallen Christmas tree!

The person, or persons that dumped the couch or chair at 10 Mile S. Tongass must really enjoy their work, sort of an avant-garde type of art. I am sure that it will attract the attention of the tourists during the bus tours next spring. With any luck the man-made fibers will last for many years and provide enjoyable viewing in the years to come. If you get a chance, take a Sunday drive and enjoy both of these outstanding views!

Maybe we should consider asking the city fathers to provide a place that such items could be properly disposed of instead of being left along the road. We could even recycle some of the stuff! I took some building materials to a place near Deer Mountain on Saturday. They had a nice little shack there, they asked some questions, and on all accounts it was a pretty painless process. We should develop a place like this for all the people that dump appliances, couches, boats, building materials, and other items in the Borough to take their trash to. Isn't it about time they do?

Sarcastically yours,
Jerry Cegelske
Code enforcement - Ketchikan Gateway Borough
E-mail jerry.cegelske@borough.ketchikan.ak.us
907-228-6621
Ketchikan, AK - USA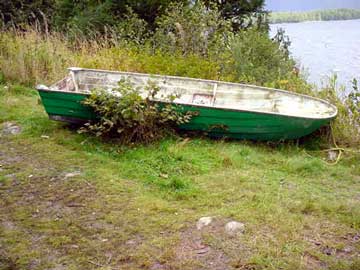 Looking back toward Herring Cove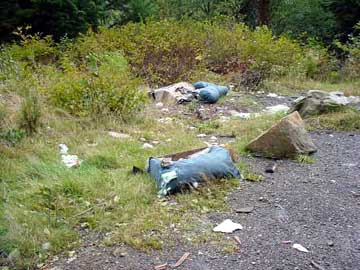 Couch at Mile 10 S. Tongass
Note: Comments published on Viewpoints are the opinions of the writer
and do not necessarily reflect the opinions of Sitnews.
Post a Comment -------View Comments

Submit an Opinion - Letter

Sitnews
Stories In The News
Ketchikan, Alaska