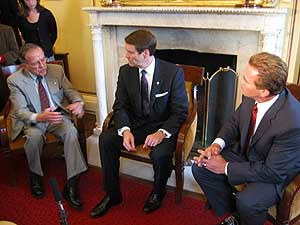 Senator Stevens, Senator Frist, and Governor-Elect Arnold Schwarzenegger at their meeting in the Senate Majority Leader's office Wednesday, October 29th.
Senator Ted Stevens, President Pro Tempore and Chairman of the Senate Appropriations Committee, met with California Governor-Elect Arnold Schwarzenegger Wednesday during his official visit to Washington, D.C.
Stevens, along with Senate Majority Leader Bill Frist, M.D., welcomed the Governor-Elect to Capitol Hill. The group discussed a number of matters of mutual concern including the forest fires ravaging Southern California. During the meeting Senator Stevens told Mr. Schwarzenegger about Alaska's Disaster Recovery Centers, which provide Alaskans with a central location to receive information and assistance from federal and state agencies following a major disaster.