People of Southeast
Bill Eggen - The Hairizons' Man
by Kathy Stack
October 23, 2003
Thursday - 12:45 am

William C. Eggen - known around Ketchikan as the Hairizons' man - has provided beautiful hair styles to Southeast residents since his move to Alaska in September of 1991. Bill Eggen said the move so many years ago from Minnesota to Alaska was "a long trip."
Striking out to the last frontier, Eggen made the move in an old shipping truck he bought for $2000 with his wife at the time, Pat, driving their white Plymouth Voyager. Unfortunately, the old truck's brakes went out in Spokane, Washington delaying the trip and costing $1000 to repair. Although the family had to stay in Spokane for over a week, Eggen said they had a great time there and made some good friends. After finally getting back on the road and again on their way to Alaska, Eggen drove the old truck as far as Prince Rupert where he sold it for $3,500 making a small profit.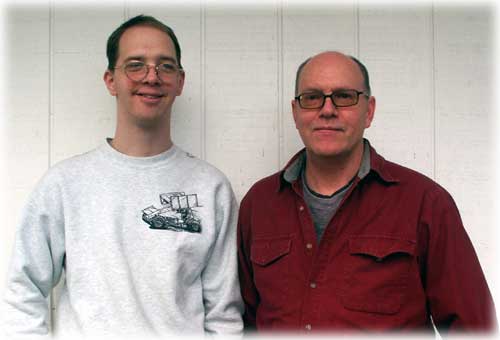 Son and father... Marschel and Bill Eggen
Eggen is the owner and operator of South Hairizons in Ketchikan
photo by Dick Kauffman

Eggen said they decided to move to Alaska because his exwife needed to live in a more moderate climate than Minnesota. Diagnosed with fibromyalgia and arthritis, the extremes of Minnesota's heat and cold temperatures were difficult for her.
The move to Alaska wasn't made without first flying up during the winter in December of 1990 to check things out. Eggen said, we knew from that trip that we loved Alaska and made the move to Ketchikan in September of 1991 where he and his family lived until moving to Craig in 1997. He said he stills loves living in Southeast Alaska. "It is beautiful - even the rain is a good feeling."
Eggen said he had no hard times in 1991 settling in Ketchikan as he had just sold a salon in Minnesota which provided the family an income making the move and relocation easy. Eggen said he worked at Elmo's before later starting his own business. Also making the move easier, his brother Vernon Eggen provided them a place to stay when they first arrived in Ketchikan. Eggen said they lived with his brother for about two months before moving to the Ward Cove area where he did some wind surfing. He said he also harvested clams around Ward Cove; however, he said he "stopped eating them because they tasted like plastic."
A Jehovah's Witnesses, Eggen said they they were "welcomed wonderfully by many Brothers and Sisters that lived in Ketchikan." He remarked, "Many have moved out; however, there are many that still live here."
The Eggens moved to Craig in 1997 and Eggen started working in a salon called Oscie's Barber Shop and his wife at the time, Pat, worked for the school system. In 1999 the Eggens bought a house in Craig and Eggen opened a salon out of their new home which he still operates. Eggen said that after he and Pat divorced, he opened up a bed and breakfast called Oceanview Bed and Breakfast (click here) Eggen said, "It is fun and nice. I enjoy using the house that way. It does not set empty that way."
Marschel Eggen - following the example of his father - is interested in a variety of things. Marschel loves working with computers and he loves heavy equipment. Eggen said when they first moved to the Roosevelt area which is south of Ketchikan, the South Coast gang became Marschel's friends and they spent time teaching him work skills and genuinely cared for him. Eggen said, Marschel learned to direct traffic and the South Coast gang would give him lunch. Marschel would go to work with them at 7 in the morning and come home at 4 in the afternoon. Eggen said, "They were wonderful to him. One of the guys even taught Marschel how to operate a backhoe. He is surprisingly good at it!"
Eggen's son Marschel is a special person in many ways. Eggen said his son was in special education and had the Sitnews' webmaster, Mary Kauffman, as a teacher and said, "She was his best ever teacher. He misses her."
Eggen commented that Marschel graduated from Craig High School in 2002 and, "In the announcements of what the students were going to do in the summer Marschel said that he was going to go fishing with the Principal of Craig High School (Doug Rhodes) and the audience applauded him. Marschel got up and took a bow. It was a great graduation. I was proud of him."
And... Eggen still operates his salon in Ketchikan called South Hairizons. He has been traveling back to Ketchikan once a month from Craig since he moved there in 1997. Eggen said he's in Ketchikan from the 16th to the 23rd of each month serving his Ketchikan clientele.
Although Eggen stays very busy with his businesses and spending quality time with his son Marschel, he said he enjoys gardening - "even if I don't have enough time to do any."



©2003

E-mail Editor: editor@sitnews.org
Post a Comment -------View Comments
Submit an Opinion - Letter

Sitnews
Stories In The News
Ketchikan, Alaska