Atlantic Salmon Caught Near Petersburg
October 11, 2003
Saturday - 12:30 am

An Atlantic salmon caught by a commercial gillnetter was turned into the Alaska Department of Fish & Game's (ADF&G) Petersburg office on October 3rd. ADF&G scientists recently confirmed the identification as correct. The fish, likely an escapee from a British Columbia (BC) salmon farm, was caught near Point Baker south of Petersburg on September 8th. It weighed approximately 10 pounds and was about 30 inches long.
The invasive threat of escaped farmed fish is an escalating problem," said Kevin C. Duffy, Commissioner, ADF&G. "More fish farms in British Columbia are proposed and the lack of safe containment continues to plague the industry and threaten Alaska's salmon industry." Hundreds of escaped Atlantic salmon have been caught in Alaska's marine waters over the past decade, one as far north as the Bering Sea. Of greatest concern are the several adults that have been captured in Alaska Pacific salmon spawning streams since 1998. Fisheries scientists are concerned that Atlantic salmon may become established in Alaska by out-competing wild Pacific salmon, and rainbow and steelhead trout in areas where stocks or salmon spawning habitats are stressed.
Tens of thousands of Atlantic salmon escape each year from BC salmon net-pen farms. These salmon are an introduced species to the Pacific coast and pose an invasive threat to wild salmon and trout species. Escaped Atlantic salmon are successfully breeding in some BC streams.
ADF&G is addressing the threat of Atlantic salmon and actively seeks help from citizens to monitor and identify Atlantic salmon. Over 50,000 wallet sized Atlantic salmon identification cards have been distributed to fishermen and interested citizens throughout the state. Free cards are available at all local ADF&G offices.
Citizens are asked not to release Atlantic salmon. Once identification is certain, the whole fish, including head and guts, should be turned into ADF&G as soon as possible for scientific analysis. Freezing is recommended to preserve the fish if delivery is delayed.
Atlantic Salmon Identification Features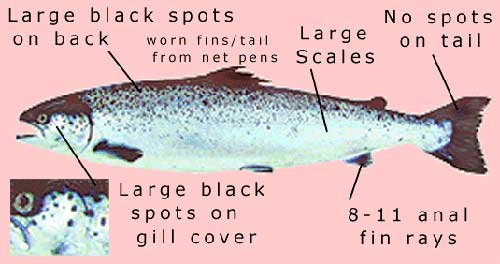 Captured Atlantic salmon should NOT be cleaned but delivered whole to the nearest Alaska Department of Fish and Game office. Also notify ADF&G staff of any Atlantic salmon observed in Alaskan streams or rivers.
In addition, ADF&G staff will be surveying several streams in Southeast Alaska in the spring of 2004 to see if young Atlantic salmon are present. A similar program carried out by the Washington Department of Fish and Wildlife found hundreds of young Atlantic salmon in one of its salmon streams this past spring.
Information:
Source of News Release & graphic:
ADF&G
Web Site




E-mail Editor: editor@sitnews.org
Post a Comment -------View Comments
Submit an Opinion - Letter

Sitnews
Stories In The News
Ketchikan, Alaska