Bigelow & Lyband Tie for Second Assembly Seat
Assembly Shall Direct Recount
by Dick Kauffman

October 08, 2003
Wednesday - 1:50 pm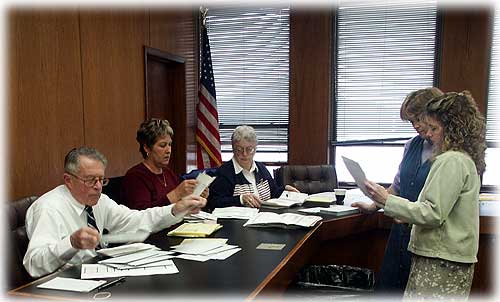 Canvassing Board At Work
Left to right: Henry Keene, Joyce Hazlequist, Karen Miles,
City Clerk Katy Suiter, and Deputy Borough Clerk Kacie Paxton
at the Canvassing Board meeting on Wednesday morning.
Photo by Dick Kauffman


Ketchikan, AK - The Canvassing Board met Wednesday morning to count the absentee and questioned ballots. After counting the absentee and questioned ballots, Ketchikan Assembly Candidates Barbara Bigelow and George Lybrand were tied for the second assembly seat

with 935 votes each. Dave Kiffer was the top vote getter unofficially securing one of the two Assembly seats with 1,227 votes.

According to Borough election codes, a recount shall be directed by the Borough Assembly. When directed by the Assembly, the Canvassing Board will individually recount all ballots cast on Tuesday - including absentee & questioned ballots. A special Assembly Meeting is scheduled for Thursday at 5:30 pm in the City Council Chambers for the purpose of ordering a recount. The recount would likely be scheduled for Monday at 9:00 am in the City Council Chambers.

If after the recount, Bigelow and Lybrand are still tied, Borough code states that the winner will be determined fairly by lot. This would be done in a Borough Assembly meeting under the direction of the current Assemblymembers. Likely a special meeting would be scheduled.



E-mail Editor: editor@sitnews.org
Post a Comment -------View Comments
Submit an Opinion - Letter

Sitnews
Stories In The News
Ketchikan, Alaska