Willard Awarded "Best of the Division"
by Gigi Pilcher
October 04, 2003
Saturday - 1:00 am

Ketchikan, AK - Diane Willard was awarded both "Best of the Division" and 1st place at the prestigious Santa Fe Indian Market juried art show in New Mexico in August for her woven clam basket. The basket was woven with both red and yellow cedar and the tattoo design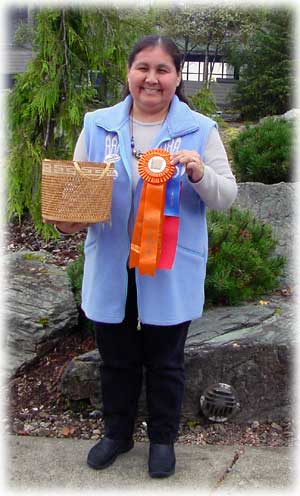 Diane Willard poses with her award winning basket Friday at the ANB/ANS Grand Camp Convention at the Ted Ferry Civic Center...
Photo by Gigi Pilcher

was woven with grass. Willard said it took her between 50 to 60 hours to weave the basket.

Diane Douglas Willard (Haida/Raven-Owl), daughter of Julius Douglas of Hydaburg and Georgianna Young Douglas (Haida) of Craig, started weaving baskets about 19 years ago during a summer visit to Hydaburg. Willard said she was visiting with her family when Delores Churchill (Haida) came to Hydaburg to teach a basket class. Willard, an accomplished bead artist, was encouraged by her friend Vicky Le Cornu, to try her hand at basket weaving. "It was kind of cool, my Nana Elsie Douglas loved to come and sit and watch me and everyone in the class weave. Nana would talk to Delores in Haida," said Willard.

Willard has studied weaving under both Delores and Holly Churchill (Haida), Lucy Rainman (Tsimshian), and has studied Chilkat weaving with Dorica Jackson. Willard said, "Weaving is one those things that everyone in my family has been so supportive of me. My husband went out that first year to gather cedar bark for me." Willard has also taken moccasin classes with Ester Shea (Tlingit-Tongass Tribe), and designing classes with Marvin Oliver (Quinault/Isleta-Pueblo).

The Santa Fe Indian Market is a highly competitive, juried art show. In order to be accepted, an artist must first submit slides of their work. Artists are notified if their work is selected for the show. This was not Willard's first opportunity to participate in the Santa Fe Indian Market juried art show - she also participated last year. Willard said last year she was encouraged by her mentor, Marvin Oliver (Quinault/Isleta-Pueblo) to submit her work and she won "Best of the Division".

This year Willard won both "Best of the Division" and 1st place - taking home a gold and blue ribbon. Willard was joined at this year's Santa Fe Indian Market by artists Marvin Oliver (Quinault/Isleta-Pueblo) and Ketchikan resident Norman Jackson (Tlingit - Tongass Tribe).

Both Willard and Oliver were also selected and displayed their art at the Heard Museum Guild Indian Fair & Market in March of 2003.
E-mail Editor: editor@sitnews.org
Post a Comment -------View Comments
Submit an Opinion - Letter

Sitnews
Stories In The News
Ketchikan, Alaska