NOAA Breaks Ground On Project To Rebuild Ketchikan Port Facility
Posted & Edited By MARY KAUFFMAN
September 02, 2021
Thursday PM

(SitNews) Ketchikan, Alaska - Federal, state and local officials joined NOAA Tuesday at a groundbreaking ceremony marking the start of a project to revitalize the agency's port facility in Ketchikan, Alaska.
"Building back better with climate-resilient infrastructure is what this NOAA facility revitalization project is all about," said U.S. Deputy Secretary of Commerce Don Graves, who attended Tuesday's ceremony.
Ketchikan Gateway Borough Manager Ruben Duran; City of Saxman Mayor Frank Seludo; Ketchikan City Mayor Bob Sivertsen; Ketchikan Borough Mayor Rodney Dial; Director of the NOAA Acquisition and Grants Officee Jeff Thomas; Rear Adm. Nancy Hann, the Deputy Director of the NOAA Commissioned Officer Corps and the NOAA Office of Marine and Aviation Operations; U.S. Senator Dan Sullivan (R-AK); Senator Bert Stedman (R-District R); Deputy Secretary of the U.S. Chamber of Commerce Don Graves; Randy Ruaro Chief of Staff to Alaska Governor Michael Dunleavy and a Former Chief of Staff for Senator Bert Stedman; Tom Maloney CEO of Ahtna Infrastructure and Technologies LLC; and Deputy chief of the NOAA Office of the Chief Administrative Officer Bruce Pitts.
Photo courtesy NOAA
Graves said, "The investment we are making in partnership with the state of Alaska will help ensure that NOAA can continue to support safe navigation and commerce in Alaska efficiently and effectively for years to come."
NOAA awarded an $18.7 million contract in April 2021 to Alaska-based Ahtna Infrastructure & Technologies, LLC to make major improvements to the facility. Under the terms of the $18,771,041 contract, the Alaska-based company will make major improvements, including the construction of a new office building, large floating pier, steel access trestle, and updated power and water utility systems for servicing visiting ships. The project will begin with the removal of the existing pier and related structures.
Upon completion of the project, NOAA will have a fully functioning homeport in Alaska capable of supporting the Ketchikan-based NOAA Ship Fairweather and other visiting NOAA and government vessels. NOAA expects the project to be completed by December 2022.
"This project is a major step forward in NOAA's effort to recapitalize the agency's fleet and supporting infrastructure," said Rear Adm. Nancy Hann, deputy director of the NOAA Commissioned Officer Corps and NOAA's Office of Marine and Aviation Operations (OMAO). "We look forward to serving Alaska and the nation from this greatly improved facility."
The Ketchikan, Alaska, port facility became home in 2001 to the Fairweather and later the port was condemned after a failed 2008 inspection.
Since 2008, NOAA Ship Fairweather utilized Coast Guard Base Ketchikan for port calls, when necessary, while operating in Alaska and had also been operating out of NOAA's marine operations center in Newport, Oregon.
The Ketchikan facility was a former fuel terminal, and Hall stated that this will be the first major renovation since 2004. The reason it has taken so long was purely financial.
"Until recently, NOAA has not had the funds available to make the necessary improvements to the facility," Freightwaves.com reported Hall said.. "A recent change in federal law has allowed NOAA to accept state funds for this project. This combination of state and federal funds has made it possible to repair and improve the facility."
NOAA Ship Fairweather maps the ocean to support safe navigation and commerce. Fairweather's officers, technicians and scientists collect data that NOAA cartographers use to create and update the nation's nautical charts with ever-increasing precision. In addition to supporting marine navigation, Fairweather's data is also used for marine ecosystem studies, fisheries habitat mapping and ocean research.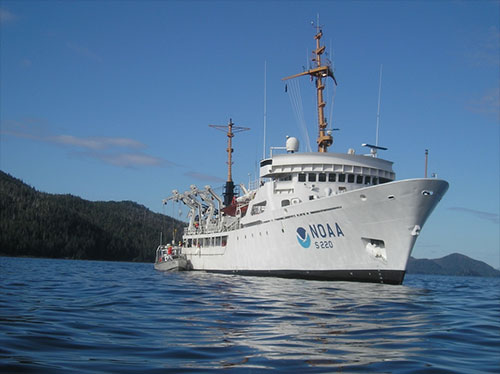 NOAA Ship Fairweather
Photo courtesy NOAA
The ship's side scan sonar can collect imagery of the sea floor, pinpoint obstructions or wrecks that could be navigational hazards, and identify characteristics of interest to biologists and geologists. The sonar emits sound waves in a swath, which generates a detailed image of objects on the seafloor.
To obtain accurate depth measurements (within 10 centimeters), the ship uses multibeam echo sounders. The bathymetric data can be converted into three-dimensional models to provide extremely accurate depths and detailed images of the sea floor and objects. The ship also has hydrographic survey launches that conduct surveys in shallower water depths the ship cannot access. The launches are fitted with sonar similar to those used by the ship.
The ship is named after Mount Fairweather - the tallest peak in the Fairweather Range at 15,300 feet above sea level—which is located in Alaska's Glacier Bay National Park and Preserve. Captain Cook named Mount Fairweather in 1778.
NOAA's fleet of research and survey ships is operated, managed and maintained by NOAA's Office of Marine and Aviation Operations, which is composed of civilians and officers with the NOAA Commissioned Officer Corps, one of the nation's eight uniformed services.
Comments as Prepared for Delivery by U. S. Deputy Secretary of Commerce Don Graves (Courtesy U.S. Office of Public Affairs):
"Good morning, everyone! Thank you, Admiral Hann, for the kind introduction. Before we start, I would like to use the opportunity to thank NOAA and the Coast Guard for all you do year-round, and especially now to protect our communities from the impact of extreme weather events.

Our thoughts now are with everyone in Louisiana, Alabama, and Mississippi, who are in Hurricane Ida's path.

I would also like to thank Governor Dunleavy, Senator Sullivan, Mayors Siversten and Dial and the Alaska delegation and community for supporting and advocating for the construction of NOAA's Ketchikan Port Facility. These improvements will not only create a dedicated homeport for NOAA's ship, Fairweather, but will also enable us to support safe navigation and commerce in Alaska and the region more effectively.

This project will also help us monitor and survey America's Arctic, which is critically important to protecting our economic and national security interests.

As Deputy Secretary of Commerce, I know full well that our nation's economic success depends on the health and vitality of our businesses, particularly our small businesses, and their ability to create family sustaining jobs in our communities. That is why we are committed to economic development in this region and across the U.S.

In the last eighteen months, COVID-19 has impacted every community in America. We have seen firsthand how our families, our businesses, and our communities have been devastated by this unprecedented pandemic.

And we all agree we can't just go back to the way things were before the pandemic. This is the moment to reimagine and build a new American economy. One that creates millions of good-paying jobs and is more just and sustainable.

This project is a great example of the kind of infrastructure investments that are key to ensuring the United States remains competitive and that we get Americans back to work.

At the Department of Commerce, we recognize that Alaska plays a crucial role in strengthening our nation's economic security and competing with the rest of the world.

In fact, Alaska produces more than half the fish caught in waters off the coast of the United States, with an average wholesale value of nearly $4.5 billion per year.

Alaska's fisheries are among the best-managed, most sustainable in the world, and they provide jobs and a stable food supply for our country, while supporting a traditional way of life for Alaska Native and local fishing communities. And we will use all our tools to make sure that the rest of the world plays by the same rules as our fishermen

Commerce has deep connections to this region, and this is particularly true for our bureau, and our host today, NOAA. Each day, nearly every American relies on the data, products, and services NOAA provides.

These include everything from daily weather forecasts and navigational tools to support the country's nearly $4.6 trillion in economic activity generated by U.S. seaports, to assessments on the health of the nation's $200 billion fisheries and disaster response.

NOAA tools are essential to enabling safe navigation, ensuring America's economic competitiveness, and protecting the environment. Protecting the health of ecosystems for this generation, and future generations, is a priority for NOAA, the Department of Commerce, and the Biden Administration. It is vital to the economic well-being of fisheries, tourism, and other critical sectors.

We are excited to work with you in creating a future that invests in our communities and look forward to coming back to Ketchikan when the port facility is completed."
Related News:
Ketchikan NOAA Dock Project to Begin, Contract Awarded
SitNews - Apr 13, 2021
On the Web:
NOAA Commissioned Officer Corps

NOAA's Office of Marine and Aviation Operations

Alaska's Glacier Bay National Park and Preserve.
Source of News:
NOAA
www.noaa.gov

U.S. Office of Public Affairs
https://www.justice.gov/opa
Representations of fact and opinions in comments posted are solely those of the individual posters and do not represent the opinions of Sitnews.


Send a letter to the editor@sitnews.us
Contact the Editor
SitNews ©2021
Stories In The News
Ketchikan, Alaska

Articles & photographs that appear in SitNews are considered protected by copyright and may not be reprinted without written permission from and payment of any required fees to the proper freelance writers and subscription services.

E-mail your news & photos to editor@sitnews.us

Photographers choosing to submit photographs for publication to SitNews are in doing so granting their permission for publication and for archiving. SitNews does not sell photographs. All requests for purchasing a photograph will be emailed to the photographer.