New dinosaur species discovered on Alaska's North Slope
By THERESA BAKKER
September 23, 2015
Wednesday PM

(SitNews) - Researchers working with specimens at the University of Alaska Museum of the North have described a new species of hadrosaur, a type of duck-billed dinosaur that once roamed the North Slope of Alaska in herds, living in darkness for months at a time and probably experiencing snow. Ugrunaaluk (oo-GREW-na-luck) kuukpikensis (KOOK-pik-en-sis) grew up to 30 feet long and was a superb chewer with hundreds of individual teeth well-suited for eating coarse vegetation.
Earth sciences curator Pat Druckenmiller said the majority of the bones used in the study came from the Liscomb Bone Bed, a fossil-rich layer along the Colville River in the Prince Creek Formation, a unit of rock deposited on the Arctic flood plain about 69 million years ago.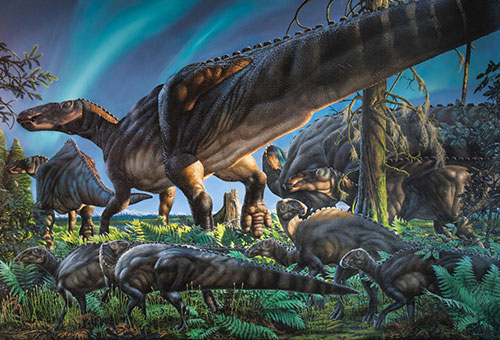 This original painting by James Havens of Ugrunaaluk kuukpikensis, the new species of duck-billed dinosaur described in research published today in the international journal Acta Palaeontologica Polonica, illustrates a scene from ancient Alaska during the Cretaceous Period.
Original painting by James Havens ©

"Today we find these animals in polar latitudes," Druckenmiller said. "Amazingly, they lived even farther north during the Cretaceous Period. These were the northern-most dinosaurs to have lived during the Age of Dinosaurs. They were truly polar."
The name, which means ancient grazer, was a collaborative effort between scientists and Iñupiaq speakers. Druckenmiller worked with Ronald Brower Sr., an instructor at the University of Alaska Fairbanks Alaska Native Language Center, to develop a culturally and geographically appropriate name that honors the native Iñupiaq people who live there today.
Druckenmiller; UAF graduate student Hirotsugu Mori, who completed his doctoral work on the species; and Florida State University's Gregory Erickson, a researcher who specializes in the use of bone and tooth histology to interpret the paleobiology of dinosaurs, published their findings in Acta Palaeontologica Polonica, an international quarterly journal that publishes papers from all areas of paleontology.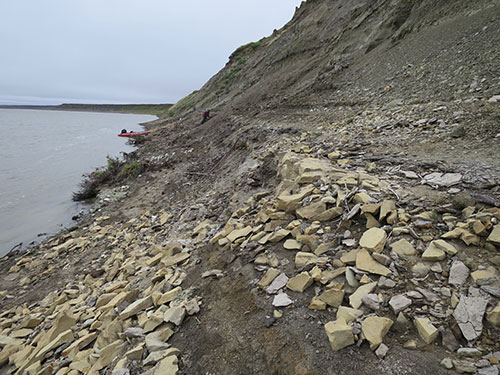 Paleontologist searches for dinosaur bones. The Liscomb Bone Bed crops out for over 200 feet along the base of this bluff.
UAMN photo by Pat Druckenmiller.

Druckenmiller and Erickson have previously published documentation suggesting that during this time period, a distinct, polar fauna existed in what is now northern Alaska. At the time, Arctic Alaska was covered in a polar forest because the climate was much warmer. Since it was so far north, the dinosaurs had to contend with months of winter darkness and snow. "The finding of dinosaurs this far north challenges everything we thought about a dinosaur's physiology," Erickson said. "It creates this natural question. How did they survive up here?"
The fossil site where the discovery was made is named for geologist Robert Liscomb, who found the first dinosaur bones in Alaska while mapping along the Colville River for Shell Oil Company in 1961. At the time, Liscomb did not recognize that the bones were from a dinosaur.
Since then, museum scientists have excavated and cataloged more than 6,000 bones from the new species, primarily small juveniles estimated to have been about 9 feet long and 3 feet tall at the hips. "It appears that a herd of young animals was killed suddenly, wiping out mostly one similar-aged population to create this deposit," Druckenmiller said.
Currently, there are three named dinosaurs documented from the North Slope, including two plant eaters and one carnivore. However, most of those species are known from incomplete material. "Ugrunaaluk is far and away the most complete dinosaur yet found in the Arctic or any polar region," Druckenmiller said. "We have multiple elements of every single bone in the body."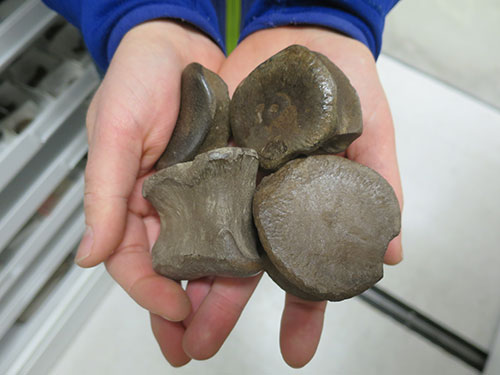 A handful of dinosaur bones found at the Liscomb Bone Bed on the Colville River, northern Alaska.
UAMN photo by Pat Druckenmiller.

"So far, all dinosaurs from the Prince Creek Formation that we can identify as species are distinct from those found anywhere else. The recognition of Ugrunaaluk kuukpikensis provides further evidence that the dinosaurs living in polar latitudes in what is now Alaska were not the same species found from the same time periods in lower latitudes."
The scientists completed a detailed study of all the different skull bones of this animal and compared them to close relatives. Some features were shared while others, particularly those in the skull and around the mouth, were seen only in the Alaska material. Mori, who is now a curator for the Saikai City Board of Education in Japan, said, "The new species has a unique combination of characteristics not seen in other dinosaurs. It lacks a pocket on the orbital rim, which Edmontosaurus has."
The research was supported by the National Science Foundation and the Bureau of Land Management. The announcement of the new discovery coincides with a year-long dinosaur exhibit at the UA Museum of the North. The museum is currently preparing a display that includes three mounted skeletons of the new hadrosaur species.

Theresa Bakker [tabakker@alaska.edu], UAF Public Affairs, University of Alaska Fairbanks. This article is provided as a public service.
Contact the Editor
SitNews ©2015
Stories In The News
Ketchikan, Alaska

Articles & photographs that appear in SitNews may be protected by copyright and may not be reprinted without written permission from and payment of any required fees to the proper sources.

E-mail your news & photos to editor@sitnews.us

Photographers choosing to submit photographs for publication to SitNews are in doing so granting their permission for publication and for archiving. SitNews does not sell photographs. All requests for purchasing a photograph will be emailed to the photographer.