Groups Say Americans sent a strong message supporting Bristol Bay's irreplaceable salmon fishery
September 24, 2014
Wednesday AM

(SitNews) - As the Bristol Bay fishermen wrapped up their 2014 season with a sustainable harvest of 28 million salmon, they were given something more to celebrate. The 60-day public comment period for the Environmental Protection Agency's (EPA) long-awaited proposal to protect their fishery from large-scale open-pit mining concluded on Friday with initial public comment counts demonstrating overwhelming support according to the Bristol Bay Regional Seafood Development Association.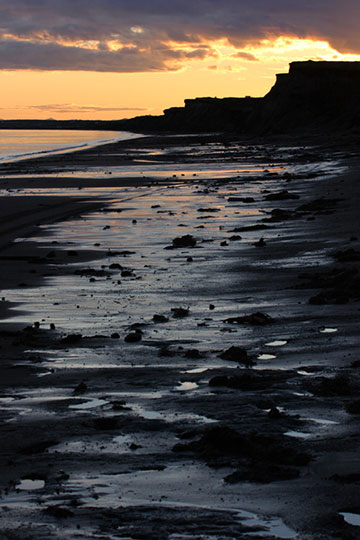 Shore of Bristol Bay
Photo courtesy Wikipedia.org

The Association said that preliminary counts of support show that over 625,000 public comments, including Bristol Bay's fishermen, processors, Alaska's fishing industry and commercial fishing groups and businesses across the nation, all weighed in supporting EPA protections for Bristol Bay. Alaskans alone sent roughly 20,000 comments supporting the proposed protections.

Sue Aspelund, a spokeswoman for the fishing fleet, was pleased that so many concerned citizens spoke up. "A massive open-pit mine planned for the heart of the salmon-rearing headwaters of our nation's largest and most valuable salmon runs is not worth the risk. And based on these numbers, the American people clearly agree," said Aspelund, executive director of the Bristol Bay Regional Seafood Development Association (BBRSDA).

Although official numbers will be released later, a clear majority support the Clean Water Act process known as Section 404(c), which allows EPA to proactively restrict certain dredge and fill permits required in order for Pebble to move forward. During the multi-year effort to implement protections for the Bristol Bay fishery, some 1.5 million comments were received in support of strong protections for Bristol Bay from large-scale mining within the region.

"Now that we have these estimates and the latest public comment period is closed, we are doing two things," said Aspelund. "We're sending out a big thanks to everyone who commented to the EPA during this process, and we're asking the agency and the Administration to move as quickly as possible to implement strong protections for the thousands of people who depend on Bristol Bay salmon for their income and way of life. We want to ensure our fishermen can continue their businesses without this threat hanging over them."

"Our economy and culture are on the line," said Luki Akelkok, chairman of Nunamta Aulukestai, an association of ten Bristol Bay Native Tribes and corporations and a sport-fishing lodge owner. "We want the EPA to finalize these restrictions as quickly as possible to protect our salmon and our livelihoods."

Bristol Bay is home to the world's largest and most productive wild salmon fishery. Alaska Native Tribes and commercial fishermen petitioned the EPA in 2010 to use its authority under Section 404(c) of the Clean Water Act to restrict mine waste disposal from the proposed Pebble Mine to protect the salmon fishery. The EPA's plan, which was released for public comment in July 2014, found that even the smallest Pebble mine scenario would have significant, unacceptable impacts on salmon.

"We asked the EPA to step in to protect our salmon fishery, and they listened to us," said Kim Williams, executive director of Nunamta Aulukestai. "Local, state and national support for protecting Bristol Bay is undeniable. Now they just have to finish the job."

A mine disaster in British Columbia's Fraser River watershed that occurred during the 60-day comment period focused renewed public attention on the potential risks of the proposed open-pit Pebble development at the headwaters of Bristol Bay's two most-productive salmon rearing river systems.

"The failure of the Mount Polley Mine tailings dam, which ironically took place during this public comment period, provided a tragic preview of what could happen in our watershed if this type of mining were permitted," said Katherine Carscallen, Bristol Bay commercial fisherman and Sustainability Director for the BBRSDA. "For a decade, Pebble's proponents have been making empty promises and guarantees to Bristol Bay and our fishermen. The tragedy at Mount Polley graphically illustrates the reality that mines like Pebble clearly pose an unacceptable threat to Bristol Bay."

According to EPA records, the loss of streams and wetlands from development of the Pebble deposit would be unprecedented for the Section 404 regulatory program of the Clean Water Act in Alaska and the nation. The Bristol Bay salmon fishery generates $480 million in annual revenue, and supplies almost half of the world's wild sockeye salmon.

"With over 1.5 million comments in favor of Bristol Bay protection, there can be no doubt that the public supports this," said Jennifer Krill, executive director of Earthworks. "All eyes are on the Obama Administration now to make the final call that protects the world's most valuable wild salmon fishery, and the 14,000 jobs that rely on it.

EPA will decide whether to withdraw its plan or recommend its finalization no later than February 4th, 2015.

Bristol Bay, Alaska's sockeye salmon runs support over 2,800 family fishing operations, and 14,000 jobs nationwide.




Edited by Mary Kauffman, SitNews

On the Web:
Proposed Determination to Restrict the Use of an Area as a Disposal Site; Pebble Deposit Area, Southwest Alaska:
Comments and other documents...
http://www.regulations.gov/#!docketBrowser;rpp=25;po=0;D=EPA-R10-OW-2014-0505

Sources of News:
Bristol Bay Regional Seafood Development Association
www.bbrsda.com

The Bristol Bay Regional Seafood Development Association (BBRSDA) represents the 7,000 commercial salmon driftnet fishermen who harvest Bristol Bay sockeye salmon.

Nunamta Aulukestai, Caretakers of Our Land
http://www.nunamta.org/

Nunamta Aulukestai, Caretakers of Our Land, is a 501 (c)(3) non-profit that includes ten tribal corporations (land owning entities) and ten tribal governments (non land owning, but have government to government relationships for the purpose of communicating native priorities to the US government), all opposed to the development of the Pebble Project.

Earthworks
www.earthworksaction.org

Earthworks is dedicated to protecting communities and the environment from the adverse impacts of mineral and energy development while seeking sustainable solutions.
Contact the Editor
SitNews ©2014
Stories In The News
Ketchikan, Alaska

Articles & photographs that appear in SitNews may be protected by copyright and may not be reprinted without written permission from and payment of any required fees to the proper sources.

E-mail your news & photos to editor@sitnews.us

Photographers choosing to submit photographs for publication to SitNews are in doing so granting their permission for publication and for archiving. SitNews does not sell photographs. All requests for purchasing a photograph will be emailed to the photographer.