Alaska Science
Alaska's view of the sea-ice minimum
By NED ROZELL
September 21, 2012
Friday

(SitNews) - As the northern end of the globe nods away from the sun at fall equinox, the amount of sea ice floating on the northern oceans is now at the lowest amount ever detected by satellites, a period that goes back to 1979. This new sea-ice minimum follows an extremely cold Alaska winter that led to the formation of thick ice off the northern coast. In spring 2012, it looked like old times for ice floating off northern Alaska.
"The first-year ice thickness was pushing six feet," Andy Mahoney, a sea ice expert at the University of Alaska Fairbanks'
Geophysical Institute who often visits Barrow, said of conditions this spring. "It was like those legends from the 1970s, when six-foot-thick ice was the norm."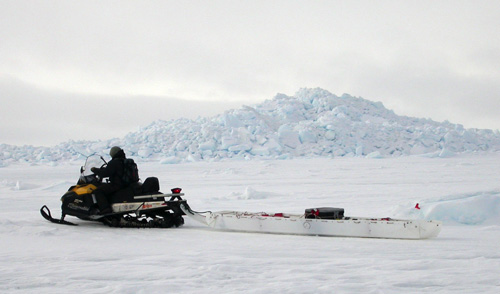 Matt Druckenmiller tows a sled over sea ice in Barrow this spring. His sled contained instruments that measured the thickness of the ice.
Photo courtesy Hajo Eicken
Created by the bitter cold air experienced in the winter of 2011-2012, the "first-year" ice on the Arctic Ocean was exceptional off Alaska's coast both in thickness and how far south it formed.
"People in Barrow were happy; they hunted bearded seal and walrus (from the ice) in August," said Hajo Eicken of UAF, who has ventured on the ice north of Barrow since the 1990s. "And if you'd ask walruses, they'd be happy. They're hanging out on ice longer than usual. In other years, they've had the rug pulled out from under them."
The recent Alaska view of sea ice is not representative of the Arctic as a whole, Eicken said.
"You're thinking, 'Is there going to be some kind of recovery," he said "But all the evidence points the other way. We're just one small part of the Arctic. There was a very early and very extreme ice retreat in western Siberia. On our end, every year since 2007 our sector has been pretty empty of ice now. It just took longer this year to get rid of ice in summer."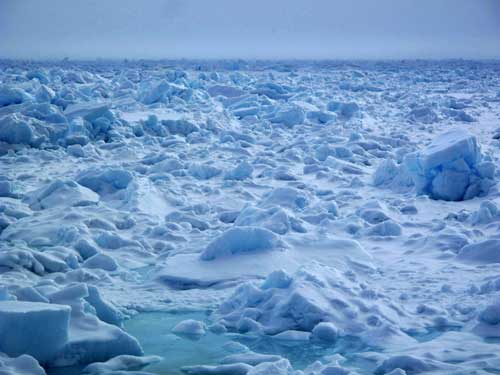 Sea Ice At Barrow
Photo by Ned Rozell

Though Barrow featured a lot of ice this summer, researchers had to search a long way for what they call "multi-year ice," which is more resilient to melting.
"We were only able to see multi-year ice at the end of our helicopter limit," Mahoney said.
When he landed on a piece of that multi-year ice via helicopter, Mahoney found it wasn't much thicker than the first-year ice closer to Barrow. The multi-year ice that drifted off northern Alaska this year was there because northern Alaska was this year "downstream of the last remaining reservoir of thick ice" in arctic Canada, Eicken said. Pushed by winds and ocean currents, the thick ice drifted southward off the northern coast of Alaska, where it often disappears.
"The Beaufort Sea is now a multi-year-ice graveyard," Mahoney said. "Once it arrives at Barrow, it goes through a lot of thinning."
Eicken said that despite the local view provided by the cold Alaska winter and the drift of thicker ice from Canada, northern sea ice seems to be following the path to summer disappearance predicted by computer models.
"Year to year (changes) don't seem to matter," he said. "The trend over time doesn't seem to let up."
Since the late 1970s, the University of Alaska Fairbanks' Geophysical Institute has provided this column free in cooperation with the UAF research community.
Ned Rozell is a science writer for the Geophysical Institute.
E-mail your news & photos to editor@sitnews.us


Publish A Letter in SitNews
Contact the Editor
SitNews ©2012
Stories In The News
Ketchikan, Alaska

Articles & photographs that appear in SitNews may be protected by copyright and may not be reprinted without written permission from and payment of any required fees to the proper sources.