In Alaska, a Beautiful Stream is FUBAR No More
By PAULA DOBBYN
Courtesy of Indian Country Media Network
September 07, 2011
Wednesday AM

(SitNews)- It was so damaged by logging they had taken to calling it Fubar Creek. Fubar, or more properly FUBAR, is an acronym; if you're a stream in Alaska and you've been nicknamed Fubar, suffice it to say you are not in good shape at all.
But after an extensive rehabilitation project and a tribal renaming ceremony in late August, Fubar is now known as Gandláay Háanaa, or Beautiful Stream, in the Haida language.
"It still looks pretty bad in some places, but they're working on it," said Viola Burgess, a Haida elder and tribal leader who presided over the renaming ceremony. "At least the fish have come back. That's the most important thing."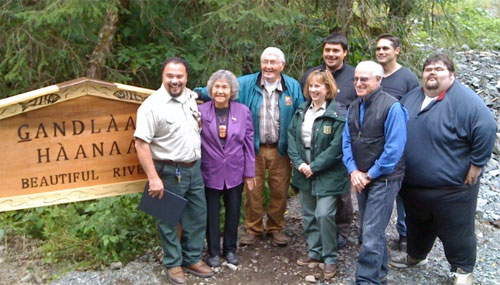 An August 25 creek renaming ceremony brought tribal, conservation and Forest Service representatives together on the bank of what is now known as Gandlaay Haanaa, or Beautiful Creek. Pictured from left: Francisco Sanchez, Craig District Ranger, U.S. Forest Service; Viola Burgess, Hydaburg Cooperative Association; James Williams, Klawock Cooperative Association; Beth Pendleton, Regional Forester, U.S. Forest Service; Anthony Christianson, Mayor Hydaburg; Harris Sherman, Undersecretary for Natural Resources and Environment, USDA; John Huestis, Craig Tribal Association; Richard Peterson, Organized Village of Kasaan.
Photo by John Sisk, The Nature Conservancy

Burgess, president of the Hydaburg Cooperative Association, a tribal council, was referring to old stumps and slash along the riverbanks that serve as a reminder of logging that took place decades ago.
Located on fog-shrouded Prince of Wales Island in the southernmost reaches of Alaska, Fubar Creek snakes through traditional Haida territory within the Tongass National Forest. The Tongass is a coastal temperate rain forest of nearly 17 million acres, about the size of West Virginia. More than 5,000 salmon-bearing rivers and streams course through the forest, providing fives species of Pacific wild salmon, the primary food source for the Haida tribe. The Haida—a tribe of Northwest Coast Indians with ancestral ties to southern Southeast Alaska, British Columbia and the Queen Charlotte Islands—have lived on Prince of Wales for thousands of years, relying heavily on streams like Fubar for salmon, trout, char and other fish.
"Our elders always told us, this is your bread and butter. Take care of it," said James Williams, an Alaska Native elder, pointing at Gandláay Háanaa. Williams expressed pride that the creek has undergone restoration and he approves of Gandláay Háanaa as a fitting name.
"It's good that it has a Haida name now. So many of our rivers have names from the Lower 48 and not Native names. That needs to change," said Williams, a board member of the Klawock Cooperation Association, the tribal council for the village of Klawock, also on Prince of Wales Island.
The formerly unnamed creek earned the Fubar moniker because of logging techniques used primarily in the 1950s and 1960s before passage of modern forestry regulations designed to protect fish habitat. Fubar Creek historically provided high-quality spawning grounds for Coho, pink and chum salmon, as well as steelhead, trout, and Dolly Varden char. But when loggers cut the Fubar Creek watershed to supply old-growth timber to a now-defunct pulp mill in nearby Ketchikan, Fubar became filled with sediment and most of its fish died. In a practice now outlawed, loggers had cut timber right down to the stream bank, which rendered the soils extremely unstable. Landslides flushed soil and debris into the water, destroying fish habitat, causing the creek to overflow its natural channels and in some places run too fast, and creating blockages that prevented migratory fish from reaching their spawning grounds. In short, Fubar saw its fish runs greatly diminshed.
In 2004, a collaborative project to fix some of the problems got underway. Under a public-private partnership between the Forest Service, The Nature Conservancy and other conservation groups, restoration crews removed blockages, replaced culverts, re-routed the creek back to its original channels, graded portions of the streambed, and introduced logjams to create pool habitat for spawning fish. Fubar, a main tributary of the Harris River—a major salmon and trout-producing river—began to see salmon return almost immediately. Within two weeks salmon began to show up in their historic spawning grounds and repopulate the stream, according to a Forest Service timeline of the project.
The decision to give Fubar a Haida name resulted from discussions among the Forest Service and local tribal councils, including Hydaburg Cooperative Association, Craig Tribal Association, Organized Village of Kasaan, and Klawock Cooperative Association. Everyone agreed that the name Fubar was culturally offensive and inappropriate and since the stream ran through the Haida's traditional lands, it should have a Haida name, said Francisco Sanchez, Forest Service district ranger, at the recent renaming ceremony. Attending the streamside event were by tribal members, conservation representatives and Forest Service officials, including Undersecretary Of Agriculture for Natural Resources and Environment, Harris Sherman, who praised the restoration and renaming project.
"It's impressive. And it's making a difference," said Sherman, who oversees the Forest Service. "Investing in watershed restoration is essential for the communities in Southeast Alaska, for salmon and for the economy. I'm impressed by the unusual level of commitment and collaboration in the Tongass. It's an example of what can happen elsewhere in the United States."
The Fubar restoration and renaming project was part of a larger effort on the Harris River and its surrounding watershed, an area that was also extensively logged decades ago and suffered similar damage and loss of fish habitat as Fubar. The Harris River supports a commercial fishery on the outer banks of Prince of Wales Island and its recovering salmon and trout runs are starting attract anglers from Alaska, the Lower 48 and beyond. Now that the both Harris and Fubar systems have been restored, fishery regulators and tribal officials are anticipating bigger fish returns, particularly Coho, and with that, more opportunities for sport fishing, a major tourism draw for visitors to Prince of Wales Island, whose economy is transitioning from large-scale timber harvesting to tourism, fishing and other industries.
"We expect to see more sport fishing activity on the Harris River and on Gandláay Háanaa. That'll be good for the island's economy and good for anglers," said Maeve Taylor, a recreation staff officer with the Forest Service on the Tongass National Forest.
Source of News:
This article is republished courtesy of Indian Country Media Network
http://indiancountrytodaymedianetwork.com/
E-mail your news & photos to editor@sitnews.us


Publish A Letter in SitNews Read Letters/Opinions
Contact the Editor
SitNews ©2011
Stories In The News
Ketchikan, Alaska

Articles & photographs that appear in SitNews may be protected by copyright and may not be reprinted without written permission from and payment of any required fees to the proper sources.