Annual WISH "Women of Distinction" Nominees Announced
September 23, 2010
Thursday

Ketchikan, Alaska - For the third year in a row, Ketchikan's Women In Safe Homes (WISH) has chosen several "Women of Distinction" for 2010. The honorees this year are Marna Cessnun, Clara Diaz, Peggy Hovik, Cecilia Johnson and Jeanne Sande.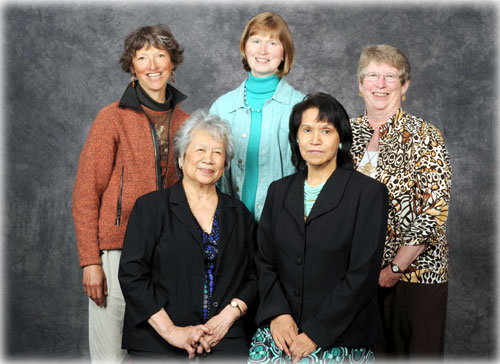 "Women of Distinction" for 2010 honorees are Marna Cessnun, Clara Diaz, Peggy Hovik, Cecilia Johnson and Jeanne Sande
Photo courtesy WISH

The annual award is designed to honor women for their contributions to improving the lives of women and children in the community.
A gala dinner to honor the women starts with a reception at 6 p.m. Oct. 2 at the Ted Ferry Civic Center, followed by dinner and the awards ceremony.
Suggested names for the award were submitted by friends, family or community members, and and the final five honorees were selected by a WISH committee of board members and community volunteers. Briefly, the honorees this year are:
MARNA CESSNUN - Nominated as a "Volunteer Extraordinaire" for her many volunteer activities, particularly with youth in the community. She is active in Ketchikan Theater Ballet, First City Players, First City Rotary Club and her church. She has housed, fed, and traveled with numerous Rotary Exchange Students. At the high school she has contributed her time and expertise to help students complete sample job applications and intervew preparations. She is famous for her home-made pies, often contributing them for church or community fund-raisers. Her name is often listed in First City Players' programs for her work as a seamstress providing costumes for performances.
CLARA DIAZ - Nominated for her many years of service as a nurse at Ketchikan General Hospital, for her entrepreneurial skills, and her devotion to her Catholic faith. She graduated from Brokenshire Memorial Hospital School of Nursing in the Philippines in 1957. Public health service work in the Philippines included working in a maternity clinic in Manila, and public nursing for six months in her home town of Davao. Sponsored by the Sisters of St. Joseph, she arrived in Ketchikan from the Philippines in 1958 and immediately went to work as a registered nurse at the hospital on Bawden Street, retiring in 1978. She is noted for caring for innumerable people both through her nursing work, as well as later with customers at her business, the Diaz Café.
PEGGY HOVIK - Nominated for her years of volunteer work in Ketchikan often involving music, youth and those in need. She is best known as one of the original founders 21 years ago of "The Monthly Grind," a community coffeehouse revue/talent show. She is the sole remaining founder still producing shows, as well as organizing, publicizing and performing. She has also coordinated the Lutheran Church's involvement with the local soup kitchen for many years on a weekly basis, either cooking soups herself or arranging coverage. She has also been the leader of junior high and high school youth groups at the Lutheran Church for many years.
CECILIA JOHNSON - Nominated by her son, who described her philosophy of life as "I consider myself an advocate for the betterment of humanity. I believe that every human being has potential, if given the chance." She has an extensive history of career education, including Dictation Medical Transcriber, ANH 1974-1980; Social Work Associates 1980; Seattle University with a major in psychology and minor in addiction studies 1992-1993; Certified Advanced Alcohol Counselor for Alaska 1994; and Associate of Arts, University of Alaska 1998. She has been a leader in the Native community, elected to the Indian Reorganization Act Council for Ketchikan Indian Community, and has been a longtime member of the ANB/ANS. Other volunteer work includes working with youth issues, Alaskans for Drug-Free Youth, community work on early bar establishment closures, and WISH crisis volunteer.
JEANNE SANDE - Nominated for her career in education as a teacher in Ketchikan from 1964 to her retirement in 2001, as well as her ongoing involvement in many volunteer activities. She teaches English as a Second Language at the Job Corps Center, is a volunteer with Love In the Name of Christ (Love INC), serves on the board of First City Homeless, volunteers at the Salvation Army soup kitchen, is a long-time member of the Lutheran Church and is involved each year with its annual Christmas Bazaar fundraiser. She is also an avid quilter and has often donated her work as a fundraiser for local organizations.
Funds raised from the awards banquet will support WISH prevention and intervention efforts, providing services to those affected by domestic violence, sexual assault and child abuse in Ketchikan and other southern southeast Alaska communities.
Source of News & Photo:
Women in Safe Homes

E-mail your news & photos to editor@sitnews.us


Publish A Letter in SitNews Read Letters/Opinions
Contact the Editor
SitNews ©2010
Stories In The News
Ketchikan, Alaska