Alaska Science
Summer's over for northern sea ice
By NED ROZELL
September 17, 2010
Friday

On or within a few days of September 15, sea ice experts will make the call declaring that sea ice floating on northern oceans is covering its least amount of ocean surface in 2010. The great northern winter is about to
begin, and sea ice will soon be growing instead of shrinking.

"It's the turn of a new season, like the beginning of a new semester," said Mark Serreze, director of the National Snow and Ice Data Center in Boulder, Colo.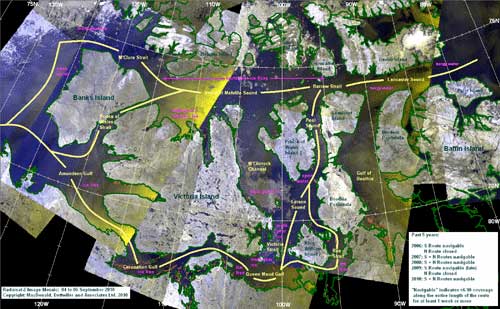 Yellow lines on this mosaic of satellite images show possible sailing routes through the Northwest Passage in early September 2010.
Image courtesy of the Canadian Ice Service, copyright MacDonald, Dettwiler and Associates Ltd. 2010.

Serreze estimated that 2010 would rank third on the list of years with the lowest sea ice extent at the end of the northern summer. Since the satellite era allowed a view from above since the late 1970s, the technology has show that 2007 was the record low year of sea-ice extent, followed by 2008 and 2010. Last fall, the arctic sea ice was a bit more widespread than this year.

"The four lowest extents in September have been in the past four years," Serreze said.

This year might have been a good one to attempt to sail through the Northwest Passage, a feat first completed by Norwegian Roald Amundsen in the early 1900s.

"The Northwest Passage has been navigable in the past, but it's fairly unusual this year," said Jenny Hutchings of the International Arctic Research Center at the University of Alaska Fairbanks. "There's a large area of open water in the Beaufort and Chukchi seas, and north of Svalbard there's lower ice concentration than normal. Icebreakers have been getting pretty far north this year."

"The northern route is really open this year," Serreze said, referring to a somewhat clear big-ship pathway including M'Clure Strait north of Banks Island in arctic Canada. "The last time we saw that was in 2007. You could, in a sense, circumnavigate the Arctic right now . . . But only for a few more weeks."

Though it may be a bit easier now then when Amundsen took several years to navigate the route, sailing the Northwest Passage is still an adventure, Serreze said.

"We're still talking about dangerous waters up there," Serreze said. "It's not like you're going to take a cruise ship up there at 15 knots.

"Even a little ice could be a problem," he said. "A vessel hitting a three-meter chunk of sea ice would sustain a lot of damage."

Due to the northern portion of the planet's nod away from the sun, sea ice will soon feed on cold air, and close for another year the hazardous pathways of late summer. Sea ice will grow throughout autumn and winter, reaching its maximum in about the middle of March, when the sun will again gain a foothold in the North.

Serreze expects northern sea ice to continue its decline. With less sea ice, open ocean will absorb more of the sun's energy and the far north will retain more heat.

"(Fading sea ice) is contributing quite strongly to arctic warming," Serreze said.


This column is provided as a public service by the Geophysical Institute, University of Alaska Fairbanks, in cooperation with the UAF research community.
Ned Rozell [nrozell@gi.alaska.edu] is a science writer at the institute.



E-mail your news & photos to editor@sitnews.us


Publish A Letter in SitNews Read Letters/Opinions
Contact the Editor
SitNews ©2010
Stories In The News
Ketchikan, Alaska