Viewpoints
PACE
By Lonnie Adams
September 24, 2009
Thursday

Good Day all. My name is Lonnie Adams and I am a 27 year resident of Ketchikan, my wife Lisa and have been married for 16 years. My two children were born and raise here in Ketchikan, we have one child in 7th grade at Schoenbar and one in fourth grade at Holy Name. Our youngest child was blessed with dyslexia and has struggled in school from the beginning. In third grade her teacher did research on dyslexia and our daughter had the same characteristics, after struggling for years to help, and get her help we finally have a direction that does help her, my wife spent countless hours researching ways to help her finally finding Camille Booth with the Pace Program out of Craig, AK.
She came over from Craig and offered to test our daughter and we found out that she had moderate to severe dyslexia, and she help us set up with Pace program out of Ketchikan to help her, she has class 2 days a week, Pace had a wonderful teacher trained by the name of Sara Corporon. She has worked with our daughter over the last 4 months and brought her reading level up from grade 2.5 level to 3.5 level. As parents we read with her every night and we see the improvements, not only in her reading but also in her confidence with homework. She has a long way to go but because of Pace being there our child has a fighting chance.
The letter that I've included below is very interesting. It is a letter dated April 13, 2009 from Ketchikan Borough's lawyer to the City of Craig's lawyer stating that if the city of Craig doesn't drop their pending law suit over national forest receipts that that the borough will kick the Pace Program out from Ketchikan.
How I look at it is that the Borough is willing to sacrifice our kids needs as a bargaining tool. My daughter has dyslexia and is getting help through Pace, our school district does not have a program to help students with dyslexia. I spoke with the State of Alaska Education commissioner in Haines last week during Southeast Conference, he even said that the State of Alaska doesn't have any program for dyslexia.
My child is getting help for the first time in her educational career. I think it would be a shame to kick out this program from Ketchikan. Not all of our students go to public school - some go to private, and some of our children have hurdles that our school district has NO programs with which to help our children.
To force parents not to have a choice to give our children every opportunity to succeed can not be tolerated.
Thank you,
Lonnie Adams
ladams[at]kpunet.net
Ketchikan, AK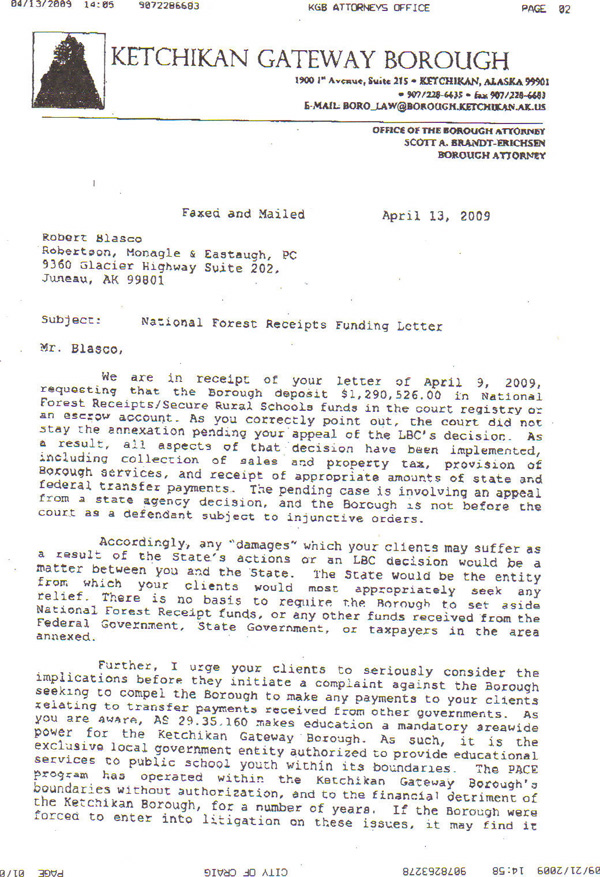 Received September 22, 2009 - Published September 24, 2009
Viewpoints - Opinion Letters:
Webmail Your Opinion Letter to the Editor
Note: Comments published on Viewpoints are the opinions of the writer
and do not necessarily reflect the opinions of Sitnews.
E-mail your letters & opinions to editor@sitnews.us
Your full name, city and state are required for letter publication.


SitNews ©2009
Stories In The News
Ketchikan, Alaska