100 played the field during free tournament
September 13, 2008
Saturday

Ketchikan, Alaska - The Alaska Army National Guard and Ketchikan Youth Initiatives hosted a Free Tournament and Open Play at the Hot Shots Paintball Field on Revilla Road, Saturday August 16th.
Nearly 100 played the field, comprising eighteen teams of five players each and others in open play. The final 10 minute game for the tournament play-off ended in a tie. The winning teams were AK Pride and Ninja Monkeys.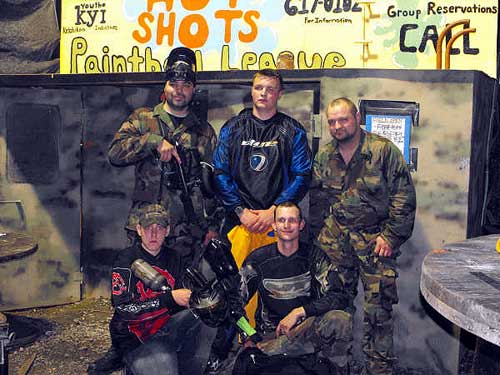 AK Pride
Captain Jose Sambrano, Chris Hausler,
Tre Beaupre, Lonnie Duncan and Morgan Phippon
Photograph courtesy KYI

An estimated 130 to 150 people, from children to seniors, enjoyed not only the free paintball, but also free hot dogs, hamburgers and drinks provided by the National Guard. In the background, a stage built from an AML post flat featured 3 bands: Gimmic, Atomic Workforce and Pantera powered by a generator from Tyler Rentals. Blaine Ashcraft's sound system also supported the excellent MC work by KTKN. A light tower lighting the playing field and a large bonfire carried the event well into the evening hours.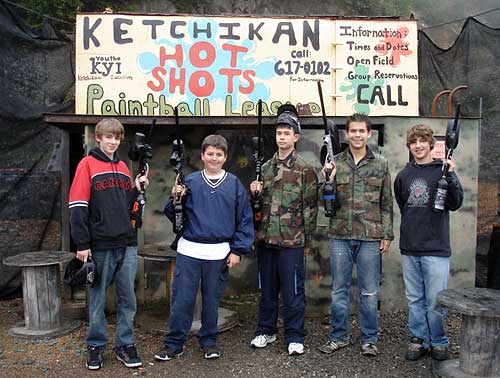 Ninja Monkeys
Captain Juan Robles, Nick Swiger, Alan Sullivan, Sam Sullivan and Justin Perro
Photograph courtesy KYI

Members of the Ketchikan Hot Shots Paintball League worked very hard to prepare the field for this event. 300 plastic pallets were shipped up from Washington by AML and 6 dump loads of chips donated by Jerry Jenkins were hauled out to the field by Harley Heaton and Paul Hamilton. The result? A totally new field designed by Jose Sambrano, Chris Hausler and Tre Beaupre and no more skinned knees and arms from the rocks underfoot.
The Hot Shots paintball field is open Sundays from 4 to 7pm for individual or team play. (Call 617-0102 to check on the field play.) and a "End of Season" tournament is scheduled for Friday, October 3rd. Players must be at least 12 years old and those under 18 must have a parent or guardian signature on the waiver form. The Hot Shots provide equipment for players to use as part of their entrance fee to the field. Paintballs and CO2 tanks are available for purchase at the field.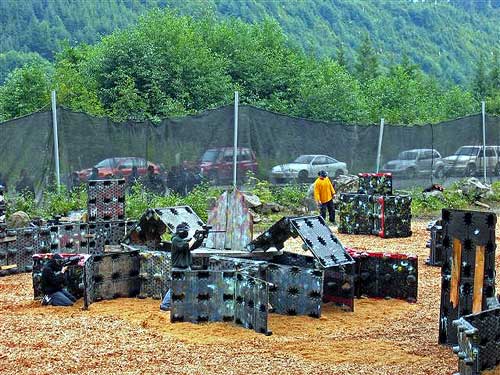 Ketchikan Hot Shots Paintball League's newly prepared field.
Photo courtesy KYI

Free Transportation will be provided on Sundays, compliments of Justin Carro, Ketchikan Independent Tours, leaving from Everyday Alaska Gifts at the corner of Dock and Main streets at 3:15 pm returning downtown before 8 pm.
The paintball league is the first program undertaken by Ketchikan Youth Initiatives, a non-profit organization formed in 2005 to "empower Ketchikan by nurturing youth-directed and adult-mentored initiatives." KYI invites members of the community to join them as they endeavor to secure a covered skateboard park, continue the Youth to Work job readiness program and develop a Youth Community Center.providing a "safe place to hang out" for a diverse community of young people and all ages.
KYI programs target youth and young adults ages 14 to 24 providing healthy activities run by youth under adult supervision. For information and to offer your support, contact kyi@kpunet.net or 225-2250.

E-mail your news & photos to editor@sitnews.us


Publish A Letter in SitNews Read Letters/Opinions
Contact the Editor
SitNews ©2008
Stories In The News
Ketchikan, Alaska